A6M2b Zero Type 21
by Roger Fabrocini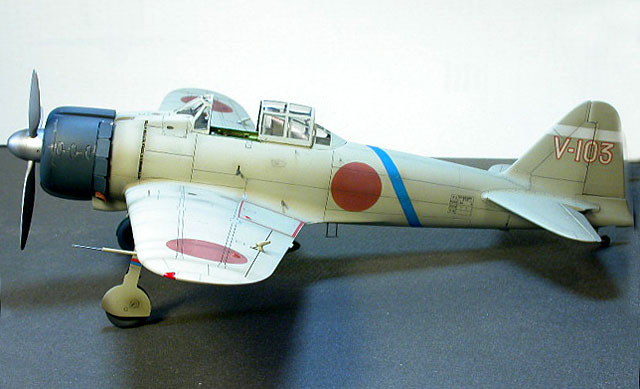 Mitsubishi A6M2b Zero Type 21

Hasegawa's 1/48 A6M2 Zero Type 21 is available online from
Squadron.com
On 7 August, 1942 PO1c Sakai Saburo, with the Tainan Air Group from Rabaul, while flying escort for 27 Type 1 land attack aircraft (BETTY) engaged in an 'epic' air-battle with Lt. James J."Pug" Southerland of VF-5. Having already modeled "Pug's" F4F-4 Wildcat I decided to turn my attention to the other protagonist's aircraft, Sakai's a6m2b type O, model 21 carrier fighter.
I used Hasegawa's 1/48 kit #jT131, 'Tainan Flying Group' which conveniently included markings for Sakai's Zero as well as markings to replicate most of the aircraft for the 'Tainan' Group. I am an unabashed after-market accessory 'junkie' and have bought most resin and photo-etched sets for this project. Of the three or four resin cockpits I chose the Cutting Edge resin cockpit set #ce48361, the fit and detail being far superior to all others.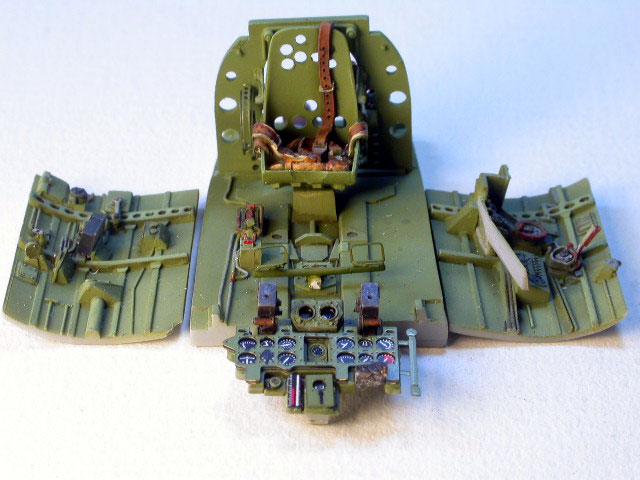 The following detail sets, whole or in part, were used in this project.
Verlinden Productions #1289 a6m2b type 21 ZERO Detail set

Eduard #48-306 Zero type 21 photo-etched detail set

Eduard #FE218 a6m3 colored 'zoom' detail set

Tally-Ho! #P48-014 IJAAF Hinomaru masks
As expected the Hasegawa kit went together without a hitch.
Cutting Edges' resin cockpit fit with a minimum of fuss.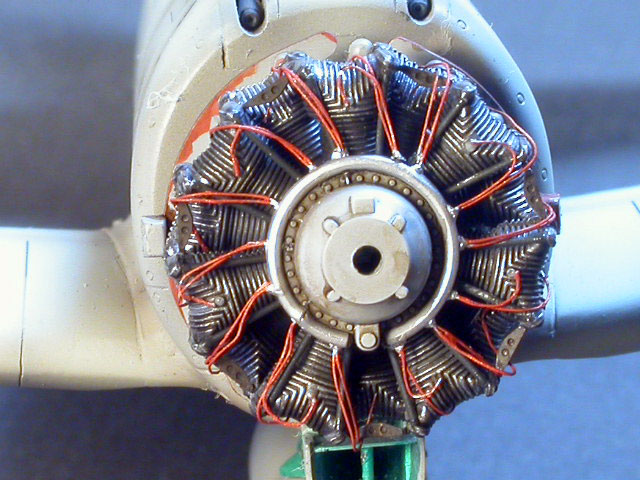 Eduard's photo etched parts added greatly to the intricate complexity of the landing gear and their accompanying covers. Lead wire was used for the brake lines, fuse wire for the engine ignition leads, hypodermic needles for the wing mounted 20mm cannon and pitot tube base. The engine cowling was detailed with the Verlinden set flaps and exhaust stubs. Bits of plastic rod and stock was used for the ZERO'S boarding aids and gear indicators.
I remember reading the famous aviation artist Keith Ferris describe painting the cover for Sakai's book SAMURAI! saying that he wanted to replicate the structure of the Zero then paint over it to impact the feel of the aircraft, it's very thin skin and light, but strong structure. I thought I would adopt this approach in my rendition.
After priming the airframe with 'Mr. Surfacer' 1000, I pre shaded with a brown-black mix, not only following the panel lines, but also painting in ribs and spars.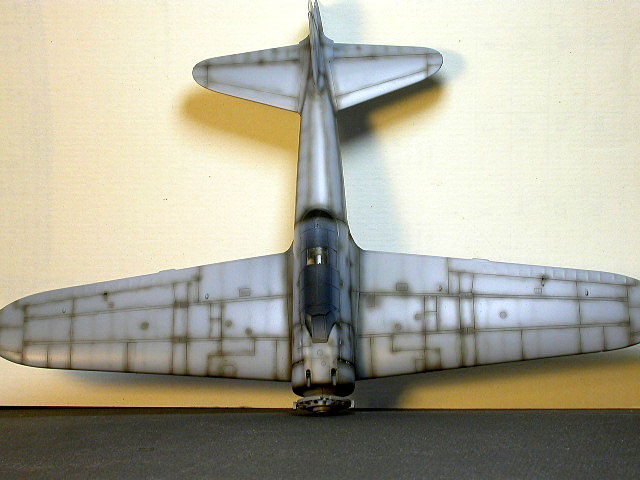 My color coat is then applied in a very thin mix first over the pre shading then moving into the panel interiors. The very thin mix allows me to slowly add color and still let the pre shading show through. Successive color coats are applied using lighter and thinner paint working into the panel interior. I find it very important to keep the paint very thin or a distinct separation will be detectable between the color coats making the effect look unnatural.
---
A Note on Color
Japanese aircraft color deciphering is a real quagmire, as Stuart Hurley pointed out in his superb Rufe article. Researching all the sites and articles I fell upon using FS#16350 as the color for Sakai's ZERO.
I mixed Gunze paints 50% Hemp, 50% JIN Grey and one drop of rlm #81 brown- violet. To further enhance the "carmel" color I was seeking I used Floquil Hi-Gloss for my gloss coats. It has a distinct brown tint in the bottle. Hinomarus were painted on using a mix of Vallejo mahogany brown/black red/red leather.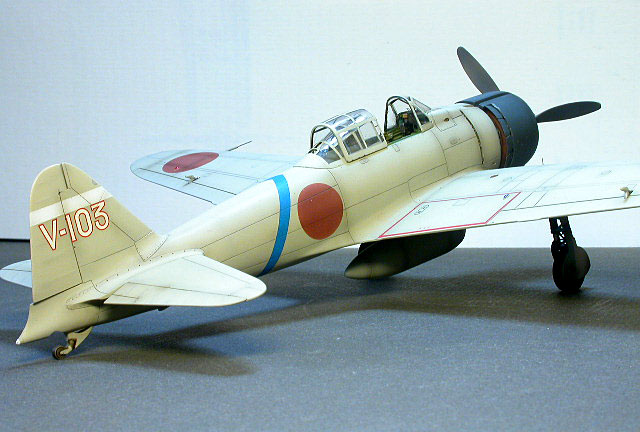 Engine cowling is Mr. Color Lacquer #125 "cowling Color". Polly-S thinner works great with Vallejo acrylics. Final flat coat is 'Poly-S' flat. I've been lucky lately (maybe blessed?) and have had no problems mixing layers of acrylics and lacquers together.
---


Decals
Kit decals were used for tail number, fuselage strip, flap warning strips and data. they worked very well with Mr. Mark Softener.
We all build for very personal and diverse reasons. This build brought together many of my inspirations, brilliant pilot, favorite time and place in the history of the second world war, epic confrontation between two seasoned professionals and in my opinion, one of the worlds most beautiful aircraft.
Thank you all for your help on the forum and taking the time to read this article.
Click the thumbnails below to view larger images:
---
Model, Images and Text Copyright © 2003 by Roger Fabrocini
Page Created 29 August, 2003
Last Updated 17 March, 2004
Back to HyperScale Main Page