Antonov An-71 Madcap
by Lukasz Kedzierski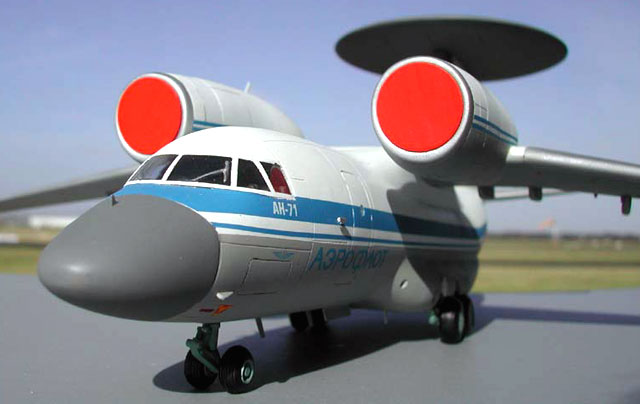 Antonov An-71 Madcap

Toko's 1/72 scale An-72 is available online from Squadron
The Antonov An-71 Madcap was built to specifications issued in 1982 for a tactical early warning aircraft to complement strategic aircraft such as the A-50 Mainstay and Ilyushin Il-76PP.
OKB Antonov considered several different possibilities as carriers for a new system ranging from entirely new aircraft to already operational aircraft such as An-12, An-32 or An-72. In 1983 a decision was made to use An-72 as a platform for a dish antenna mounted on the top of a modified fin, which necessitated a complex redesign of the rear fuselage section. New aircraft was equipped with stronger D-436K engines and an auxiliary turbojet engine RD-38A installed in the rear fuselage to provide sufficient power during take-off.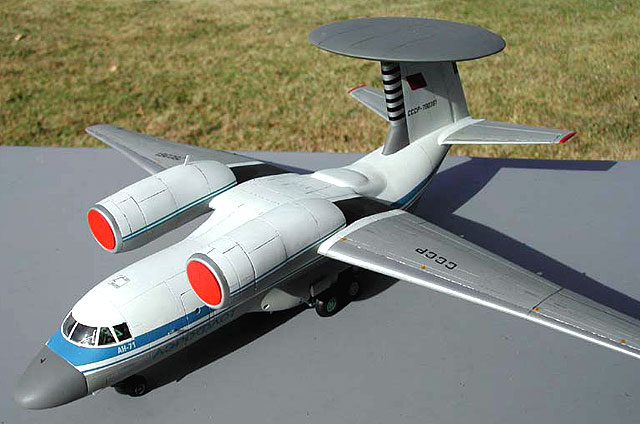 The first prototype (modified prototype An-72-004) flew for the first time on 12 July 1985. Subsequently two more prototypes were built, the second intended for static tests (converted An-72-01, the first prototype of An-72) and the third An-71-03 with standard production An-72 nose cone, which flew on 28 February 1986.
The An-71 did not reach the production stage due to the fall of the Soviet Union and lack of funding for the air force. The intended roles for An-71 were observation of the airspace, finding and tracking the enemy aircraft as well as surveillance of the sea surface and detection of enemy ships.
---
Madcap in Plastic
I am fascinated by this unusual as well as Soviet/Russian aircraft and An-71 definitely fits both categories. Unfortunately, An-71 has not been offered in 1:72 scale by any of the manufacturers up until this year when it's been announced by A-Model and Russian Project.
The only way to build Madcap in 1:72 scale was to convert Toko's An-72/74 kit. I learned about this conversion a few years ago from Ken Duffey's article published in Scale Models International. At the time I thought it's outside my modelling skills and simply forgot about it. My interest was rekindled when Ken published this article on his webpage (www.flankers.co.uk). After reading it a few times I realised that I can probably do it.
So I got the second kit of An-74, did my search on the subject and found out that I cannot get any scale drawings. The easiest solution was to ask Ken, who kindly provided me with a copy of scale drawings from Aviatsya i Vremya magazine. His article served as a guide for the conversion.
Since An-71-03 is based on An-72 the major part of the conversion is to rebuild the rear section of the fuselage. I started with shortening the fuselage according to drawings and some 3 cm needed to be removed from the fuselage length.
The first cut was made just behind the fuselage-wing joint (photo 1) and I removed the entire tail section, which was then shortened. The fin was also removed at this stage.
Because Toko kit has raised panel lines I engraved all of them using a scribing tool. \
The cockpit was built as per instructions and all side fuselage windows were glued in place and sanded smooth since An-71 does not have any of the An-72 side windows. Before I glued the fuselage halves together I filled up the front section with lead and believe me a lot is needed to counterbalance the weight of the rear fuselage and the dish antenna. The shortened tail section was glued to the main fuselage and the resulting gap filled with Milliput.
A modified rear ramp was used to close cargo bay opening.
At this stage there is just a lot of gaps and openings all over the fuselage and things do not look good. I moved on however, to build the auxiliary engine exhaust fairing, which was made from plastic card cut to shape and the engine nozzle was made from a short section of a pen.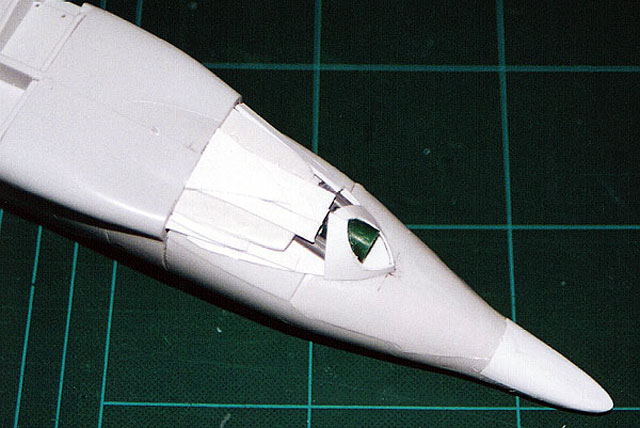 These were then glued in place and the remaining part of the extended bottom rear section was build up from bits and pieces of sprue and plastic card glued to the outline cut out from a thin plastic card according to drawings. The entire section was filled with Milliput and sanded to shape.
A similar technique was employed to build up an extension to the starboard sponson.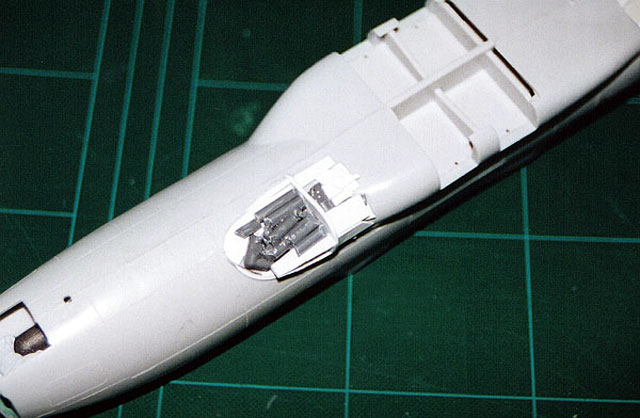 Click the thumbnails below to view larger images:
This completed the major fuselage surgery.

Next was the new vertical fin. I followed Ken here and build mine up from balsa wood covered with thin plastic card. I did not have any ideas how to glue the plastic to balsa wood, but decided to use super glue. The balsa wood core of the fin and rudder was sanded to airfoil shape according to drawings and saturated in superglue to the point when the wood no longer absorbed any glue. Then both parts were wrapped in a thin plastic card, let to dry for a few days and the plastic was trimmed and sanded. All panel lines were engraved and the entire fin was glued in place. All the gaps were filled with Milliput and everything was sanded smooth.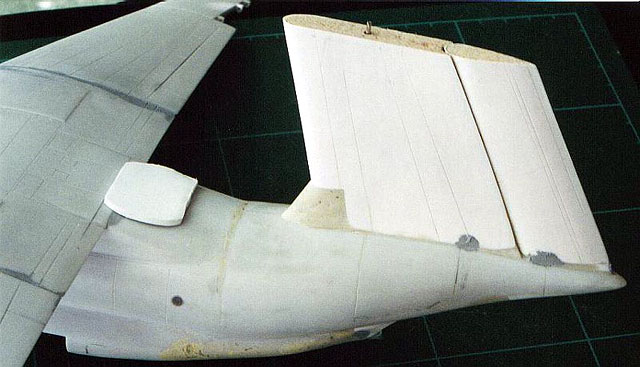 The horizontal stabilizers were made from modified kit's stabilizers and the new root sections were made from plastic card.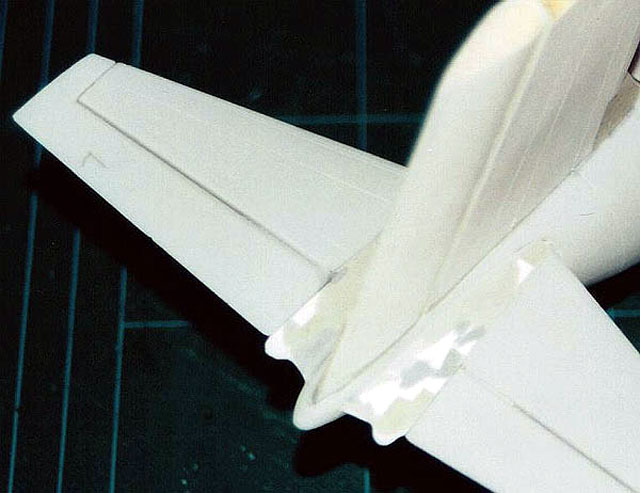 Then more Milliput was used and I was getting worried that one box if this excellent stuff may not be enough for this project.

The last part to scratchbuild was the dish antenna. Unlike Ken, I did not have any in my spares box (he modified Hawkeye's dish) and decided to build mine up from circular section of plastic card. I cut out 5 circles of 3 different thicknesses, glued them together, filled up the circumference of the dish with Milliput and sanded everything to shape. The complete dish was then coated with an automotive primer, all the imperfections filled in and sanded again and finally panel lines were engraved on the antenna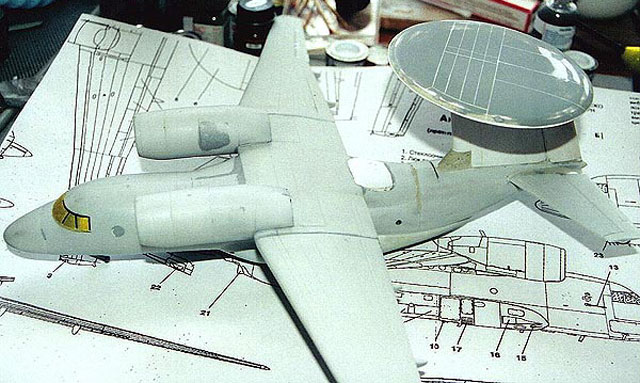 .

The remainder of the kit, i.e. wings, engines and undercarriage were built as per the kit instructions. The fit is rather poor, especially the covers on the engine nacelles, which can be left open, but are way too thick. I also decided to build engine intake covers, which were based on available An-72. A thick piece of plastic card cut to shape was glued immediately behind the wing-fuselage rear top joint.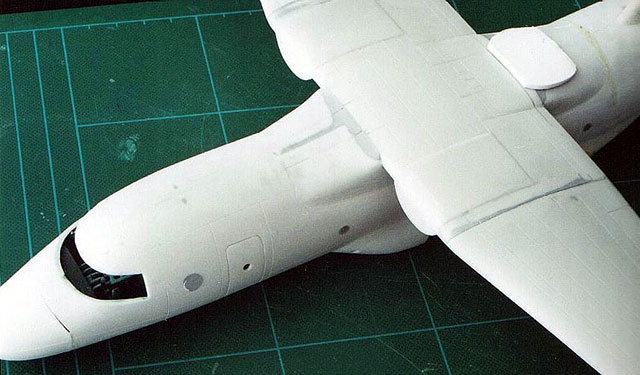 This is an air intake for the auxiliary engine, which opens upwards during the take-off. The last thing to do is to add a variety of antennae on the fuselage, nacelles and horizontal stabilizers.
The colour scheme is straightforward and rather boring – white/grey Aeroflot livery with blue cheat lines. The decal sheet in the kit provides all the necessary markings needed for An-71, which just need small modifications.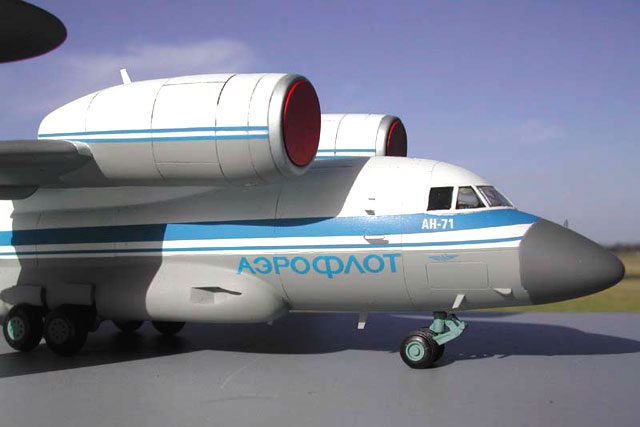 The An-74 kit also has the blue cheat lines, which are not included in the An-72 patrol aircraft kit. I weathered the model with watercolours applied into panel lines and I also applied some discolouration to the white finish. The entire model was sealed with semi gloss clear Humbrol.
This is a relatively easy conversion and it still may be an alternative to the announced A-Model (price wise) and Russian Project (their An-26 is of mediocre quality) kits. Overall I enjoyed building this model a lot, but it took a few months with some other kits made in between.

I would like to thank Ken Duffey for his help with obtaining scale drawings. His webpage also contains a good selection of photos of An-71 being kept in Kiev.

Click the thumbnails below to view larger images:
---
Model, Images and Text Copyright © 2003 by Lukasz Kedzierski
Page Created 15 May, 2003
Last Updated 17 March, 2004
Back to HyperScale Main Page