Lockheed C130-H Hercules
by Mick O'Brien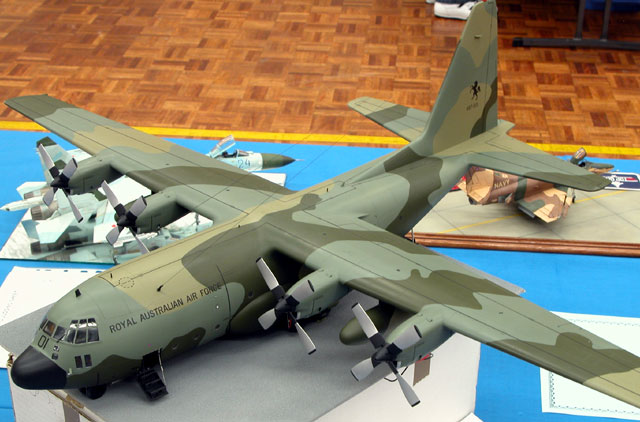 C-130H Hercules


Italeri's 1/48 scale C-130H Hercules is available online from Squadron.com
Australia was the first country outside of the United States to operate the C-130 Hercules. Australia's 36 Squadron received the first of twelve C-130A Hercules in 1958. These were replaced with C-130H models in 1978.
The Italeri 1/48 scale C130-H Hercules kit was used as the basis for 36 Squadron's aircraft A97-001 in early 1999. The kit is for an earlier version of the H model so considerable work was required to bring the model up to Australian specifications.



The model is huge and when built. It is 63cm long and has a wingspan of 84cm. I decided right from the start to detail the interior. The flight deck was bland, and the cargo compartment detail was almost non existent.
Flight Deck
The flight deck was built then detailed using Flightpath photo etch and scratch built parts. The Flight Crew and Loadmaster were pilots from the Hasegawa Ground Crew/Pilot sets with the heads removed and replaced with ground crew heads and boom mikes made from wire. A 3 volt light bulb was also installed to show the detail after the fuselage was joined together.
The crew entrance and under the flight deck was scratch built and a light bulb installed. Crew entrance steps used the Flightpath parts and a scratch built closing/support lanyard of wire.

Click on the thumbnails below to view larger images:
---

Cargo Compartment
To fill the cargo compartment a Italeri Iroquois was built and loaded as an Army Aviation slick for C130 transport.
Equipment boxes were four firestorm resin boxes the rest were scratch built. Restraint straps were 1/16" masking tape and white metal ratchets. Front webbing seats are printed on color over head projection sheets, rear seats and paratroop door interiors are from Flightpath. The rest of the interior detail was scratch built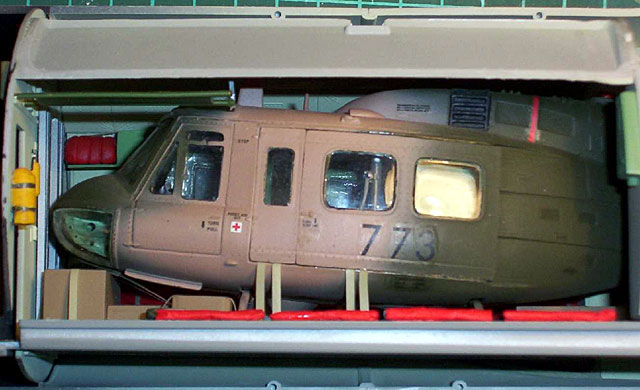 The interior was painted light green up to the paratroop doors and matt black from doors aft. Five light bulbs were installed in the cargo compartment.
The ramp surface and some detail is from Flightpath. Most of the side detail is scratch built including the hand beams, toilet, urinal, curtains, and paratroop door litter bracket arms. The exterior scrape plate was shaped using card and putty.
---
Exterior
Aerials consisted of kit and scratch built parts. The HF antenna masts were thinned and the wires made of stretched sprue and turnbuckles from super glue.
Static wicks were made from cleaning brush bristles. Dump masts on each wing tip were drilled out and leading edge, landing and taxi lights were inserted. Flightpath wingtip navigation light indicators and windscreen wipers were installed and wing access panels were blended into the top of wing. Each propeller spinner was reshaped and drilled out.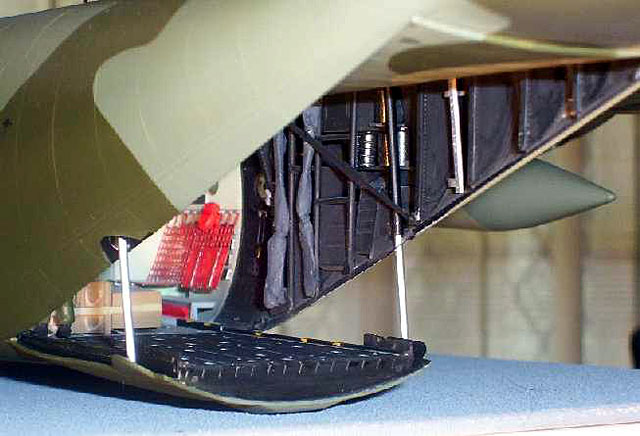 Ron's Resin sponsons were fitted and flight deck aircon pack installed on R/H side. L/H sponson APU bump was made using putty and the APU exhaust port drilled.
The nose wheel used kit parts with Flightpath rims and flattened. Main wheels are Ron's Resin with a contact plate for light wiring on L/H wheels. Flightpath parts were used to detail the undercarriage doors and nose wheel strut scissor link.
My Hercules was painted in three tone camouflage (FS34079 Dark Green, FS34159 SAC Bomber Green, FS34201 SAC Bomber Tan) using Model Master enamels then sprayed with Future.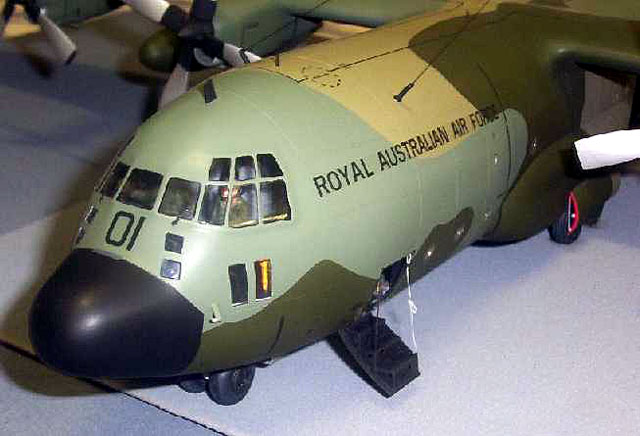 Decals were applied using Hawkeye and Aussie Decal sheets. Walkway lines were painted except around the rudder where decals were used. Testor's Dullcote was applied to the aircraft giving the aircraft a semi matt finish.


Click on the thumbnails below to view larger images:
---
Review and Images Copyright © 2002 by Mick O'Brien
Page Created 14 June, 2003
Last updated 17 March, 2004
Back to HyperScale Main Page
Back to Reviews Page