Macchi C.202 Folgore
by Marco Bossi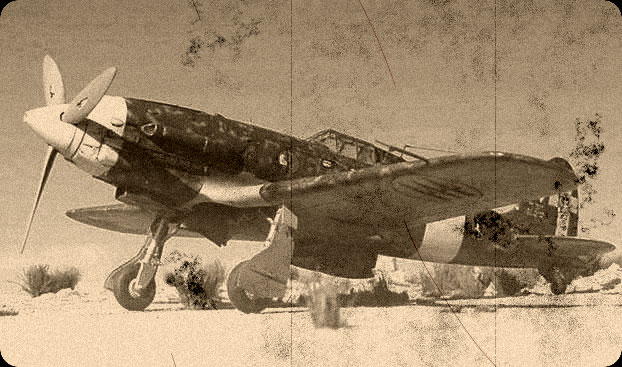 Macchi C.202 Folgore

HyperScale is proudly supported by Squadron
Here is Hasegawa's 1/48 scale Aermacchi C.202 " Folgore".

This is a third serie C.202 "Folgore" MM7726, of 96a Squdriglia , 9° Gruppo , 4° Stormo C.T. ( Land Fighters Group ) of the Regia Aeronautica in Martuba (Lybia), December 1941.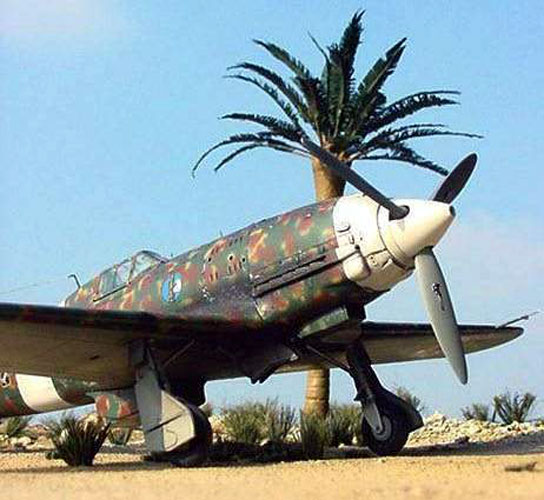 I built this kit some years ago straight from the box except for correcting the headrest fairing area and the shape of the tails. Also, the pitot tube is rebuilt with syringe needle, and the external gun sights are in thin metallic wire; as is the early stub radio mast .

Recently I made further corrections in decals and I touched up the camouflage so that I can present my project to reproduce the scene on the volume No.41 by Squadron/Signal Publication.
The camouflage consists of an early standard three-tone scheme called "fried eggs". This comprises spots of Giallo Mimetico 4 and Bruno Mimetico 2 (mimetic brown and mimetic yellow) over dark olive green background and Grigio Azzurro Chiaro 1 (Light Blue Gray ) undersides.
I used exclusively a mixture of Tamiya basic colours. Decals are Hasegawa, Tauro Model and Skymodels.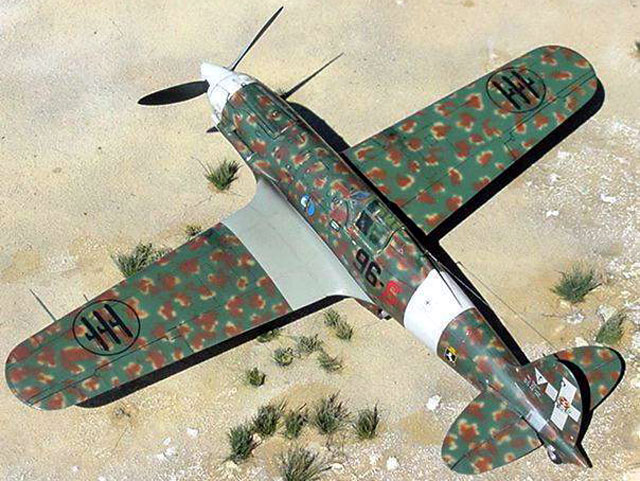 This plane has gray paint over repairs at the wing root,on the fuselage and some holes and repairs on the tail controls, resulting from damage previously acquired in the sky of Malta and next emergency landing sear Siracusa (Sicily) the 4th of October 1941 flown by Tenente (Lieutenant ) Bruno Spitzl. On 11 March 1942 , probably because of mechanical troubles , the C202 MM7931 newly-built by Breda Factory flown by Spitzl, crashed into a building in Milano town during a test flying session. Lt. Spitz , who are still survived an other previous terrible accident of 16th December 1941 in Ain el Gazala ( Northern Africa ), died in pain one month later.
In the real picture there are one S.81 and more distant one S.79 both under maintenance.
In order to reproduce this scene I needed some date palms and two trimotors planes as background .
My initial intent was to use for this porpoise one old 1/72 scale Airfix kit of SM.79 and one Supermodel S.81but two reasons dissuaded me for .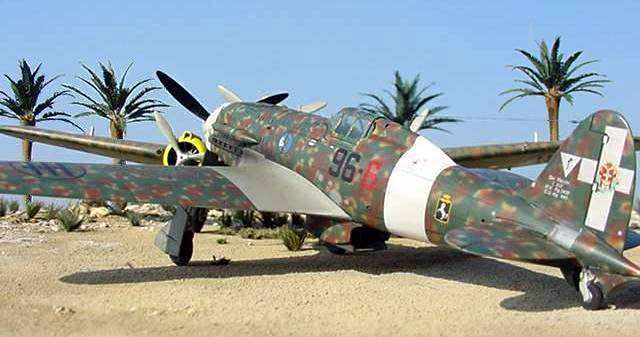 First reason is the S.81 "Pipistrello" ( Bat ) was under reconstruction, second one I'm already working on another "big project" and I needed to save time building the only one essential date palm tree.
So , I used one very old Supermodel cantZ.1007 in 1/72 scale recently heavily rebuilt by my brother Luca.
To make the basic parts of the palm I used thick tinfoil for leaves (obtained from a cover of yoghurt packaging), nylon fishing line for stems and one plastic tube covered by Milliput resin putty was the trunk.

When my palm was finished I photographed it with a digital camera from different angles of view and distances , taking care to maintain the same angle of shadow for the purpose to collect a series of palm's images , different by dimensions and layout of the leaves.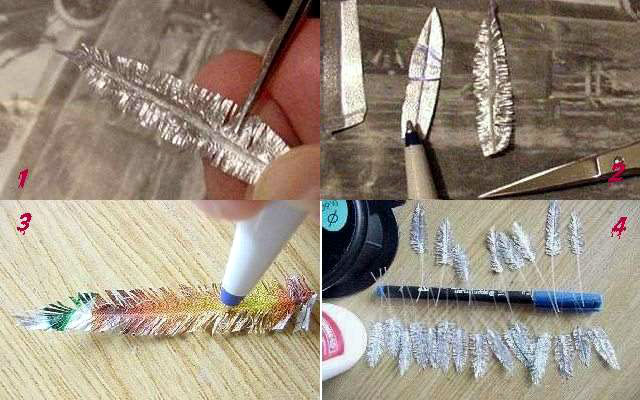 Then, I took the definitive photo of the diorama using the palm as background in the centre of the picture and at last I adjoined tree more "electronic" palms cut out from the "digital palm data base".
Macchi C.202 in action - AIRCRAFT No.41 --- Squadron/Signal publications

Aer.Macchi C.202 - Ali e Colori No.4 --- La Bancarella Aeronautica

Storia Militare No. 111 --- Albertelli Edizioni Speciali SrL
--- author of the article is Giovanni Massimello

Click on the thumbnails below to view larger images:
---
Model, Images and Text Copyright © 2002 by Marco Bossi
Page Created 20 October, 2003
Last Updated 17 March, 2004
Back to HyperScale Main Page