Curtiss N9H Floatplane
1/48 Scale Conversion
by Michael Robinson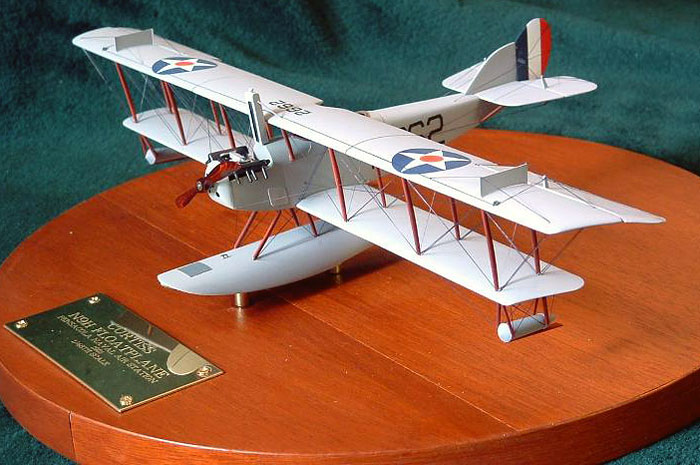 Curtiss N9H Floatplane
I am a big fan of Pre World War 2 US Navy aviation, and one of my favorite aircraft has always been the Curtiss Jenny. Having grown up in Upstate New York, not far from where Glen Curtiss developed his designs and grew his company, also helped foster that interest.
When I read the original article in the July 1993 Fine Scale Modeler, of how Carl Park built his N9H, using three Lindberg Jenny kits, I knew I had to do it. I made some minor deviations from his article, in that I used only 2 Jenny kits and a Lindberg SE5 kit to pirate the Hispano Suiza engine from. The only real reason he used 3 Jenny kits was to have an extra Stabilizer to cut the Ailerons from. I chose to scratchbuild these instead.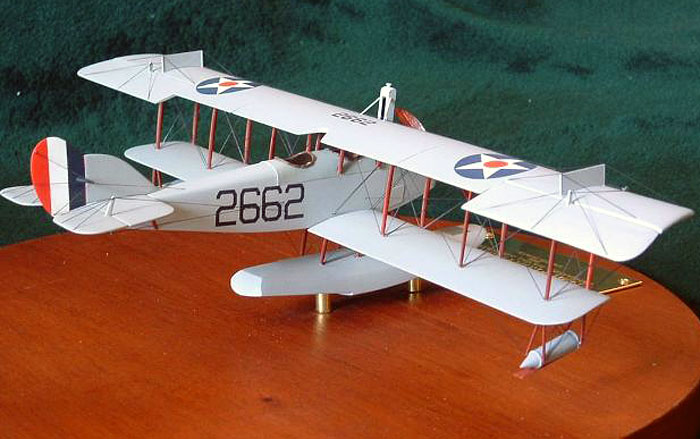 With his article in hand, a set of drawings obtained from the Naval Aviation Museum in Pensacola, and photographs I took of the N9H on display there, I began cutting plastic. In the paragraphs below, I have outlined some of the techniques I used and the work involved.
Fuselage
One kit's fuselage was used as the actual model, and the other was cut up to use as masters to vacuform new coaming over the Cockpit, and a reshaped Turtle Deck behind the Cockpit area.
The kit interior walls were thinned considerably, by scraping with a cabinet scrapper to approx. half the original thickness, for a more scale like appearance. Interior Longerons and structure was added, along with internal bracing wires. Control yokes, unique to the N9H were made from brass wire soldered together, with control wheels from a spare PE Fret.
The Floor was made from 1/64th plywood, as was the forward bulkhead and Instructors Bulkhead. Rudder bars are fashioned from basswood strips, with Rudder Fairleads attached as appropriate. The seats are made from .010 plastic sheet with tape belts and PE Buckles.
The Cockpit is accurate, with only the Instructors rear Cockpit having any flight instruments. Students literally learned to fly by the seat of their pants. The are of the cowl was heavily reshaped as the N9H has a much different cowl, forward area, and side panels than the Jenny.
A New Nose was vacuformed and installed, as well as a corrected Hispano-Suiza Engine from a Lindberg SE5 kit. The engine was detailed with both Magnetos, full ignition wiring, plumbing underneath for cooling lines (even though you can't see it, it's there) scratchbuilt Intake Manifold and Carb, and Exhaust pipes.
The prop is from Copper State Models. All Cabane and Wing Struts are heavily modified kit struts, jigged for accurate placement. The Radiator is scratchbuilt using Evergreen Plastic Channel, Rod and Strip, and brass screen. Control Lines were rigged using Lycra Thread.
| | |
| --- | --- |
| Fuselage under construction. Engine is being test fitted in this picture. Note the different colors of plastic wings from the two kits used. Interior structure is stained basswood strips. | Fuselage under construction. Vacuformed Cockpit cover and rear Turtle Deck have been fitted, and interior components have been installed. New Nose has been installed as well. |
---
Wings
This is where most of the work was done.
N9H Wings are 10 feet longer in span than Jenny wings, so 2, 3-1/2 foot stubs were added to the lower wings, and a 10 foot center section was added to the Top Wing. Wings from both kits were sectioned and glued together. All rib detail was sanded off as it was too intense, giving a "starved cow" look to the wings. Actual fabric wings are drum taught, not sagging like many kits portray it as. After the wings were sanded smooth, individual decal strips were laid on using pencil guides where rib locations were. The wings were squared up in a jig, then strut attachment holes were drilled, as well as rigging attachment points.
The gaps in the Upper wing are accurate. There was a 2-inch gap between the panels on the actual aircraft. The rigging was done using Lycra Thread, stretched from locating hole to locating hole and seized with a drop of CA. All Rigging is accurate and functional, due to the length of the wings I didn't want them sagging. The real aircraft used doubled Flying wires, and single Landing wires.
Ailerons were fashioned from .005 sheet plastic with a .030 lead edge rod, embossed from underneath for rib detail. The Skid fences on the Upper Wing are also made from .010 plastic and .020 Rod. Pulleys for the Ailerons were punched from .030 plastic using a homemade punch, and held in place by fine wire brackets as the original.
A jig just for this model was made to hold everything in alignment as each strut was cut to fit and glued in place. Wing Bay Bracing Wires were set into the strut holes before the strut was glued in place.
| | |
| --- | --- |
| Wings fitted and a dust coat of primer sprayed on wings before sanding off the overly done ribs. | Tedium on display. Individual strips of decal strips being layed on the wings, following pencil marks indicating Rib Stations. These were then overspraed with Primer again, then painted. |
---
<![if !mso]><![endif]>
| | |
| --- | --- |
| Upper Wing being taped. That sucker is almost 13 inches long. The N9H was somewhat underpowered, and needed a longer span to generate enough lift to break free of the water suction on the bottom of the float | First trial fit of the upper wing to the Cabane Struts. |
<![if !mso]><![endif]>
---
Tail Surfaces
The Fin on the N9H is "humpier" in profile, so a new Fin was made using .030 sheet. Kit Rudder was used, after sanding down trail edges and fixing outline of Rudder. Kit Stabilizers and Elevators were used, with the same sanding of trail edges. Control Horns are made from .020 plastic to replace the overly thick kit items.
| | |
| --- | --- |
| All major airframe work has been done at this point. It's starting to look like an airplane. Note the new Fin, cut from the left over kit's Stabilizer. | Major Blonde Moment during construction. When laying out the strut location hole I used tape to hold model firm to layout sheet. Guess what else came off when I pulled the tape up? Yep… you guessed it. 4 rib tapes per wing. Duh. |
---
| | |
| --- | --- |
| The completed Engine. Scratchbuilt Intake and Carb, all coolant and oil lines present. | The Model after removing the jig fixture. Struts have been installed and Rigging is starting. |
---
Floats
Main Center Float was carved from Basswood, sealed, sanded and painted, then holes located and drilled for Strut attachment. Rigging wire points were also drilled. Wing Tip Floats are turned ¼ inch dowel, with .005 strip wrapped around for joint lines. Struts for floats were made from .020 plastic, sanded to correct shape and profile, with brass pins in the end for mounting strength. 1200 grit wet/dry sandpaper makes nice anti-skid areas, and brass wire was formed and soldered together for the Cleat on the Main Float.
| | |
| --- | --- |
| Inside this scrap basswood there is a Main Float… | See? There it is, after about an hour's worth of carving and sanding. |
<![if !vml]>

<![endif]>
Paint is Duplicolor Sandable Primer. It's as close to Navy Gray for that era as you will find, and being lacquer based sprays easily. After painting the model was sealed with Future prior to using various decals from the scrap box to represent one of hundreds of N9H's delivered to the Navy. A final overcoat of Dullcoat to scale down the gloss and the model was finished.
The base is ½" Particle Board with Mahogany Veneer, stained and sealed, with Brass Rod used to attach model to base.
Click the thumbnails below to view larger images
---
Model, Images and Text Copyright © 2003 by Michael Robinson
Page Created 07 November, 2003
Last Updated 17 March, 2004
Back to HyperScale Main Page