Airco D.H.2
Blue Max 1/48 Scale Kit
by Bucky Sheftall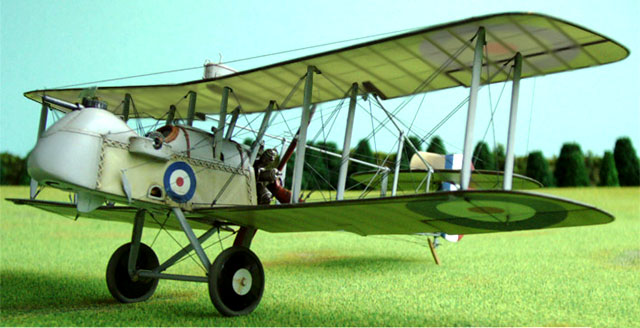 De Havilland D.H.2
Blue Max 1/48 Scale Kit
Translucent upper wing created in Photoshop!

Blue Max's 1/48 scale D.H.2 is a
vailable online from Squadron
This is the 1/48 Blue Max Airco DH2 built with Tomasz Gronczewski's wonderful brass set and... ahem... considerable further modification.

The fuselage/nacelle is scratch built. Heatsmashing the nose and engine cowling was an exercise in anger management. After burning through about twenty bucks worth of plastic stock, I finally got good results with .4mm Evergreen sheet. The Lewis gun ammo drum holders are scratched from .125mm sheet, heat smashed using boiling water as heat source (the sheet being too delicate for normal electric stove softening). Upper lip rimmed with very thinly stretched sprue. The seat belt (barely visible here) is early RFC type from the Eduard RFC belt set (48303). Coaming is lead foil.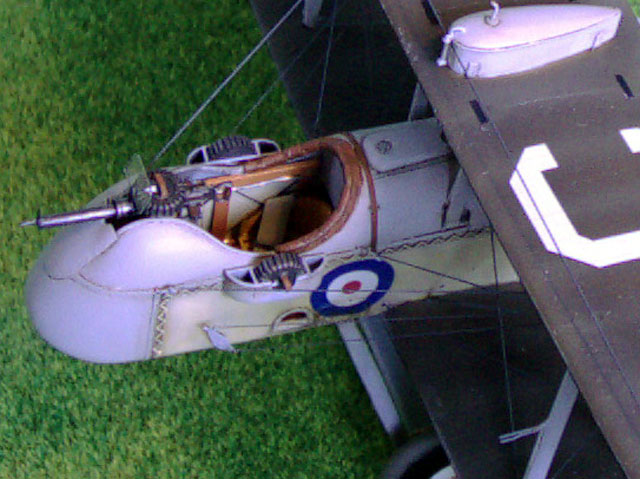 Tail boom is from the kit, with struts cut from .5mm brass rod-cored flattened brass pipe and soldered in place. Vertical stab and rudder are built around Tomacz's framework skinned in .25mm Evergreen.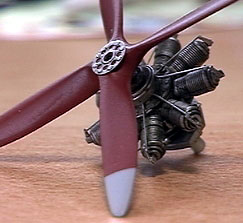 The Monosoupape is scratched around cylinders purloined from the DML Fokker Triplane kit (which is still too far down the "to do" pile to worry about right now...). Datafile photos were invaluable in this venture.
Pushrods are stretched sprue, cylinder heads are punch'n'die'd Evergreen sheet and chopped Evergreen planking.
The engine block is disks cut from 1mm Evergreen sheet, garnished with punch'n'die'd rivets and .3mm solder wire bent into circles (this stuff kicks butt for bungee suspension, too, btw).

Wingtop fuel tank is scratch built. The top lid rim is stretched sprue glued around the circumference of the tank.
Rigging is mostly magic-markered monofilament with the previously explained "Hashimoto turnbuckles", then given a final coat of Modelmaster Gunship Grey applied by brush. This paint takes very well to the monofilament after the rigging has been hit with some flat overspray.



Areas I felt would not take the stress of monofilament rigging -- such as the aileron control horns alongside the nacelle and rudder-- were instead rigged with stretched nylon pantyhose thread.
I would like to thank everyone on the World War I Modeling List who helped me with this project, especially my "sensei" and initial inspiration, the Man With The Golden Tweezers, Dr. Tom Morgan.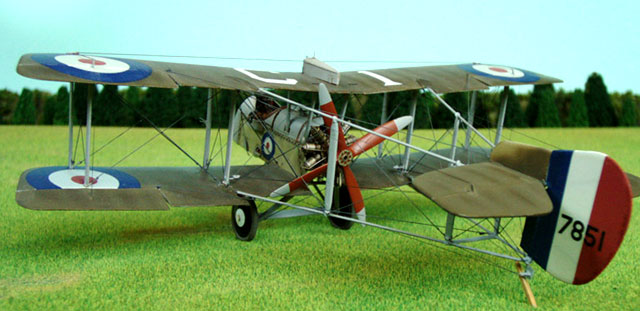 A special thanks also to Tomasz G. for the brass, to Stephen Mudgett for selling me the Blue Max kit in the first place, to Stephen Perry and Bob Laskodi for wing help, to Sanjeev Hirve for Lewis gun guidance and to Roger Fabrocini from Plane Talking for sending me a much needed rigging diagram from the 1/72 Eduard kit.
Click the thumbnails below to view larger images:
---
Model, Images and Text Copyright © 2003 by Bucky Sheftall
Page Created 26 November, 2003
Last Updated 17 March, 2004
Back to HyperScale Main Page