Dornier Do 26
by Bryan "Tuck" Tucker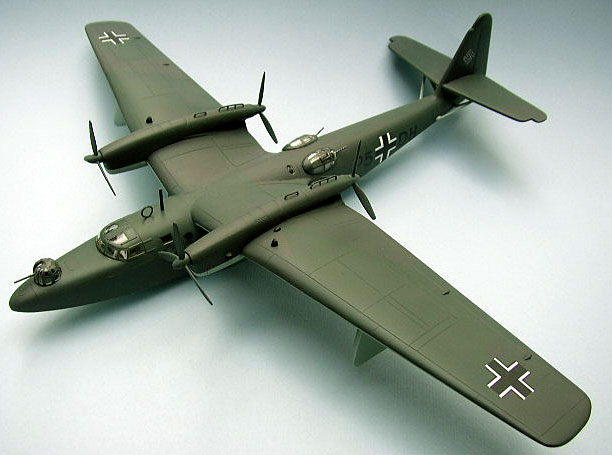 Dornier Do 26

Mach 2's 1/72 scale Dornier Do 26 Seaplane is available online from Squadron
Arguably the most beautiful flying boat ever manufactured, the Dornier Do 26 was constructed for Lufthansa to meet the requirement of a trans-Atlantic mail and passenger carrier.
Dornier by this time had extensive experience in manufacturing flying boats, as well as the novel tandem engine approach seen on so many of his aircraft. The rear engines were hinged upward during takeoff to avoid the propeller tips striking the water.
Kit Summary
Kit
1/72 Scale Mach 2 Dornier Do 26
Cost
USD$60.00 (from Squadron)
Markings
Kit decals for two aircraft
Comments
Better eat your Wheaties for this oneÖ..
Upon the outbreak of war, the Luftwaffe took charge of all six Do 26s and utilized them for operations in the fiords of Norway, as well as general patrol and staff transport duties. In service, it was armed with a 20mm MG151 in the nose turret and MG15s in the beam hatch positions and mid-fuselage blisters. No bombs or depth charges were carried.
The boats were quite weakly armed and slow, so they were quickly relegated to behind-the-lines duties, where general attrition and lack of spares caused them to fade from service.
None survive today.
Mach 2's 1/72 scale Do 26
Mach 2 from France has a bad reputation amongst modelers. This is not undeserved, as their kits are somewhat crude and difficult to build. Having already built their Arado 232 transport, I had a good idea what I was in for.
The kit is molded in light gray plastic, and the moldings are rough in texture, soft in detail and have flash and general imperfections all over.
The clear parts are hardly that. They are opaque and extremely thick!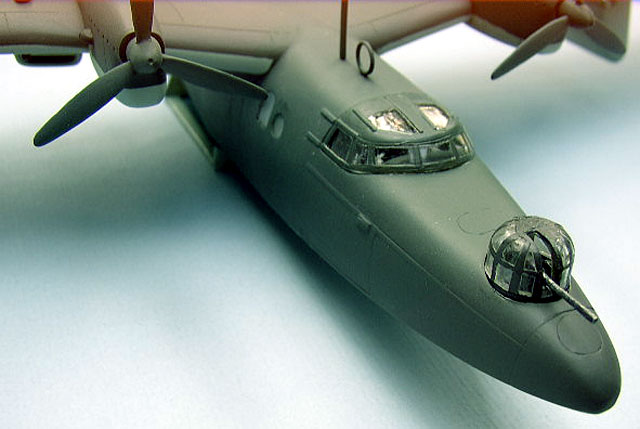 This kit was unusual, as it had a decently detailed cockpit compartment and rear gunner blister compartment. All bulkheads, seats, radios, navigation tables, control columns, etc. are included. All other Mach 2 kits I have built have minimal cockpit detail.
You have the option to build the kit as either the Lufthansa ĎSeafalkeí (Seafalcon) prototype from 1939 or a military boat used in Norway in 1940. Decals are provided for both versions. A rudimentary display stand is also included.
Pay close attention to the instruction sheet for different parts to use between the civil and military version. The instruction sheet is minimalist, and no painting guides are provided other than the box top 3-view (and that is only for the military version!).
I spent the first two nights of construction removing all parts from the sprues and cleaning them up as much as I could. This included fixing small shape errors, sanding away rough surface texture, sanding mating surfaces, etc.

I first glued the outrigger float bay sidewall parts to the lower wing halves, and then glued the wing halves together. Masking tape held the parts together until dry. After drying, I removed the tape and began working on the seams. It took many applications of super glue and setting solution to fill all the imperfections in the leading and trailing seams, but I got the worst of them. The wings were then gently sanded all over to remove more pebbly texture.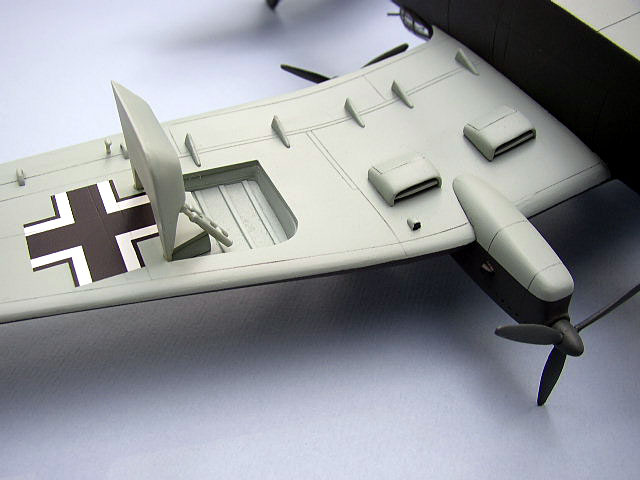 Next I began work on the under wing radiators, two per wing. Luckily, these parts fit fairly well, with only a little trimming and sanding necessary for a good fit. I painted the wing surface and radiators at this time, as they would be very difficult to reach after assembly. I then added the flap hinge fairings to each wing. These are simple butt joints and were glued with super glue. I left off the aileron balances until construction was complete to avoid constantly ripping them off.

I then added the engines to each completed wing assembly. The parts are designed to give you the option to raise the rear engines to the take-off position, but this will require scratch building. I did not want the hassle, so I left my engines in the in-flight position. Each front and rear engine is assembled in halves, and these assemblies are then glued onto the wing. Massive gaps and holes were the result of this construction, so more time was spent applying and sanding filler.


Finally, I plucked up the courage to start the cockpit interior. These parts suffer from soft detail, but end up making a decent representation of the front office. I could find not photos inside of the Do 26, so I cannot comment on accuracy. I painted the interior RLM 02 gray with silver seats and black instrument panels. The bulkheads offer adequate detail, but again this is soft. The rear gunners blister station interior was completed in the same manner.

Now for the decisive moment. The completed cockpit assemblies were placed in the fuselage for test fitting. I cringed as I started to close the halves, but was extremely happy to find that they fitted with no adjustment required! Before gluing the fuselage halves together, I glued the lower rear gunnerís trough (under the boat at the tail) in with slow setting glue so I could adjust it. It is impossible to install this after the fuselage halves are joined, so be careful! If you chose to do the civil version, this trough is replaced with a fairing (provided). Again, all completed subassemblies were filled, sanded, and cleaned up to remove as many imperfections as possible.

The horizontal stabilizers were assembled without incident. By now, the drill of filling seams and sanding was well established, and these items were quickly completed. I also assembled the propellers at this time. I would like to meet the Mach 2 designer who decided to make each propeller blade separate! Each (count them Ė 12) requires massive cleanup, including bending, trimming, etc. The prop spinners and hubs were awful as well. I highly recommend replacing these with spares box replacements, but I was on a mission to use all of the kitís parts, no matter how bad they were! The completed props were painted according to standard practice. The spinner is RLM 70 and the propeller blades, which are metal, are RLM 70.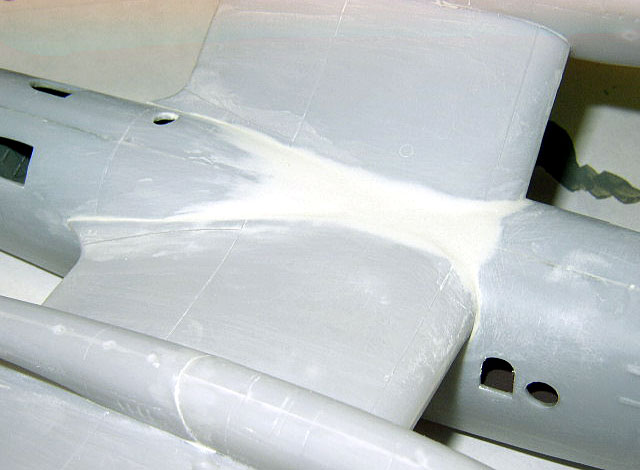 Now for the next challenge: joining the wings and horizontal stabilizers to the fuselage! The gull wing attachment to the fuselage of the real bird is graceful, elegant, and aesthetically pleasing. No, so on the plastic kit. I glued the wing on with super glue, then made three separate applications of filler and sanded away at the joints. The process was repeated, albeit smaller scale, on the horizontal stabilizers. I left off the support struts until after painting to ease final assembly.

Before painting, the entire model was again wet sanded with progressively finer papers in an attempt to smooth out all final flaws. Then on to the paint booth.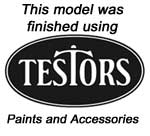 All paints were Model Master Acrylics. All military seaplanes were painted RLM 72 and 73 over RLM 65. Since these paints have a tendency to lift off with masking, I used Tamiya masking tape for the splinter pattern. I highly recommend this tape when using the Model Master Acrylics. Since I have been using the tape, I have had minimal lift of paint.

I first sprayed the entire model with RLM 65 as a primer coat to see if there were any flaws. Letís just say this, there were many, and I fixed them as best I could. I re-sprayed the RLM 65 color. I then masked the upper/lower demarcation line as the real aircraft had a hard edge between the colors. I covered all the lower areas to remain RLM 65 and sprayed the upper surface colors.

I shot the kit with Model Master Gloss in preparation for decals. Iíve had mixed results with Mach 2 decals, and I can say these were a pleasant surprise. On my sample, there was no carrier film between any of the fuselage code letters, making the risk of silvering non-existent. All wing and fuselage crosses went on without incident, and all reacted well to Micro-Sol. I chose to use aftermarket swastikas.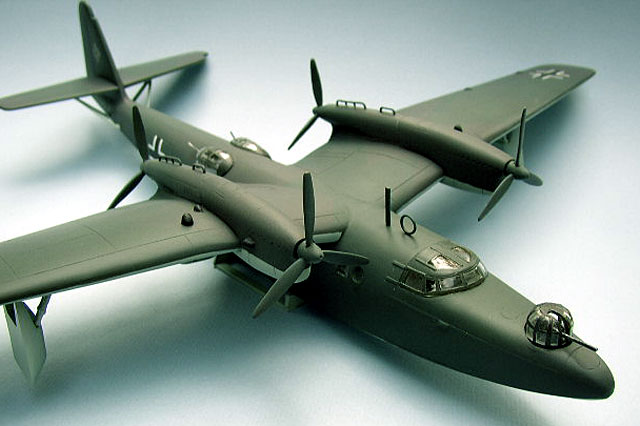 The canopies were then cleaned of flash, test-fitted, and trimmed to fit the fuselage. Ambroid Liquid Mask was used, slathered on in three coats. Each window was cut using a sharp No. 11 blade, and the canopies painted. After the mask was removed, each clear part was dipped in future. This cleared up the windows significantly, but made the window frame color deepen significantly. This makes the canopy parts look like they were painted with different paint. I was quite tired of this kit by then, so I lived with it. Micro Kristal Kleer was used on all small windows and portholes. After a shot of Dullcoat, the rear struts were installed, canopies glued, and display stand assembled. DONE!
Well, it has been over five months since construction started, and I tired of it many times, but another Mach 2 dragon has been slain. I can proudly say I used every part the kit offered, from aileron balance horns to machineguns. These kits are indeed tough, but Mach 2 has a nasty tendency to produce kits that no mainstream kit maker will ever produce, making their products curiously desirable. However, they are so tough that they wear you down, and I swear I will never do another one. Dang!, I forgot the Ju 352 in my stash. Itís looking at meÖmake it stop! AAARRRGGGH!!!

Seriously, itís tough, but it can be done. Itís also the only injected molded kit in town of this subject, so good luck!
The Monogram Painting Guide to German Aircraft 1939-1945, Creek and Hitchcock

Warplanes of the Third Reich, William Green

Click on the thumbnails below to view larger images:
---
Model, Images and Text Copyright © 2003 by Bryan "Tuck" Tucker
Page Created 29 July, 2003
Last Updated 17 March, 2004
Back to HyperScale Main Page