Arado E.555
by Bryan "Tuck" Tucker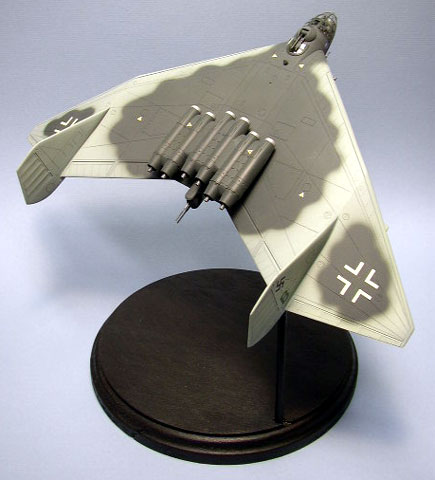 Arado E.555

HyperScale is proudly supported by Squadron
What history? This was only a paper project!
Revell's 1/72 Scale E.555

Revell Germany has released a gem of a kit of a very interesting subject. It has been reviewed in detail several times, so I will not waste space here.
Kit Summary
Kit
Arado E.555
Scale
1/72
Manufacturer
Revell Germany
Additional Parts Used
Monogram 1/48 Hawker Hurricane 40mm Cannons; Condor 1/72 Henschel Hs 293 Guided bombs
The kit is readily available and is usually very cheap.
Detailing throughout is admirable for a 1/72 scale kit. It really puts many Tamigawa kits to shame in detail, fit, price and quality (in my humble opinion).
Since I decided to depict this kit in flight, construction was simplified due to the elimination of the landing gear and all it's associated painting (trust me, the landing gear are gems and will be wonderful additions to the spares box).
I added pilots and a rear gunner (Italieri) from the spares box. The co-pilot/bombadier had to be significantly "cut up" in order to get him to fit due to the bombsight being in the way.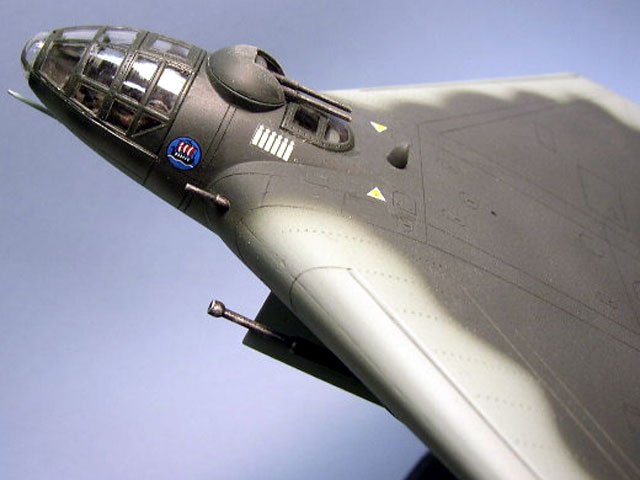 All other parts went together with no filler and no fuss. The fit was excellent. My only difficulty was the sprue attachment points for the upper and lower halves of the wing/fuselage. They are rather thick and some damage ensued with removal. However, this damage was easily eliminated with a little cyano and sandpaper.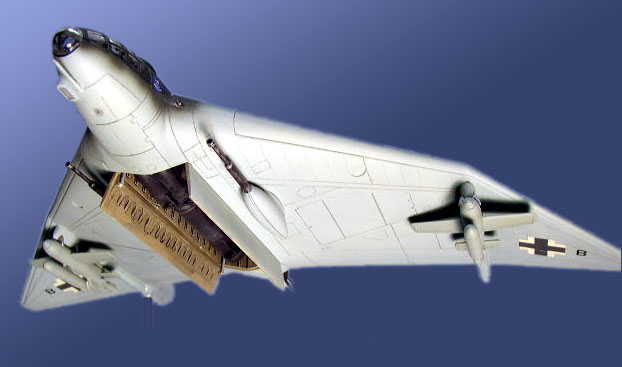 I installed the bomb load and bomb bay doors. The engine pod was left off until after painting. I added the guided bombs and large under wing cannons as I intended this to be a "what-if" anti-shipping aircraft.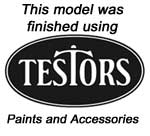 Painting
All paints were Model Master Acrylics. I painted the upper surfaces in a freehand application of RLM 71 over RLM 76.
The Hs 293 Missiles were hand painted RLM 65 to provide a little contrast. RLM 02 was used for the bomb bay, with the bombs being painted black with a dry-brush of RLM 02.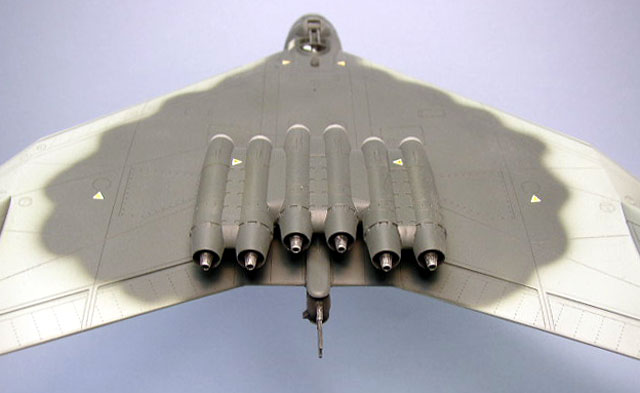 The cockpit was painted RLM 66 with dry brushing of RLM 76 to bring out details. Dials, switches, etc. were painted according to standard Luftwaffe practice. The pilots were painted in brown flight suits with light gray parachute harnesses with dry brushing of tan to bring out flight suit details.
I hand painted the aluminum rings around the jet intakes as these were not always painted. The bomb bay was washed with black and dry –brushed with more RLM 02 to bring out the fine details.
A sharp No. 2 pencil was used to highlight all panel lines.
---
Decals
Decals came from the spares box. I attempted to make some of my own for a little humor. I wanted to put stenciling on the tail of the bird and name it "Luft-Tirpitz" and add kill markings of the USS Enterprise, HMS Hood II, etc. etc. but I could not produce them on decal film or freehand paint them on. I even tried to draw them on with pencil. No luck. Maybe next time...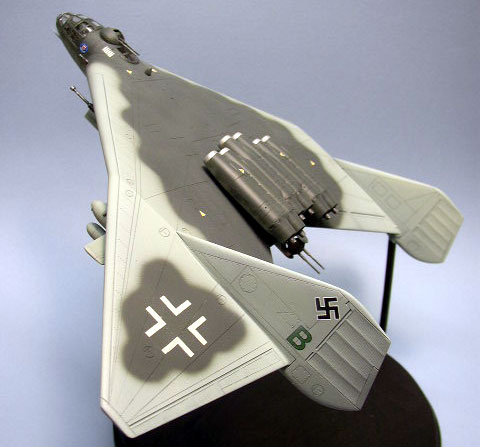 A coat of Model Master Clear Flat was applied and the kit was done. I then drilled a hole on the back tail for the mounting rod (in hindsight, this was a bad idea, I almost ruined the model doing this. Next time, I'll build the rod into the plane while I'm constructing it.) The rod and base are from a craft store, and were painted black with water based art paint (the thick, gooey kind). I mounted the plane for ease of viewing the bomb bay.
This was a fun project that tested personal limits.
"What-If" subjects are a blast as there is no "correct" way to do them. Just have fun and experiment with detailing and painting. The kit was slammed together in a few sessions and the display base was much easier than I thought it would be.
Give "What-If's" and in-flight displays a chance; you just may like them.



Click the thumbnails below to view larger images:
---
Model, Images and Text Copyright © 2003 by Bryan "Tuck" Tucker
Page Created 04 February, 2003
Last Updated 17 March, 2004
Back to HyperScale Main Page