North American F-108 "Rapier"
by "Bondo" Phil Brandt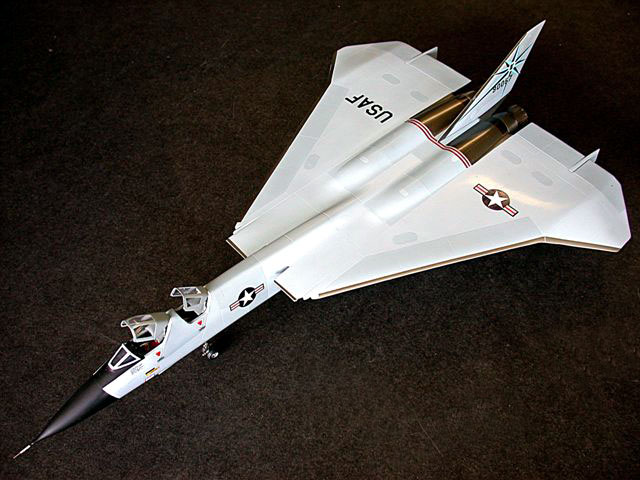 North American F-108 "Rapier"

HyperScale is proudly sponsored by Squadron
The F-108 Rapier was North American Aviation's answer to DOD cutting edge interceptor criteria issued in the mid-Fifties and envisaged as countering all airborne threats in the post 1962 world. A complete weapons system, as were other members of the "Century Series", the F-108 was to eventually supplant the F-106 by operating independently, well beyond the limits of the then standard SAGE (Semi-Automatic Ground Environment) air intercept system. The Rapier was designed to "run with the big dogs," at Mach 3 and to zoom climb altitudes in excess of 100,000 feet. Manned by two aircrew members in a tandem cockpit, powered by two brutish J93 General Electric engines (six of which powered the XB-70), the cranked delta-winged Rapier was some fifteen feet longer and slightly heavier than the F-111. Missiles only were the order of the day, and the F-108 carried three AIM 47 Falcons on a rotary launcher in the weapons bay.

The project moved along smartly, with a full scale mockup finished, the first flight scheduled for 1961 and Initial Operating Capability (IOC) estimated in 1963. Although the project was on schedule with few, if any, developmental glitches, the USAF suddenly announced in September 1959 that the F-108 was canceled "because of a shortage of funds and priorities....." "Priorities" seems to be the operative word, since an apparently unknowing North American design team was running against a parallel "Black World" ultra project which was to become the YF-12. Interestingly, the Hughes radar and AIM 47s appeared on the Lockheed Blackbird!
Collect-Aire's 1/48 Scale F-108
This is, save for the RB-57F, probably the largest Collect-Aire release extant, and the familiar love-hate relationship between the master modeler and the person who builds the kit is still there. It's a very desirable and rare subject, big and sleek looking, a fitting stablemate to a Testors SR-71 or YF-12, but a careful look and you know--somewhat in the manner of Mach 2 kits--you're gonna take a beating, and Bondo did! The generally smooth molding is petitely engraved but suffers from numerous, and I do mean numerous, tiny pits, not the usual resin voids. The various casting discrepancies took a bunch of carefully applied Blue Acryl to fix, especially the significant forward fuselage depressions immediately in front of the topside engine bulges and the cross sectional mismatch of main wing with the drooping tips. Fit of large components was problematic and warpage of the large flying surfaces required careful adjustments with hot water. But then, Bondo wouldn't've been into this Two-Bill project if he wasn't serious; would you?
---
Cockpit and Canopies
The kit cockpit features individual crew ejection capsules shaped like ones in the XB-70, but the seats inside the capsules seemed way too small when compared to current 1/48 aftermarket ejection seats, and there were no belts or harnesses, either. The consoles also seem undersized, the instrument panels relatively plain, and there was zero sidewall detail.
Since we're working with an aircraft that only got to the fullscale mockup stage, my solution for cockpit "busy-ness"was to kitbash the Black Box F-105G tandem cockpit along with B-58 capsules from the Monogram kit and the Engines & Things aftermarket set for same (which BTW has merely cloned the Monogram seats!) Really makes a difference...and nobody I know has the drawings to disprove it!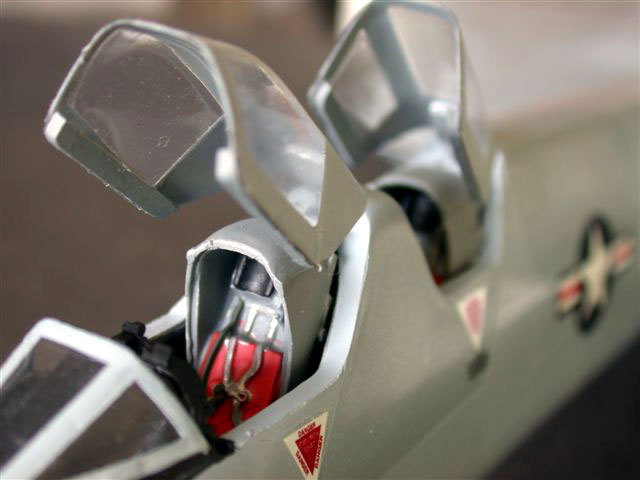 Two sets of vacuformed canopies are included, fairly clear, with slightly raised detail. I elected to cut out the individual crew hatches, add some side rails for thickness and pose them open, ' cause y'all know Bondo loves busy cockpits!
---
Intakes
The huge intakes are multipiece with a cloned compressor first stage and a teeny starter bump in the center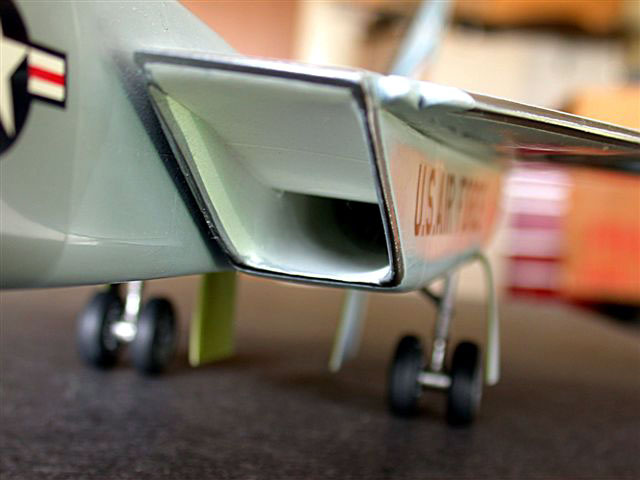 I substituted the compressor faces from an old Monogram F-14 and used A&B epoxy putty to fair the intake trunk interiors back to the compressor faces.
---
Burners
The kit's afterburner nozzles mimic the real J93 engine in shape--there's a real one on display at the March AFB Museum in Riverside, CA--but the nozzle leaves are minimally detailed, with casting flaws, and the diameter seems a bit too large; I substituted some Monogram F-15 nozzles with the individual 'turkey feathers' in the open position and deepened the Collect-Aire nozzle interiors by two inches to look realistic. Next, I added F-15 turbine faces.
The fuselage-to-burner nozzle transition piece was what really got to me, though; it seemed really hokey; not a smooth blending of sections as in most other jets, but an unattractive doughnut-shaped piece which rounds off from the empennage down to the much smaller nozzles.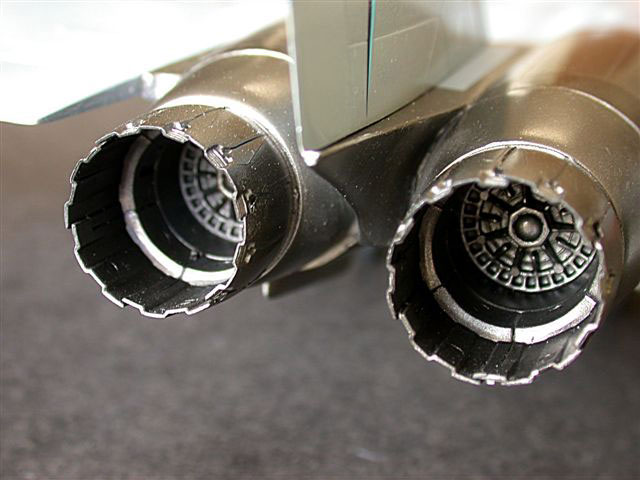 I couldn't stand the look of it, so I scratchbuilt new much more gradual transition pieces, using lotsa good ol' A&B putty.
---
Landing Gear
Landing gear struts are in metal with so-so detailing and a fair amount of flash to file. The kit's main wheels seem too large in diameter and are much too bulbous--another reviewer has written that they seem to have been cloned from a Ju-88(!)--and I replaced 'em with Monogram F-15 units (you'll need four wheels).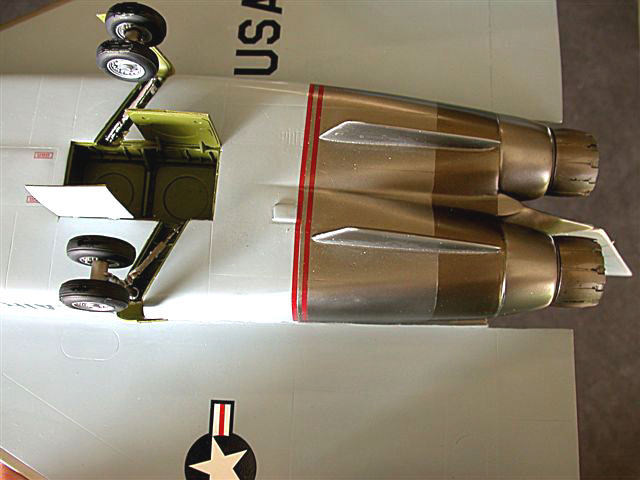 Bondo Industries also substituted F-4 nose wheels; better detail and larger diameter....this was a big aircraft! The nosegear well is typical Collect-Aire: bare surfaces adorned with a few strips of Evergreen. The main well is slightly better than normal, however, with shaped formers and multilayering. I chose to leave all gear wells as cast.
---


Weapons
The less said about the included metal missiles the better; El Crude-o Grande! I tried all kind of rotary launcher schemes and aftermarket missiles, but dimensions (the bay seemed too narrow for a realistic launcher plus three missiles!) just didn't work out, so I elected to pass and closed the bay.
Colors
Although the full scale 108 mockup was done in the all-white test scheme common in those days, it is highly probable that production versions would have been painted in typical Deuce/Six ADC gray overall. I shot many coats of the requisite auto lacquer primer, wetsanding up through 8000 grit before using Alclad II on leading edges and the large afterburner areas. Then I custom mixed two slightly varying shades--I feel that differing panels add diversity to large, boring expanses of one color--of ADC grey from flat Testors acrylic and masked over the Alclad before laying on the grey shades. I then wetsanded again up through 12000 grit to provide a bulletproof, glossy surface for decalling.
---

Decals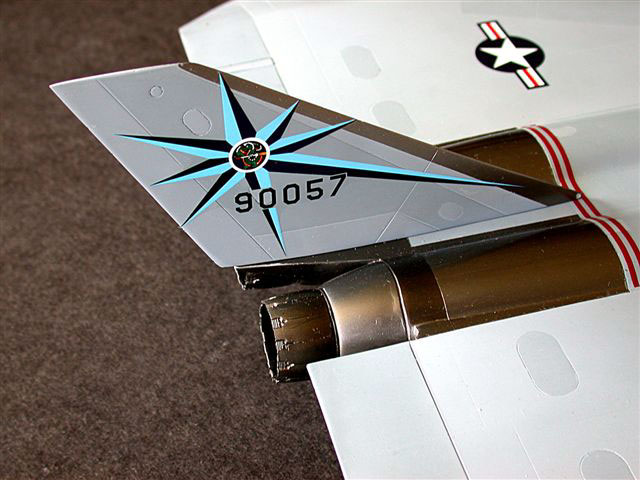 Since the F-108 was to replace the Six, and the vertical fins of both aircraft are remarkably similar in size and shape, I saw no reason why currently available F-106 tail logo decals couldn't be used, and laid on the flamboyant, very nice Aeromaster markings.
She would've been quite an aerochine, the Rapier, and it's truly unfortunate that the consumate designers at North American had to run into Kelly Johnson and his storied magicians at Lockheed's Skunk Works, especially since only three YF-12s were ever built.
Click on the thumbnails below to view larger images:
---
Model, Images and Text Copyright © 2003 by Phil Brandt
Page Created 24 April, 2003
Last Updated 17 March, 2004
Back to HyperScale Main Page