Grumman F4F-4 Wildcat
by Roger Fabrocini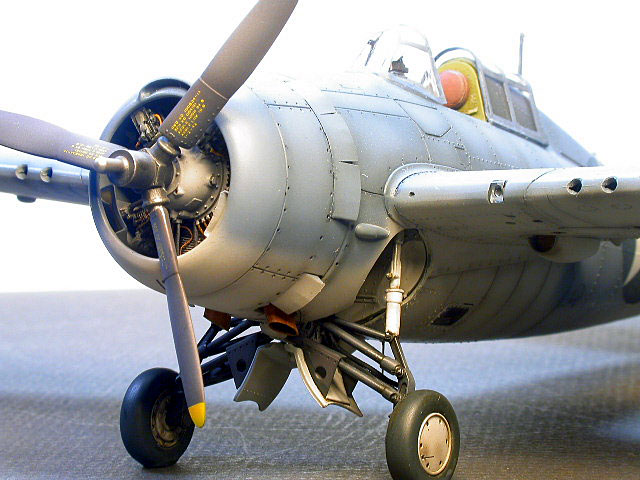 Grumman F4F-4 Wildcat

Tamiya's 1/48 scale F4F-4 Wildcat is available online from
Squadron.com
I've been in love with naval aviation since my first Monogram Hellcat maybe 40 years ago. This is my tribute to the U.S. Navy's 'First Team'.
On August 7, 1942 The US Navy and Marines invaded the island of Guadalcanal. Lt. James J. "PUG" Southerland was flying F4F-4 Wildcat bu.no.5192, F12 of VF-5, off the USS SARATOGA on his third CV CAP mission of the morning. After 'splashing' two Mitsubishi Type 1 land attack planes (BETTY) of the 4th Air Group, "PUG" was set upon by three of the escorting A6M2 type O, model 21 (ZERO) fighters. Pug actually chased the three until his guns became inoperable. From that point on he flew to survive.
Watching all this in utter amazement was the legendary PO1c Sakai Saburo, the Imperial Navy's top ace with 48 aerial victories. Sakai joined the fight and after an epic 'dog-fight' shot good old 5-F-12 out from under "PUG".
This air engagement has been documented from both sides, in John B. Lundstrom's "THE FIRST TEAM and the Guadalcanal Campaign" and in Sakai Saburo's own words in "SAMURAI!".
This is Tamiya's 1/48 scale F4F-4 Wildcat with the following additions:
Aries detail set #4058 for the F4F-4 Wildcat (interior, engine, intercoolers &scoops and machine gun barrels used)
Eduard F4F photo-etched detail set #48-131

True details F4F vacuform canopy

KMC cowling flaps, elevators and gun sight

Aeromaster F4F wildcat decal sheet #48-149

True Details Fast Frames canopy frames for F4F
Tamiya's Wildcat is a dream to build, with no construction snags. This is one time that Aries parts preformed as advertised, with no fit problems encountered - at least with the parts that I used.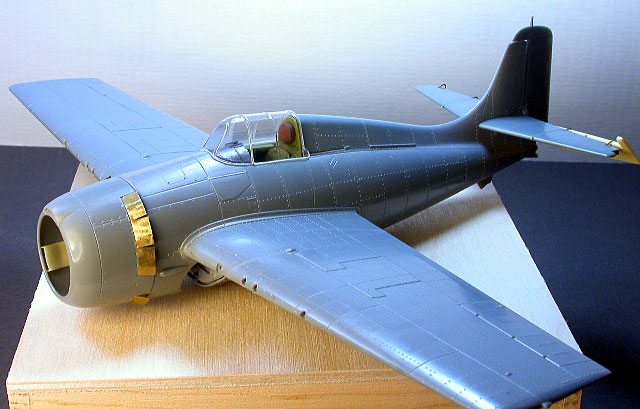 Interior
The interior was prepared using Mr. Resin Primer followed by Gunze #58 US interior Green, with a tint of Tamiya Yellow Green and white. Shading was done with a darkened US Interior Green.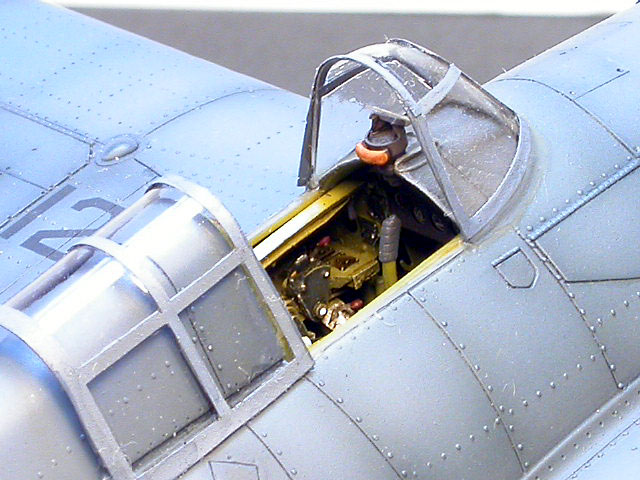 Vallejo acrylics where used for the detail, #40, 41 and 48 for the leather headrest followed by oil from my finger to simulate leather.
---

Engine
The P&W R-1830-86 was primed with Mr. Resin primer, followed by Tamiya Dark Sea Gray engine case and Gunze Dark iron clyinders. Pushrods are .020 inch evergreen rod, though next time I'll use .015.Of note is the ignition harness. To give the flat photo etched harness a fuller, rounded look, I used Vallejo acrylics, building up the color.
I used Brass and brown leather, mixed, followed by a wash of ochre brown. The propeller hub was painted Alclad Aluminum, followed by Model Master Metalizer exhaust, then buffed and rubbed leaving the exhaust in the recesses.
Click the thumbnails below to view larger images:
---

Airframe
First, I applied Mr. Surfacer 1000 primer. I tried a more precise application of the pre shading this time. I used Tamiya Sea Blue and Dark Gray on the upper surfaces, dark gray on the lower surfaces. I wanted the preshading to show through giving the airframe depth. Top surfaces is Gunze #42 Blue Gray with post panel shading done with lightened and thinned Blue Gray. Post shading of panel lines was done with a brown and black mixture. High traffic and maintenance areas were post shaded with Gunze #54 Navy Blue and white. The lower surfaces are Gunze #H51 Gull Gray and white, post shaded with the brown and black mix. A drop of lt. brown was added to the gull Gray and random panels were sprayed to break up the scheme.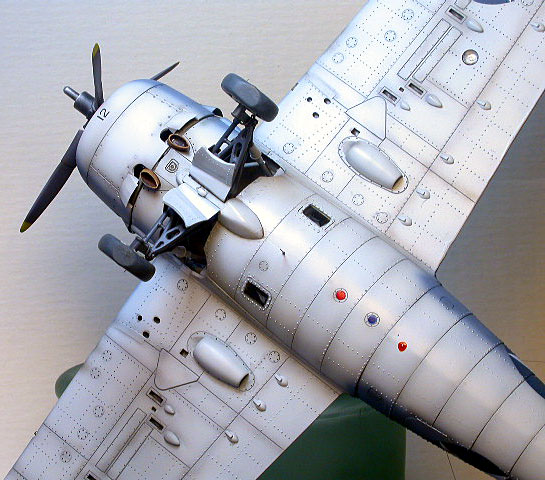 Gloss coat is Mr. Color Super Clear, final coat is Polly Scale Flat acrylic. Decals were weathered using light over sprays of gunze off white and the brown/black mix. Payne's Gray (actually a dark blue) oil was used for the upper surfaces wash, a gray mix was used for the lower surface. After generous input from fellow Forum contributors, i tried to "tone-down" the weathering and panel lines.
Thank you to everybody for your input and enduring my constant update posts on the forum.
To all the "FIRST TEAM" members, Thank you and God Bless.
Click the thumbnails below to view larger images:
---
Model, Images and Text Copyright © 2003 by Roger Fabrocini
Page Created 15 August, 2003
Last Updated 17 March, 2004
Back to HyperScale Main Page