Douglas FC-47D
by Andrew Garcia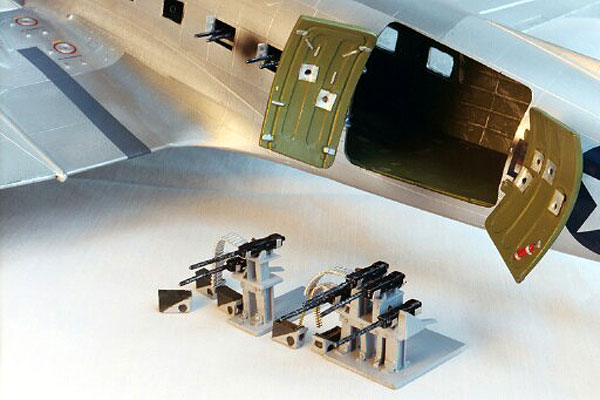 FC-47D


HyperScale is proudly supported by Squadron.com
This is Part Two of a three part series on FC/AC-47 Gunships. In this installment we will look at the FC-47D gunship, which used a battery of ten .30-caliber M2 machine guns as its armament.
The USAF first used the more advanced Vulcan Gatling gun (GAU-2B/A) in an early SUU-11A/A (XM18E1) pod in its first trials of the dedicated orbiting gunship concept. The next phase that is modeled here was an effort to get the benefit of a side-fire gunship to beleaguered troops while awaiting the Vulcan minigun production output to catch up with the Vietnam War demands. The next step was a FC-47D with ten .30-caliber machine guns. This was one of the earliest versions of USAF gunships. It was a stopgap attempt to implement the gunship concept and utilize old military surplus hardware – the M2 .30 caliber machine-guns and ammunition left over from WWII.

Capt. Ron Terry designed several "kits" for installation of the M2 0.30-inch machine guns in the FC-47D gunship aircraft. This model is of "Git-Em Bullett"; one of five FC-47D's armed with ten .30-caliber machine guns. Each gun had 5,000 rounds. Color photos and references were found in International Airpower Review Vol. 4 "USAF Gunships in Vietnam Part 1" page 116 and in Gunships – A Pictorial History of Spooky – Squadron Signal publications # 6032 on page 7. Both references are authored by Larry Davis.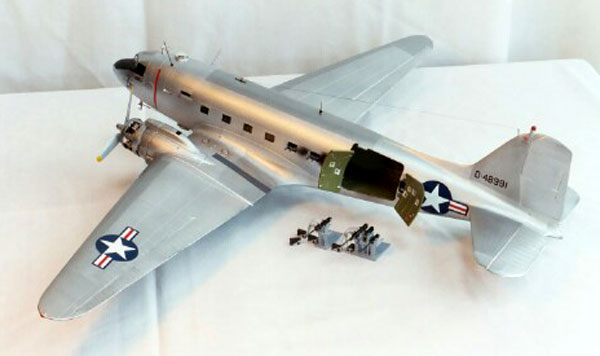 During construction and kit research I found a discrepancy and contacted the author Larry Davis regarding the color profiles appearing with tail code "0-48991. My research led me to believe the actual serial number should be 0-48491. The wrong serial number was apparently introduced during the painting of the color profiles, which were used in the two Squadron texts, Gunships #6032 and C-47 In Action. These may have been the sources used for artwork used in the Microscale decal sheets. Researching information on aircraft for accuracy is both satisfying and at times inconclusive. This in no way detracts from Larry Davis' work, which was outstanding. His books and articles on the AC-47 Gunship are the gold-standard!

The building dilemma I faced was while reviewing photos in the cited references is I noticed the aircraft serial number in the photo for "Git-Em Bullett" is 0-48491 (pg. 7 Gunships Squadron # 6032). The page 25 color profile in the Squadron #6032 book shows the aircraft with serial number 0-48991 and this is what appears in the Microscale decal sheet. The photos in International Airpower Review Vol. 4 "USAF Gunships in Vietnam Part 1 page 116 do not show the tail markings of "Git-Em Bullett". Since there were four of these gunships in Vietnam perhaps there was a 0-48991. The photo references I have only show 0-48491 and 43-48471. Was there actually a 0-48991 and was it also marked "Git-Em Bullett"? Did the aircraft actually have the passenger door removed exposing the 2-gun rack while flying but kept the cargo door closed during flying operations or were both doors on and closed while flying as depicted by the color profile on page 25?

Here's my conclusion, which may be right or wrong. Most of my sources indicated there were five Ten-Gun .30-caliber Gunships. I identified a set of five aircraft serial numbers used by the Ten-Gun aircraft and assumed four went to or were modified in South Vietnam by the 1st ACS and one aircraft remained in the USA at Forbes AFB in Kansas for training purposes. There were three of the Ten-Gun aircraft flying at Forbes AFB in August of 1965.

The serial numbers of AC-47D's using the Ten-Gun kits, which I gleamed from my reading, were:
0-48471 photo on page 115 International Air Power Review Vol.4

0-48491 photo on page 116 International Air Power Review Vol.4

0-48579 text mentions this aircraft on pages 116 – 119 International Air Power Review Vol.4

0-49274 photo on page 122 International Air Power Review Vol.4

0-49495 photo page 53 C-47 In Action Squadron Pub. #1149
The kit I used for this conversion was the Monogram 1/48 C-47 Skytrain (Dakota IV). It is unchanged from its first release in 1978 as a USAAF paratrooper model (Kit # 5607). This kit provides a very satisfying building experience if you can tolerate some fit problems.
I rectified the fit issues with some putty and styrene plastic shims covered by cyano filler.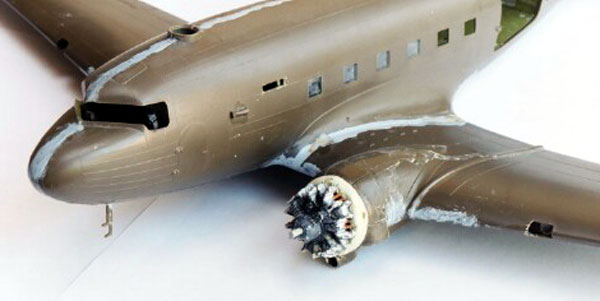 The shape and features of this kit are very accurate and it looks like the C-47 when finished. By building several of the same kit you can get a feel for some of the building challenges that are part of the kit design and not the result of your building technique errors.

I used two of the Aires resin engines in the first AC-47 kit build. In this version I used one Aires #4032 Pratt & Whitney R-1830 Late Version resin engine and used one of the Monogram kit engines to see how it looked. I dressed up the Monogram kit engine with some fuse wire connected to the ignition harness to portray the spark plug wires. I again relied on the Meteor Productions Cutting Edge resin kit for a variety of components except for the gun racks and .30 caliber M2 guns. I created these using a combination of Verlinden for the .30-caliber guns and scratch built components for the racks.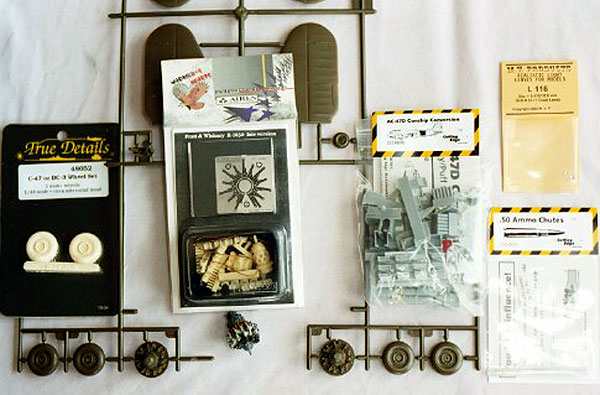 Click the thumbnails below to view larger images:
---
The Aires - #4032 Pratt & Whitney R-1830 Late Version resin engine was easy to build and has incredible detail. I cut away the side access panels on one engine cowling to expose the beauty of the Aires engine. I used the same method of mounting the engine as in my first FC-47, using a Milliput epoxy putty "donut" and seated the engine into it.

Additional components that I added were the Squadron - #48052 resin wheels, replacement props and a cut into the fuselage for a navigator window. For the AC-47 gunship aircraft I had to add a side Navigation window since it is not part of the Monogram C-47 fuselage. The resin wheels were attached using a metal rod (using a straightened paper clip). I drilled through the Monogram kit landing gear where the kit wheels attach and used the metal rod as an axle for strength and to eliminate any gear to resin wheel contact issues.

I had to modify the kit props since the C-47 kit provides only one style of WWII thin props. The reference texts clearly show the use of paddle shaped props on Vietnam era AC-47's. They are finished in natural metal on the planes featured on the Microscale decal sheet and not the traditional flat black C-47 props found on most aircraft. The props were painted Alclad II duraluminum per color photos on pg. 120 + 122 International Air Power Review.

The most important cockpit area enhancements were the Cutting Edge resin gunsight and some scratchbuilt (using metal from the Aires P & W engine etched metal fret) metal wiper blades on the front cockpit windows.

There are many antennas on the top and bottom of the FC/AC-47 aircraft with no one standard so you need to study your reference photos. Cutting Edge though, provides most of the needed antennas in their resin set. Page 10 of the Gunships – A Pictorial History of Spooky – Larry Davis - Squadron Signal publications # 6032 book has an excellent diagram of where you need to look on your reference photos for antennas and other components that attach to the fuselage. For example, if you look closely at the nose of the aircraft you will see a small metal loop that appears to be a tow hook. It is actually the Glide Path Indicator Sensor.

The ten .30 caliber guns are from a Verlinden set, #1267 WWII Aircraft Guns. I scratchbuilt the four-gun and two-gun mounts adding some caliber35 and Verlinden Resin Nuts and Bolts (#0075) as these are very prominent in the photos of the actual racks.
There are differences in the racks used for the FC-47D's so again reference photos are a must. The finished racks (gun mounts) and guns are visible in the doorway. The two dual .30's in the windows are also on a scratchbuilt stand.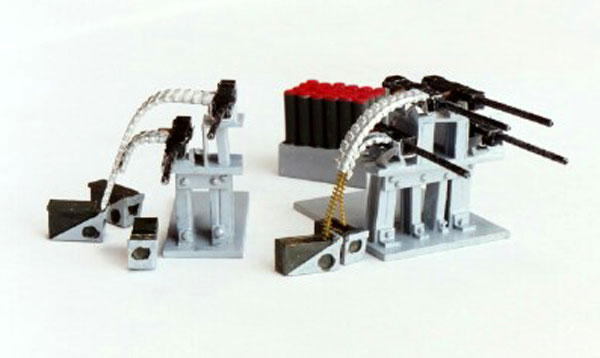 Click the thumbnails below to view larger images:
A close look at the references also shows square aluminum patches on the inside of the fuselage used to strengthen the areas where holes were put through the fuselage to allow the gun-barrels to exit the fuselage for firing. This is visible on the cargo and passenger doors in some of my built kit photos.
---
Additional Detailing
Additional detailing parts incorporated into the kit build were:
Sheet metal taken from aluminum beverage cans for the fuselage patches and gun exhaust deflectors on the two window .30-cal openings. As an afterthought this could have been better done using aluminum foil.

M.V. Products Light Lens for the wing landing lights

Squadron True Details #26008 Authentic Ammo Belts in 1/48th scale
The Squadron #30505 Tri-Grit sanding stick was extensively used as well in surface preparation and especially for the Meteor Productions Cutting Edge Modelworks CEC48040 red plastic tail beacon and other clear parts such as the navigator dome. Using the tri-grit followed by a bath in Future floor wax worked very well for transparent parts.

The best color photos and references were found in International Airpower Review Vol. 4 "USAF Gunships in Vietnam Part 1" page 116. A color profile of this aircraft can be found in Gunships – A Pictorial History of Spooky – Squadron Signal publications # 6032 on page 25, and a photo on page 7. Both references are authored by Larry Davis.
These references made this kit build possible.

I used several shades of Alclad II and Testors Metalizer for the natural metal finish. I did not seal this version with Future floor wax in an attempt to get a different natural metal finish from my first AC-47D. The cockpit and internal fuselage were painted Zinc Chromate Green using Gunze acrylics.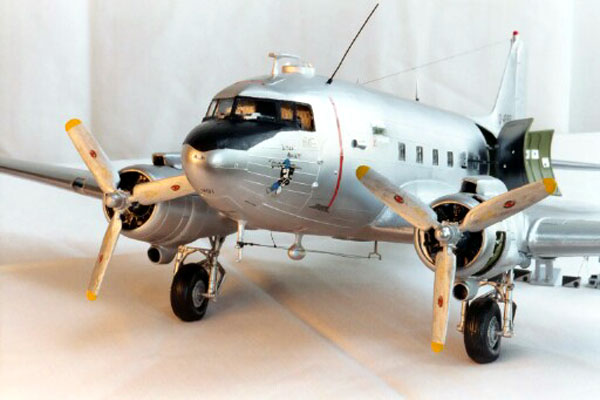 The exterior of the model was sprayed with three different Alclad II metallics, Aluminum, Duraluminum and Chrome Plate. I buffed the Aluminum with Aluminum SnJ powder. The upper nose was painted flat black using Tamiya paints. The propellers were natural metal based on color reference photos from International Airpower Review Vol. 4 "USAF Gunships in Vietnam Part 1". I used Alclad II duraluminum for the props. The antenna wire was made from invisible sewing thread painted with Tamiya flat black.

The decal is a Microscale (pre-Superscale) 48-251 sheet, Gunships AC-47's and AC-130A, decal # 2.
Some stencils were taken from the Monogram C-47 kit and my spares box which is mostly Aeromaster decals.
All images were taken indoors with available light with a Nikon FTN camera set at F-stop 32 or 22 using a Micro-Nikkor 55mm lens. Other camera settings were as follows: Kodak 200 ISO film speed, 1 sec shutter speed using a tripod. Digital Images were obtained during film processing by selecting the digital CD option as well as prints. This provides ".jpg" format files for digital images on a CD or floppy disk.
International Airpower Review Vol. 4 "USAF Gunships in Vietnam Part 1 pages 112- 125.

Gunships – A Pictorial History of Spooky – Larry Davis - Squadron Signal publications # 6032 , 1982.

American Warplanes of World War II – Douglas C-47 Skytrain - David Donald -- -AIRtime Publishing Ltd. 1995 pgs. 102 – 109.

Replic No. 121 September 2001 DC-3 Dakota with color photos in photoscope section pages 24- 34.

C-47 In Action Squadron Books # 1149 by Larry Davis – Squadron/Signal Publications 1995

Forge of Freedom – V. Dennis Wrynn Motorbooks International 1995, pages 120-124.

WWII Pacific War Eagles – Jeff Ethell – has many color photos of C-47's.

WWII Eagles In Original WWII Color – Jeff Ethell

The Mighty Eighth in Color – Freeman - color photos of C-47's and some with D-Day markings.

The Ninth Air Force in Colour - Freeman – many color C-47 photos.

Aircraft Profile No. 96 Douglas DC-3

Douglas DC-3 The Survivors – Kengo Yamamoto Airlife Publishing 2000 - all color photos

Douglas DC-3 Dakota Super Profile – M.J. Hooks – Haynes Publications 1985 Pages 6-7 have a two-page cutaway drawing of the interior components including engine mounts.
---
Model, Images and Article Copyright © 2003 by Andrew Garcia
Page Created 21 February, 2003
Last updated 17 March, 2004
Back to HyperScale Main Page
Back to Features Page