Monogram's 1/72 scale
A-1E Skyraider
by Eddie "Grunticus" Wilson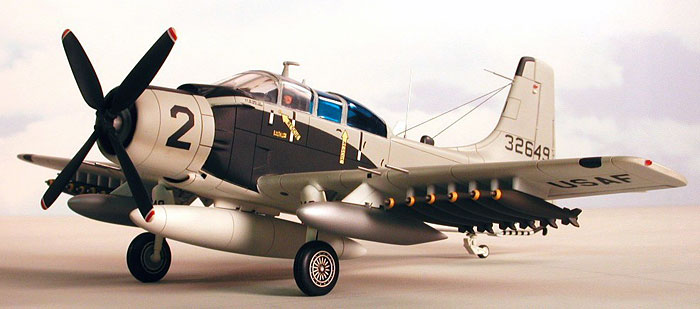 Douglas A-1E Skyraider

HyperScale is proudly supported by Squadron
This is the old Monogram A-1E kit in 1/72. The instruction sheet has a copyright of 1967 so that makes the model close to forty years old. There is not a lot of fine detail to the model so I added a bit to make it more interesting, using leftover stuff from various other kits.

I replaced the wheels and added some brake lines using fine wire with black insulation. I also boxed in the gear wells since they are open all the way to the fuselage. The carrier hook and all the antennas are scratch-built using sheet styrene, fine wire, and fishing line.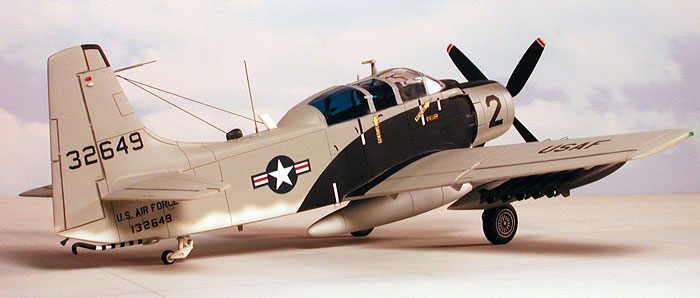 There is not a lot in the cockpit except a bulkhead that has the seats cast onto the front side. I used some pilot figures from the Monogram SA-16 Albatross that I have had since I was a kid to fill up the interior. the rest of the cockpit is stock, including the decal instrument panel.

The bombs and the drop tank came from the old Monogram 1/72 A-10 kit that has since been turned into a Snap-Tite model. I made new guns out of some steel tubing from http://smallparts.com and cut rectangles on the bottom of the wing as chutes for the spent brass.

I used colored plexigas to make the position lights for the wingtips and the vertical fin then rescribed the entire model using the 3-view drawings in the Squadron "Walkaround" book as a guide.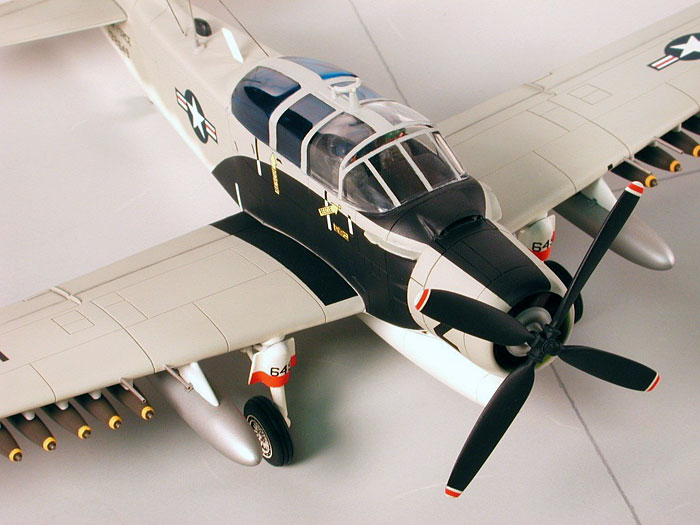 After tinting the 'dog house' part of the canopy with candy blue paint I glued it on with white glue.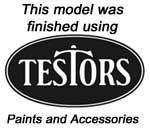 The model was painted with Model Master enamels and weathered lightly with gray pastel chalk.
A friend custom-printed the decals for me on an ALPS printer. I chose the Bernard Fisher aircraft since he was a Medal Of Honor winner and I had read of his exploits in "Boy's Life" magazine when I was in scouting.