Anglo-Saxon Warrior
by Glen Phillips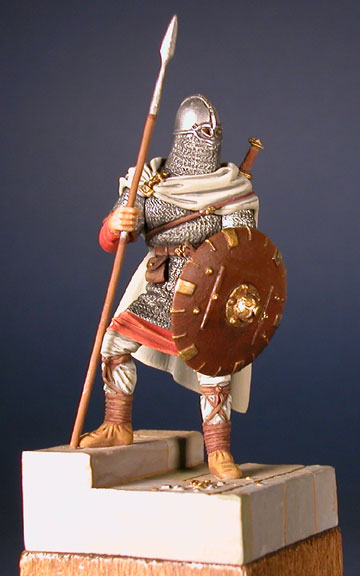 Anglo-Saxon Warrior

HyperScale is proudly supported by Squadron.com
This is Time Machine Miniatures' 54mm Anglo-Saxon Warrior (TMP-28). The figure seems to be depicted in the process of sacking a monastery or wealthy landowner's home and is standing on steps with some coins lying at his feet. The kit is well cast, highly detailed, and everything fits. Clean-up was minimal; I had to look hard for the casting seams. I found more after I had primed the figure. Nevertheless, the clean-up phase and initial priming took less than an hour.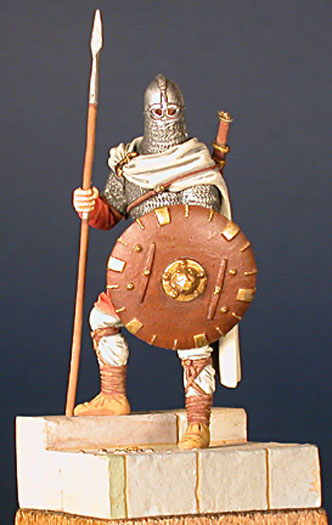 I used Andrea acrylic paints on the entire figure, which I assembled and painted in layers, first painting the upper legs, the area inside the tunic, and the entire cloak. All chain mail was painted using Gun Metal, followed by a series of Black washes. The washes are heaviest in shadowed areas. Where necessary, I used the Gun Metal and Silver to restore highlights.

The belts were painted with different shades of Dark Brown and Leather with Black and Yellow used to alter the base colors for shadows and highlights. The tunic was painted Basic Red with Dark Brown added for shadows and Yellow added for highlights. All shadow and highlight colors were applied as thinned, transparent washes; the more wash applied, the more opaque and darker or lighter the paint becomes. The acrylics dry quickly, consequently working wet-on-wet and muddying up the colors doesn't really become a problem. Not to worry - I'll find a way eventually…

The helmet and spear tip are the buffed metal of the kit. Buffing the metal is my preferred method when depicting plate armor and/or exposed blades on metal figures. I used a thin black/brown wash to line the details on the helmet.

The shield fittings were painted first, then the shield was painted Dark Leather. When dry, I added a thin coat of Humbrol Satin Cote to impart a slight sheen.

The two-tier stone steps are included and are also cast in metal. The steps were painted gray, and then the loot was carefully picked out with Gold, Silver, and Copper. The steps were then stained with thin washes of gray tinted with yellow, blue, and green.

If nudity offends, do not click the thumbnails below:
---
Model and Images Copyright 2004 by Glen Phillips
Page Created 14 April, 2004
Last Updated 14 April, 2004
Back to HyperScale Main Page