Monogram's 1/72 scale Snap-Tite B-25B
Doolittle Raider
by Eddie "Grunticus" Wilson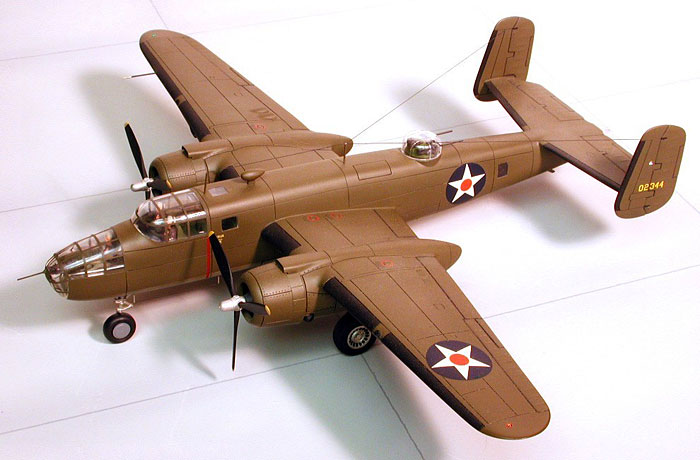 B-25B Mitchell

HyperScale is proudly supported by Squadron
Sixty-three years ago today, a valiant band of American flyers under the command of Lieutenant Colonel James Doolittle dared the impossible by flying their B-25 medium bombers from the deck of the USS Hornet to avenge the attack on Pearl Harbor by bombing selected cities on the Japanese home islands.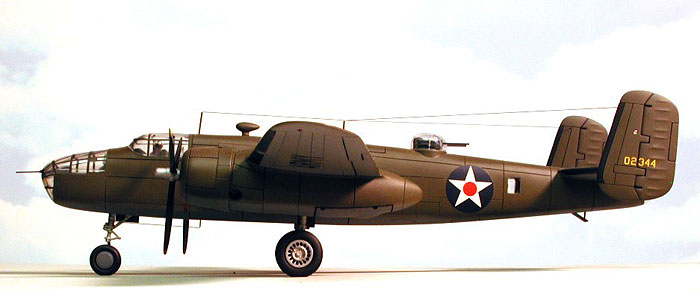 Though the bombing caused little actual physical damage, the Imperial Japanese war machine was sufficiently shaken to cause their generals and admirals to keep substantial assets based in Japan proper for defense. As a result, these forces were not available for offensive operations against Australia, New Guinea, and other objectives in the Central and South Pacific regions.
I thought this would be an appropriate time to present my 1/72 scale Monogram Snap-Tite B-25, finished in the colors of Jimmy Doolittle's aircraft.
Despite its Snap-Tite design this is actually a pretty nice kit with only a few minor but correctable errors. The worst of these is the visibly-underscale dorsal turret. I addressed this problem by using the turret from the equally good Snap-Tite B-26 Marauder. I also used the engines and a few of the figures from that kit as well.
The only real problem came when correcting the nose landing gear strut, where the fork for the wheel is canted to the rear. I also substituted a Fujimi F-15 nosewheel since it had the fluted spokes needed for the inner hub. a small disc of sheet styrene was used to make a hub cover for the outer side.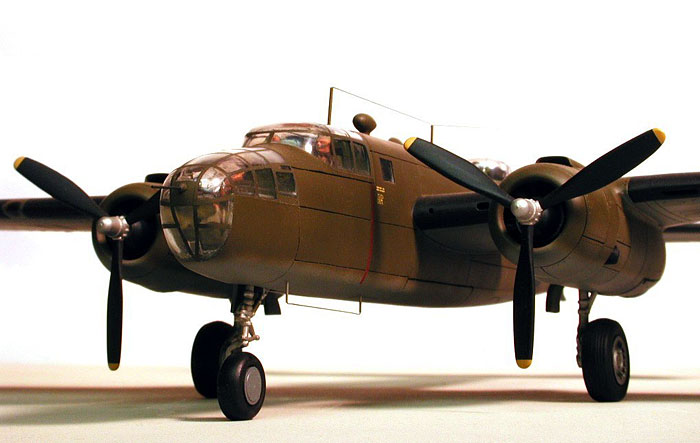 It takes a lot of weight to keep models like these properly situated on their wheels and this kit was no exception. I stuffed a half a box full of lead fishing weights below the cockpit and behind the bulkhead, plus glued a glass marble into each engine cowling. The windows in the aft fuselage are merely marks on the plastic so these were drilled out and filled with clear styrene. I used fishing line to rig up the "sloping V" liaison radio antenna and the marker beacon aerial. I drilled some dimples in the upper and lower wingtips and the vertical fins to accommodate some red, green, and white MV lenses. these really liven up an otherwise drab colored model.
Because so much of the panel detail was obliterated during the assembly process I rescribed the entire model.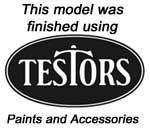 The model was painted with standard Model Master enamels, specifically Olive Drab for the top sides and neutral gray below.
The relatively nondescript markings are from various SuperScale decals sheets and applied using the "MicroScale system".