DAP Beaufighter 21
by David Charles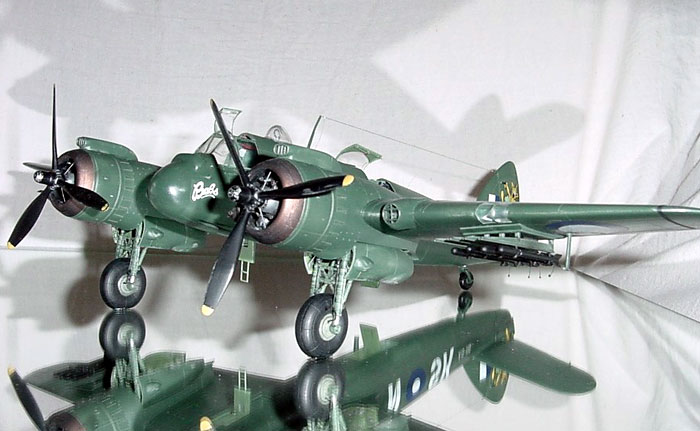 DAP Beaufighter 21


Tamiya's 1/48 scale Beaufighter Mk.VI is available online from
Squadron.com
Here is David Charles' 1/48 scale model of an Australian built DAP (Department of Aircraft Construction) Beaufighter 21.
The Beaufighter 21 was a unique Australian variant that operated in Australia and the Pacific theatre during the Second World War; and well into the post-war era. It was originally based on the Beaufighter Mk.X, but more than 140 modifications and improvements made this the hardest hitting of all Beaufighter variants.
David modified Tamiya's 1/48 scale Beaufighter Mk.VI to represent the RAAF's "Whispering Death".
Fuselage Modifications and Conversion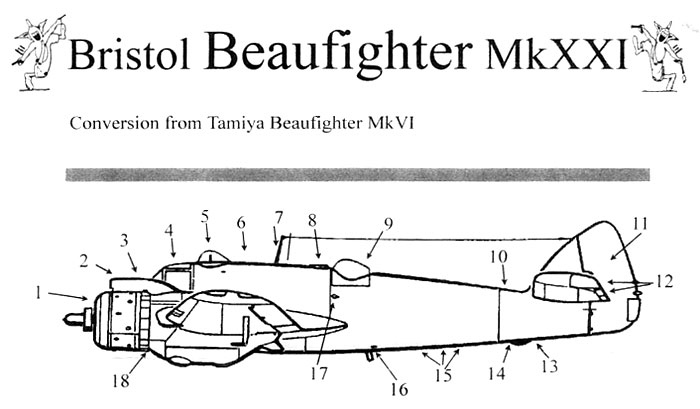 All header pipes added from cylinders to collector rings. Cowl braces added. Magnetos and plumbing added. Long supercharger filter added.

New Sperry auto-pilot housing made for nose.

Air intakes added to nose

Front cockpit, including instrument panels and controls, completely rebuilt (except for control wheel and seatbelts) to Mk.21 standards. Seat is folded back, ready for pilot entry.

New DF loop made. Bolts added to housing.

About 60 new items made for addition to fuselage interior.

New accurate H.F. aerial mast made.

Brace added to top of fuselage.

Hatch cut open, modified and detailed. Rear cockpit completely rebuilt (except for seats and belts)

Cover added to dinghy release.

Tail surfaces separated and reshaped. Detail added.

Incorrect trim actuators removed from top of tailplanes and new actuators built below tailplanes.

Sratchbuilt Mk.21 tail wheel strut

Tail wheel bay scratchbuilt

Identification lights added (3)

Flare chute added (port side). Trailing aerial fairlead added (starboard side).

Air scoops/vents added to fuselage in five places.

Blast tubes added for cannon

All the usual control wires added, holes drilled, aerials fitted, details added and so on.
---
Mainplane Modifications and Conversion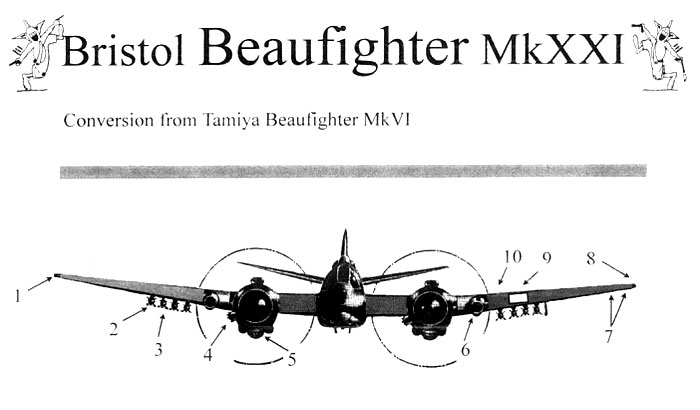 Forward lights rebuilt. Rear lights painted over (both sides)

Rocket rails rebuilt (both sides)

Rockets scratchbuilt (both sides)

Flame dampening exhausts scratchbuilt (both sides)

Inside of undercarriage doors totally rebuilt to Australian pressed style. Actuators and plumbing added. Undercarriage detailed (both sides)

Braces added to oil cooler inlets (both sides)

Black tape to doped joints

Resin lights added to trailing edges

Landing lights and cover made

Gun ports removed (both sides)

All the usual detailing -vents drilled, cowl flaps thinned, ports opened and so on.
The model was painted in an overall well worn and stained coat of RAAF Foliage Green.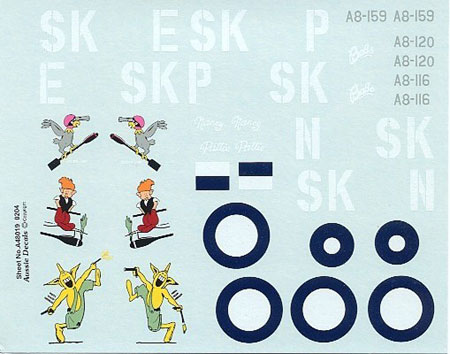 Markings were from Aussie Decals sheet A48019, which has recently been re-released. The markings on this sheet include:
Bristol Beaufighter Mk.21 A8-159 E.SK "Ginger Meggs" Tail Art. Nose Name "Nancy"

Bristol Beaufighter Mk.21 A8-116 N.SK "Gremlin" Tail Art. Nose Name "Babs"

Bristol Beaufighter Mk.21 A8-120 P.SK "Barren Joey" Tail Art. Nose Name "Pattie"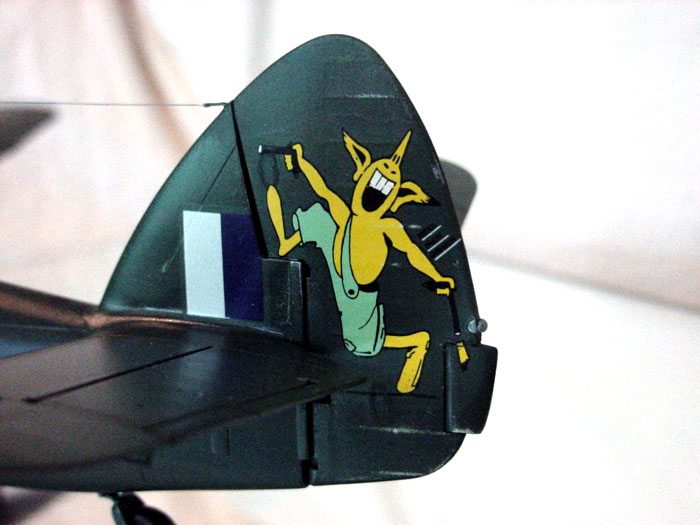 David chose the second option.
Click on the thumbnails below to view larger images:
---
Model, Images and Text Copyright © 2004 by David Charles
Page Created 05 May, 2004
Last Updated 05 May, 2004
Back to HyperScale Main Page