Battle of the 109s in 1/32 scale
Hasegawa vs. Matchbox
by Bob Aikens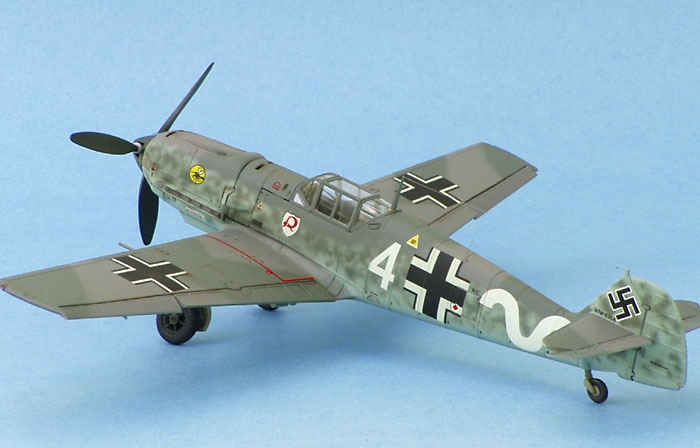 Matchbox 1/32 scale Messerschmitt Bf 109E
Hasegawa's 1/32 scale Bf 109E is available online from Squadron
A Retrospective
In apropos it must be said that I no longer have these builds and had to rely on my picture archives for illustrations. Some were taken a few years back with a Sony Mavica 2 mp (disk), others with an Olympus 720 Zoom of 3
mp. Still others were scanned from SLR prints. I've labelled some, but you'll probably be able to see right away which is which. Both of these models were built ca. 1995.
---

The Preliminaries
If today can be called the Golden Age of modeling then perhaps by analogy we might say that the 70s was the early Renaissance period; lots of Airfix and Heller 1/72 kits around; trickles of stuff here and there from Eastern Europe; the colorful bursting of Matchbox onto the plastic modeling scene; and the growing rumblings of the 1/48 scale revolution that was taking solid shape, [Heller's 1/48 Jaguars, Fujimi with it's innovative WW 2 series; and of course Monogram with their early WW 2 offerings. Lindberg was also still around with regular and off-beat stuff!.] Why, I even remember a 1/100 Tamiya 262 and 163.[Tamiya had only a handful of aircraft kits then].

By the mid-70s the surging Hasegawa Co. had a new crisply-packaged and arted 1/32 WW 2 series going head-to-head and eventually overtaking the well-established Revell series. Indeed this original Hasegawa stable is still on inventory. Our 109E is from this series.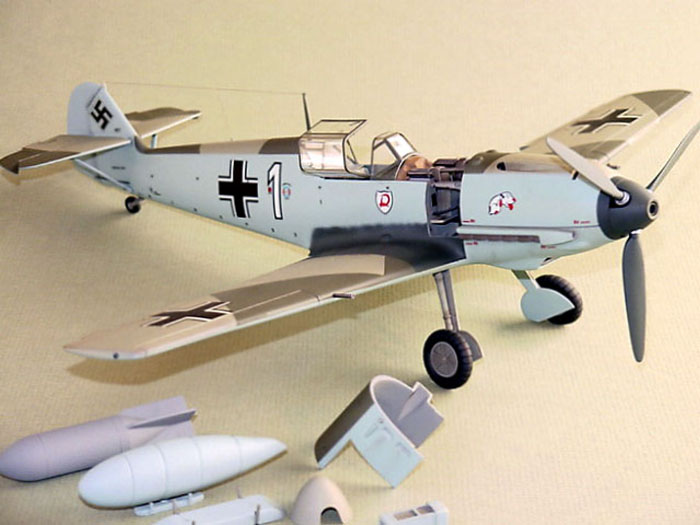 Matchbox's 1/72 series of the same time frame was very successful. In retrospect, 'quirkily innovative' might be an apt description; colorful packaging and plastic, and subjects with a sycopated English flavour. They were sort of the' Monty Pythons' of model companies. Many the modeler honed their building and painting skills on this well-remembered series. And not wanting to be left behind in the growing 1/48 market, they came out with a few of their own among them an AD-5 Skyraider, an SH-2F Seasprite helicopter and an FJ-4B Fury.

Then, wanting to tap into the still popular 1/32 scale niche, Matchbox released several that had not been covered- A Dauntless, a Mk. I-III Lysander, a Sea Venom, a Spitfire XXII, and our 109E-3.
The Main Event
These two kits are united in their modeling fates as they are the still the only two 109Es [3/4/7] in their scale.But then, Hasegawa's P-51D is also alone in it's scale [although it's rivity Monogram cousin still pops up occasionally]. You've just got to think that with what's been going on lately in the larger scales, we'll soon see a new 1/32 Mustang, and a new 109E-3/4/7.

Clearly, there are probably some veteran modelers who have already picked their favorite among these two. The Hasegawa build you see here was my 2nd try at this kit- I had done the tropical version in the mid-70's. I was delighted to come across the Matchbox kit as it seemed to be quite elusive-besides, I had always wanted to do a comparison [companion] piece.
The Hasegawa model pictured here was built straight from the box, i.e. it has no after-market additions. I did do some considerable surgery on it-dropping the flaps, repositioning the elevators, cutting out the gun-cover and engine cowls.[re-forming the front for a bit more accuracy when removed]. It was painted with ModelMaster RLM 76, 71,72 and 02. The decals come from the kit.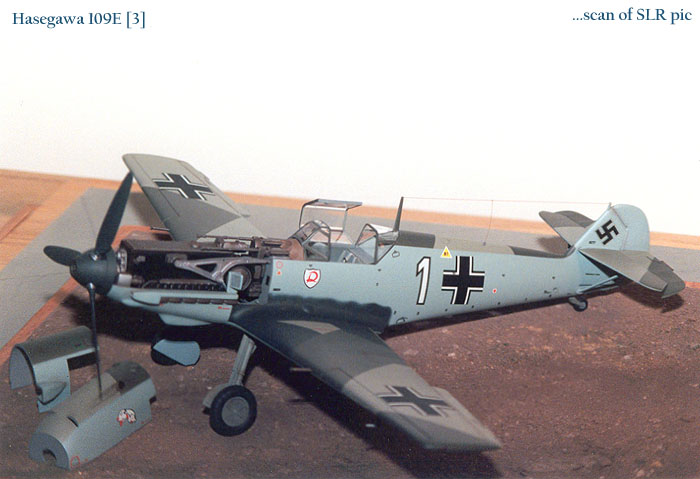 The Matchbox 109E-3 was also built straight from the box (I used the rather strange kit decals, and it was a battle). My example was a re-release molded in Poland. For painting I used the XtraColor RLM series- 74, 75, 76. If
the gun covering and cowling look like they're popping at the seams, you're right. With some sanding and thinning, I got them to slip on over the engine and guns like a pair of Capri pants on a 1950s starlet. And thus they stayed-frozen in time. But underneath there's really quite a lot of detailed gear [see illustrations].

With all the after-market stuff out there now from True Details, Grand Phoenix, and Verlinden, this venerable Hasegawa kit has become a base point of some wonderfully detailed builds.Mine was meant to be a neat-looking
out-of-the-boxer. There was little or no weathering done as it's original display caption was: 'The Paris Air Salon, Le Bourget, Spring 1940'

The Matchbox kit is-well, really something else! It's unique in almost every way.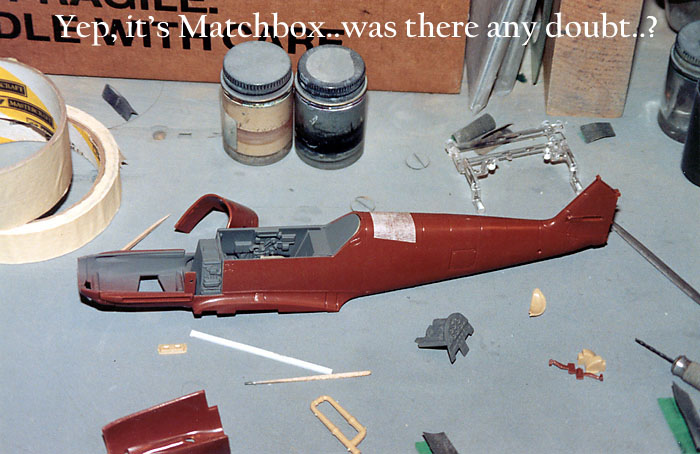 With it's engraved panel lines [trenching, to some], and highly-detailed interior, it's really sort of an evolutionary piece. A preview of what the well-detailed model of the future might look like.As far as building it goes, I think it ought to be approached the way you would Turkish coffee or straight Scotch,-just do it for the sake of doing it 'cause that's the way it was supposed to be'.

The Decision
In a perfect imaginary world these two kits would battle to a draw every time-one wins over your intellect and the other wins over your heart !

Cheers & Bonnes Maquettes,

Bob A.

Click the thumbnails below to view larger images:
---
Model, Images and Text Copyright © 2006 by Bob Aikens
Page Created 24 April, 2006
Last Updated 24 April, 2006
Back to HyperScale Main Page