Tamiya's 1/48 scale
Messerschmitt Bf 109E-3
by Randy Lutz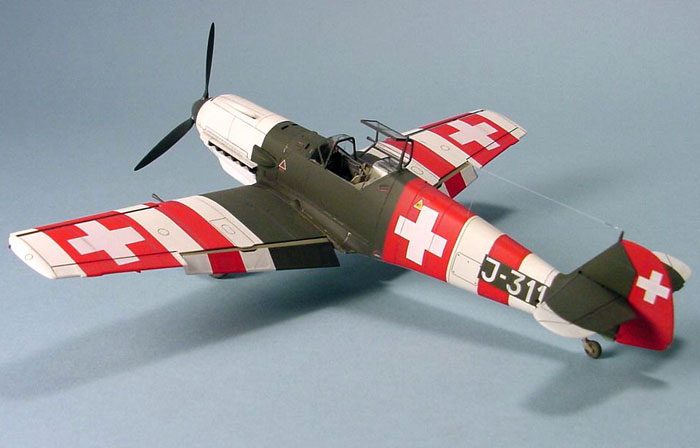 Swiss Messerschmitt Bf 109E-3
Tamiya's 1/48 scale Bf 109E-3 is available online from
Squadron.com
Here are some images of my Swiss Messerschmitt Bf 109E-3.

Some of you viewers may be aware that my modelling choices are primarily dictated by schemes rather than subject matter and this model is a textbook example. I do not particularly care for 109s, but I do like Swiss markings and in this case, the markings won.

One needs good reference and the best books on Swiss Me-109s are the Squadron Walk Around No. 34 Messerschmitt Bf-109E by Hans-Heiri Stapfer and Die Messerschmitt Me 109 in der Schweizer Flugwaffe - ein Stuck Zeitgeschichte, by Georg Hoch. Prior to actually looking at any reference material, I thought that building a Swiss Emil was a simple as painting some red and white stripes. Man was I way off base. All totaled, there is 11 separate modifications that are required to accurately model a Swiss 109E and are in addition to any unique paint and markings that would be necessary.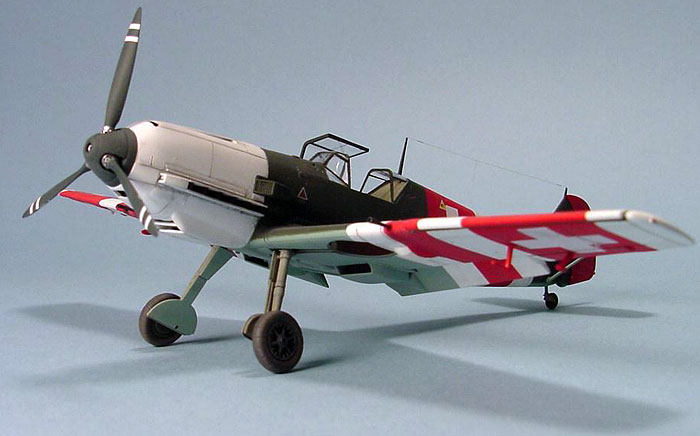 Before you can even contemplate making a Swiss 109E-3, you need a kit and here the possibilities are numerous. You can choose from Hobby Craft, Hasegawa, Tamiya, or maybe even some other brand, of which I am not aware. For this build I used the Tamiya kit for no other reason than the fact that it was the only E-3 I had in the pile.

The 11 different mods that were required are as follows:
Modify the engine cowling, by removing saddle bag gun breech bulges and the raised flange around the gun troughs and new panel lines have to be scribed in place.

Swiss Me-109E-3's were fitted with a KG 11 spade grip.

The Swiss Emil's had a rather unique looking throttle grip in lieu of the standard cylindrical shaped German grip.

Swiss Emil's were fitted a Morse Code telegraph key on the bottom right side of the instrument panel and the Swiss were trained to use this for communication instead of voice communication.

A final cockpit modification which is unique to Swiss Emil's is the cannon arming key hanging from a leather strap. This particular feature was installed late in the Emil's service with the Swiss Fliegertruppe, so it would not be correct for an early war 109E-3.

Swiss Emil's had side-by-side 7.45mm Eidgenössische Waffenfabrik (EW) MG 29 machine guns in the cowl.

The addition of two rectangular/oblong bulges on top of the fuselage, immediately behind the gun compartment gas vents.

Depending on the time frame of your model of a Swiss 109E-3, it could have an additional vent located behind the cockpit.

Swiss Emil's had an extra access hatch on the lower rear fuselage, situated one panel behind the first aid access.

It is necessary to replace the German 20mm Rheinmetall-Borsig MG FF wng cannon with a conical shaped blast tube, with 20mm Oerlikon FF K Oe 37 cannons which feature a funnel shaped blast tube.

In the Swiss 109's, the antenna wire lead-in is situated one panel further forward than that of its Luftwaffe counterpart.
As good as the Tamiya kit is, it is not without faults. One of the major problems with the kit relates to the mounting position of the stabilizer braces. If installed without any corrective action, the stabilizers will exhibit anhedral due to the fact that either the braces are too short or positioned incorrectly. Don't know for sure what the problem is and I don't care, but I know how to fix it easily.

With the airframe assembled, it is at the stage where you can tackle the one feature that really distinguishes a Swiss 109 from all others, namely the paint job, as everything done to this point will be lost on all but the most ardent Messerschmitt aficionados. Swiss 109's went through a variety of paint and marking schemes depending on the time period. I have always liked the flamboyant red and white patterns, so I elected to finish my model in the neutrality scheme from September 1944.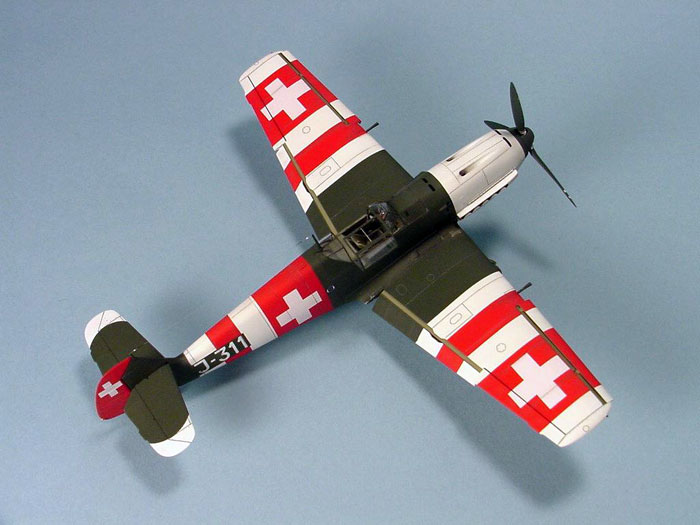 Hopefully this will prove useful to anyone who wishes to build one of these neutral warriors. One thing I noticed in all the photos I looked as was the exhaust staining on the Swiss aircraft is not nearly as heavy as the Luftwaffe machines. I don't know if it is because of different fuels being used by the Swiss, or maybe they did not run their aircraft as hard as the Germans, but it is something to keep in mind if you build one.

I do not have much in the way of the operational history of J-311. What I do know is J-311 served with Flieger Kompagnie 21 in Olten. But this was in April 1940 and long before the neutrality stripes were applied. The photos of J-311 with neutrality stripes that do exist, do not specify the Flieger Kompagnie or location. Hopefully, some viewer may be able to fill in the details.

A complete build article with more in depth text is scheduled to appear in the April issue of Model Airplane Montly magazine.
Click on the thumbnails below to view larger images:
German Night Fighter Aces of World War 2


Aircraft of the Aces 20

Author: Jerry Scutts
Illustrator: John Weal
US Price: $19.95
UK Price: £12.99
Publisher: Osprey Publishing
Publish Date:

June 5, 1998


Details: 96 pages; ISBN: 1855327147
Model, Images and Text Copyright © 2006 by Randy Lutz
Page Created 14 March, 2006
Last Updated 14 March, 2006
Back to HyperScale Main Page