Tamiya's kit in Bulgarian guise
Messerschmitt Bf 109E-4
by Randy Lutz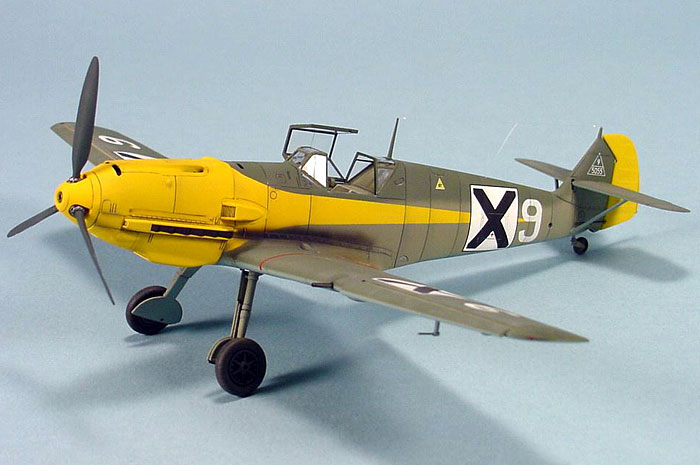 Messerschmitt Bf 109E-4


Tamiya's 1/48 scale Bf 109E-4/7 is available online from Squadron
Here is my Tamiya 1/48 Messerschmitt Bf-109E-4, finished to represent a Bulgarian "Strela" of the 682nd Fighter Squadron, 3/6 Wing, 6th Fighter Regiment while based at Sarafovo Bulgaria during October of 1941.

I will not subject you to a long discourse on the building of the Tamiya Emil as there are innumerable reviews on the web which do not need to be repeated. I will however, tell you of some of the observations I made while researching this model.
In keeping with the majority of my models, it is close to being out of the box. I replaced the kit supplied seat, exhausts and prop with resin piees from Ultracast. The seat is a definite improvement, the resin exhausts could be considered superfluous and the prop is an improvement that I could just as easily live without.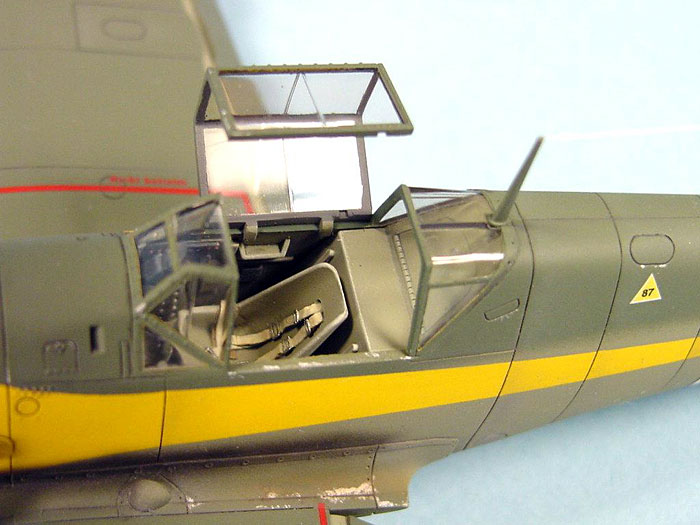 I don't particularly care for Luftwaffe subjects, and I care even less about 109's, but this model was to built in response to a mini building challenge that a few of us had started. In this case the subject to be built was a 1/48 Bf-109 of any variant.
The kit itself, is an easy build and one really only has to correct one thing, namely the anhedral of the tailplanes, which results if built as is. Either the tailplane support struts are too short, or the mounts are too far outboard. Actually I don't know and I don't care where the problem is. I just filled the holes on the tail planes and made new ones slightly inboard. I know that the wheels have an incorrect tread pattern, but guess what, I don't care. They are round and look like fine to me. They may bother other people and that is OK as well, but I have not lost a wink of sleep worrying about them.
The basic detail steps I made to my model are listed below:
Fuselage
kit seat replaced with Ultracast seat

kit exhaust replaced with Ultracast resin exhausts

rudder pedals drilled out

antenna wire made from stretched sprue

upper cowl intake opened

cowl gun barrels drilled out

engine starter crank opening and lift points drilled out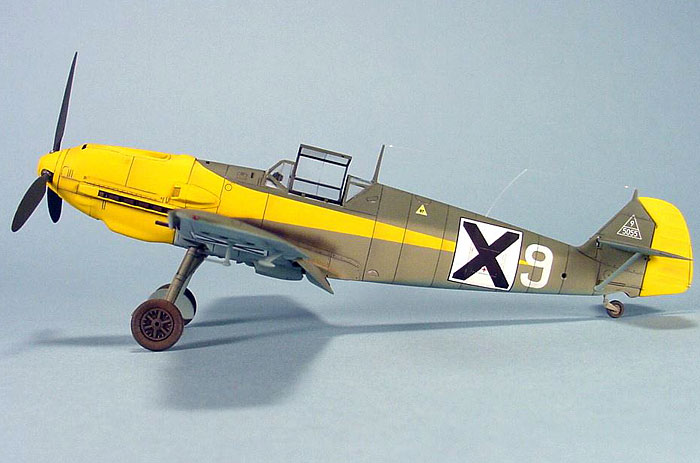 Wings
wing gun barrels drilled ou

tie down rings drilled out
Initially I was going to model a Luftwaffe "Emil", but I find that they are too commonplace on the web and at model shows, so I wanted mine to be a little different. While looking through my references on Bulgarian Dewoitines, I found some images of Bulgarian Arrows (Strelas as they were called in Bulgaria) and was hooked on the paint scheme. Knowing that I had the old Aero Master sheet 48-034 on Foreign Emils, I thought I was well prepared to build a subject which I loath.

After carefully studying the Aero Master sheet, I came to understand why they are often called Error Master. The instructions depict the yellow fuselage flash as a long triangle which does not sweep either up over the nose, nor down under the cowl, however photos clearly depict the long graceful curve in the yellow flash as it goes up and over the nose and how it curves down to meet the leading edge of wing and fuselage junction.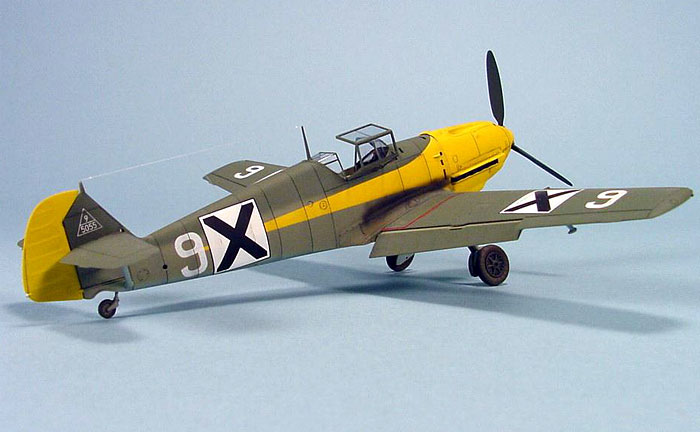 In addition, the national insignia as provided are grossly inaccurate. Aero Master gives you a white square with a rather anemic black cross, whereas photos show it should be a white square, trimmed in black with a very thick black cross. Also missing from the decals are the white triangle markings on the vertical fin.

Finally, I am not convinced that Aero Master's rendition of the fuselage camouflage is correct. They call for a dark green fuselage whereas in the photos, the fuselage appears to be RLM 02 with either an RLM 70 or RLM 71 top.

For my model, the national insignia came from Aero Master sheet 48-300 which has markings for a Bulgarian Dewoitine. The insignia are of the correct size and design. I also used the white triangle data block on the Dewoitine sheet, but only after I inverted the numeral "6" in the upper part, so that it would resemble a "9". I openly admit that I have no idea what all these numbers mean, but I am confident that the upper number is more often than not, the same as the individual airplane number, or "9" in this case. This assumption is supported after reviewing dozens of photos of Bulgarian aircraft.
---

Paint and Decal Summary
airframe painted with Xtracolor X201 RLM Grau 02, X202 Hellblau RLM 65, X205 Dunklegrun RLM 71 and X213 Gelb RLM04

all national insignia is from Aero Master 48-300, while all other markings are from Aero Master 48-034

model is weathered with chalk pastels
Air Power of the Kingdom of Bulgaria, Part IV, by Frank Ood

Model Art No. Messerschmitt Bf109B-E

Aero Detail No. 1 Messerschmitt Bf109E

Osprey Aces No. 58 Slovakian and Bulgarian Aces of World War 2

Wings of Fame (can't recall the Volume number)

Thanks to Don Flynn for sendng me a set of canopy parts for this kit.
Click on the thumbnails below to view larger images:
Slovakian and Bulgarian Aces of World War 2


Aircraft of the Aces 56

Author: Jiri Rajlich
Illustrator: John Weal
US Price: $19.95
UK Price: £12.99
Publisher: Osprey Publishing
Publish Date:

February 25, 2004


Details: 96 pages; ISBN: 1841766526
Model, Images and Text Copyright © 2004 by Randy Lutz
Page Created 12 November, 2004
Last Updated 12 November, 2004
Back to HyperScale Main Page