Fine Molds' 1/72 scale
Messerschmitt Bf 109G-10
by Roger Fabrocini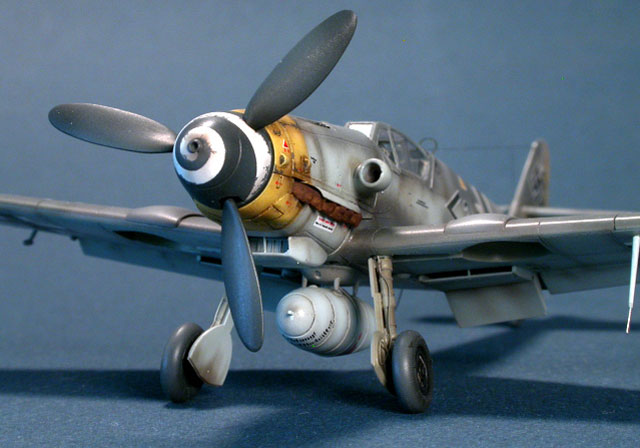 Messerschmitt Bf 109G-10

This is Fine Molds' 1/72 Messerschmitt Regensburg Production Bf 109 G-10 (kit #FL-11).

It would be foolish of me to comment on the kit's accuracy with my limited knowledge of the type, though a kit enclosed flyer states Brett Green's Eagle Files title "Augsburg's Last Eagles" as a reference and all the panel lines, access panels and bumps line up with the line drawings from Brett's book.

While not stated in the kit instructions additional parts are included so presumably one can build alternate versions of the G-10. These include long and short tail wheel struts, three sizes of main wheels, both types of wing bulges, three types of elevators, two types of drop tanks and two types of rudders.
I choose to build "Black <3" of stab II/JG 52 from Eagle Edition's EagleCals #16. This fit the version I wanted to model. I.E. large main wheels and wing bulges, short tail wheel and external trim tabs on the rudder.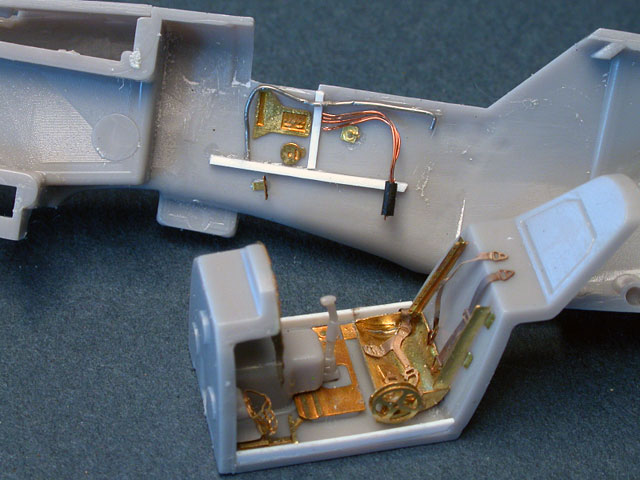 Though the kit supplied cockpit seemed suitable for my planned closed canopy, I still went ahead and removed the sidewall detail and scratch built my own. I used Eduard's P.E. set #72-235 (intended for the Revel kit) for additional detail throughout the cockpit.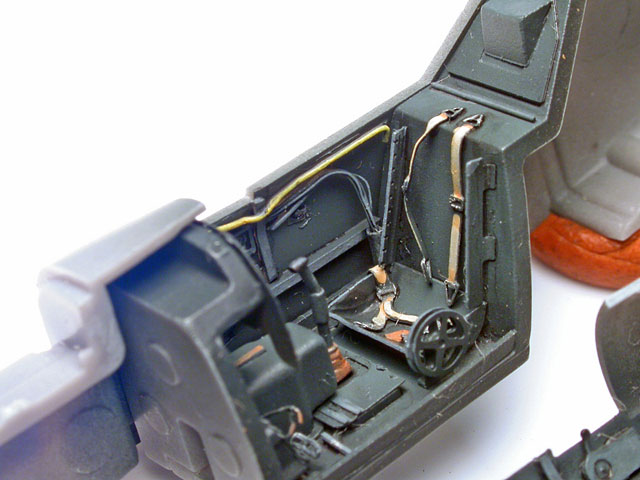 I wanted to add a little animation to my G-10 so I cut out the wing radiator flaps and replaced them with ones from the Eduard fret. Lynn Ritger's 109 Lair website was helpful in determining the relationship of the radiator flaps to the landing flap. I carefully cut out the landing flaps, added a half round piece of styrene rod to their forward edge and glued them back to the wing.

To add a little more "personality" to my G-10 I lightly riveted the airframe using the 0.40mm Rosie the Riveter tool. I tried not to press too hard. My intent was to add texture to the surface that was perceivable only under close scrutiny.
I found a set of Moskit exhaust that I had for the Bf 109G so I installed them along with exhaust shields/deflectors from the Eduard fret.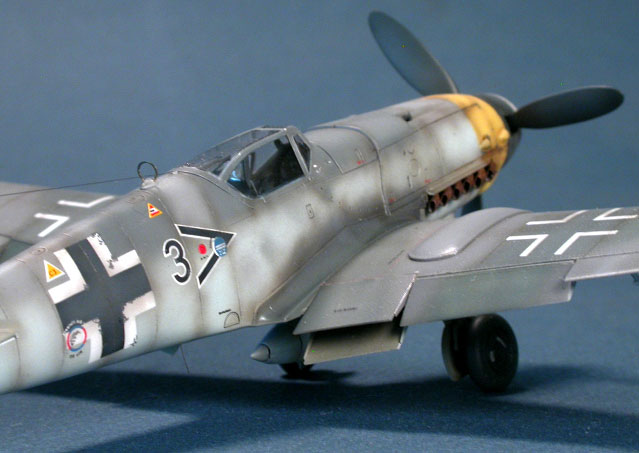 Some additional details added are:
Pitot tube replaced with a hypodermic needle and wire

Plastic rod added as radiator opening stiffeners

Wing tip position lights made from painted wire. The Lenses are CA glue sanded and polished to shape.

Copper wire brake lines
Painting, Markings and Weathering
As is usual for me I primed the airframe with Mr. Surfacer 1200. It is my understanding that late war Bf 109 sub-assemblies were manufactured and painted in various locations. I wanted to suggest that by painting my G-10's wings and fuselage using different paint brands of the same color. I used Mr. Color lacquers for the wings, #36 RLM74 and #37 RLM 75. For the fuselage I used Gunze acrylics, H68 RLM 74 and H69 RLM75. As can been seen in the photos the Mr. Color RLM 74 is much greener, though the RLM75s are harder to tell apart. Mr. Color #117 RLM76 was used for the lower surfaces.

All markings and data are from the before mentioned EagleCal sheet. I was too lazy to mask and paint the RLM74 in the interior of the fuselage crosses and used the wrong black filled decals instead. I tried to go back in and lighten the black with Gunze RLM74 with limited success.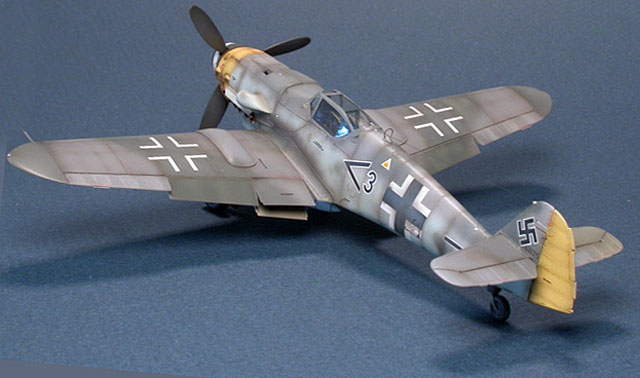 I've been dabbling in armor lately and thought I would try a bit of paint chipping technique on my 109's markings using Vallejo dark grey. I'm happy with the way the spinner spiral turned out and I think I went a bit overboard on the theater band and fuselage crosses. The pics actually make it look a bit ruff, more then in reality.
A grey wash of artist oils was used for the panel lines, etc. Post shading was done with a mix of Tamiya Red Brown and Black. Final flat coat is Mr. Hobby Super Clear Flat.
If you are considering modeling a late Bf 109 in 1/72, Fine Molds should be your first choice. With a F-2, F-4, G-2, G-4, G-6, G-10 and K-4 available you will have plenty of options.
As always, thanks for the indulgence.

Click the thumbnails below to view larger images:
Jagdgeschwader 54 'Grünherz'


Aviation Elite Units 6

Author: John Weal
Illustrator: John Weal
US Price: $21.95
UK Price: £13.99
Publisher: Osprey Publishing
Publish Date:

December 25, 2001


Details: 128 pages; ISBN: 1841762865
Model, Images and Text Copyright © 2006 by Roger Fabrocini
Page Created 03 November, 2006
Last Updated 21 February, 2007
Back to HyperScale Main Page