Hasegawa's new 1/32 scale
Messerschmitt Bf 109G-10
by Jerry Crandall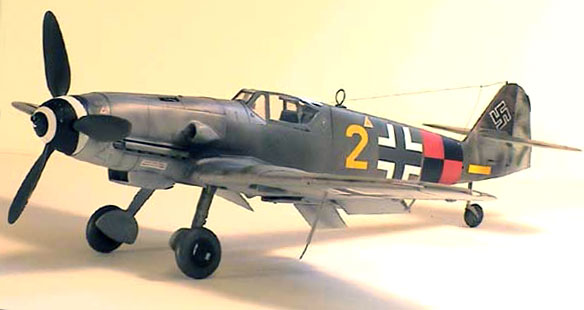 Messerschmitt Bf 109G-10

Hasegawa's 1/32 scale Bf 109G-10 will be available for pre-order from Squadron.com
The New Hasegawa 1/32 Messerschmitt Bf 109 G-10 kit is very similar to the previous releases of the G-6, G-14 and K-4.
Carried over from the K-4 kit is the squarish upper fuselage where the two fuselage parts are joined behind the canopy. The new rear fuselage has the appropriate G-10 panels and configuration.

Included are: both the tall and short tail wheel, small and large upper wing wheel bulges, 660 x 160mm and 660 x 190mm main wheels and tires, both G-6 and G-10/K-4 propeller blades.

On the instruction diagram, sprue "A" includes the G-6 fuselage halves; however, they have been deleted along with other parts that are not needed for the G-10. Unfortunately part "A-12", the cannon breech cover, has also been deleted and this part is needed to complete the cockpit. I thought maybe this part was just missing from the one kit I built, but since I had two kits, I opened the other to find it missing from the second kit as well. In order to fill the open cannon breech, I had to fashion a cover out of scrap plastic. It will be interesting to see how Hasegawa solves this problem.
Overall, Hasegawa's 1/32 scale Bf 109G-10 is a fun and relatively easy kit to build. I am thankful to Hasegawa for bringing to the modeling community this excellent line of 1/32 large scale fighters.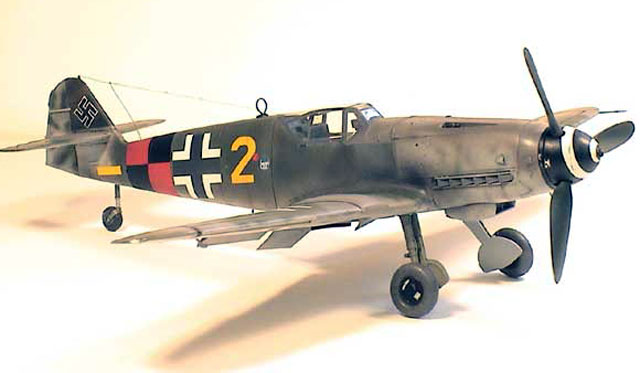 Here is the result of my weekend build of this new kit which I used as a manikin for one of our aircraft featured on our forthcoming EagleCals for the Hasegawa G-10.
This colorful G-10 was originally flown by KG(J) 6 and was transferred just before the end of the war to II./JG 52. These marking are based on a series of color photos in my collection and will be detailed on the appropriate new EagleCals sheet. For this model I substituted out EagleParts #22-32 Battery Box and EagleParts #20-32 Spinner which makes a great improvement over the stock kit parts.
---
Kit Decals
Some observations about the kit decals:
The featured aircraft in the kit is "Red 2" from 2./JG 300. Unfortunately, this aircraft is a G-14/AS and not a G-10.

The second aircraft which is listed as "Yellow 7" of 3./JG 51 captured in East Prussia was in reality an aircraft from 11./JG 300 that was found at Prague, Czechoslovakia and should have Blue/White/Blue defense bands. This G-10 was an Erla built aircraft and would have the 110 cowling with the vertical panel line on the port side of the fuselage. In addition it would not have the under cowling chin bulges and the radiator cowling would be wider and more shallow.

The third aircraft listed as "Red 22" is also an Erla built G-10 with the 110 cowling. It was captured at Neubiberg, Germany; flown by II./JG 52.
Despite these discrepancies, Hasegawa's 1/32 scale Bf 109G-10 captures the look of the real aircraft and builds into an excellent replica that anyone would be proud to display.
Thanks to Hasegawa for providing us an easy to build, accurate model.

Happy Modeling!
---
Model and Images Copyright 2004 by Jerry Crandall
Page Created 02 June, 2004
Last Updated 01 June, 2004
Back to HyperScale Main Page