ProModeler's 1/32 Scale Conversion
Messerschmitt
Bf 109G-2/Trop
by Ian Robertson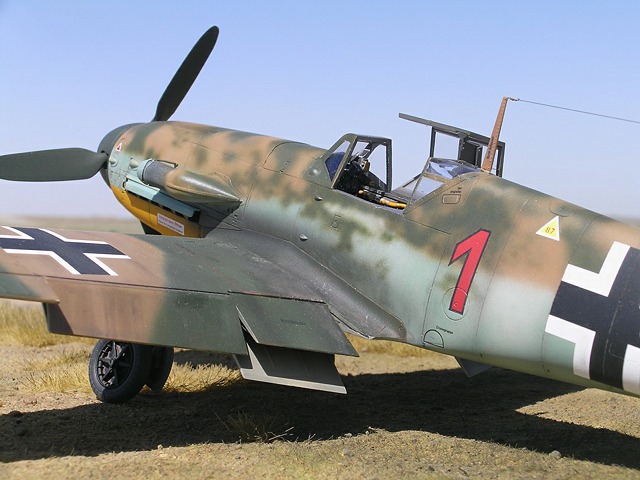 Messerschmitt Bf 109G-2/Trop


ProModeler's 1/32 scale Messerschmitt Bf 109G-4 is available online from Squadron.com
This model depicts "Red 1", a tropical Bf.109G-2 flown by Werner Schroer of 8./JG27, Rhodes Island (Greece), in early February 1943. It is based on Pro-Modeller's 1/32 Bf.109G-4 trop kit.
Backdating a Bf 109G-4 to a G-2
Backdating the Bf.109G-4 trop into a G-2 trop is a relatively simple procedure. I replaced the kit's main tires with a narrower style of tire produced by Aires for their Bf.109F conversion (the F tire is appropriate for the G-2, and can be purchased from Aires as part of the F conversion set or on its own). According to Prien and Rodeike (Messerschmitt Bf109 F,G, and K Series. Schiffer Publishing), the orientation of the G-2 tire is different than that of the G-4 and later variants. Specifically, the G-2's tire is positioned more-or-less parallel with the landing strut, whereas in the G-4 and later variants the tire sat slightly more vertical. Also note that, with the narrower tire, the teardrop-shaped fairing on the upper surface of each wing should be deleted.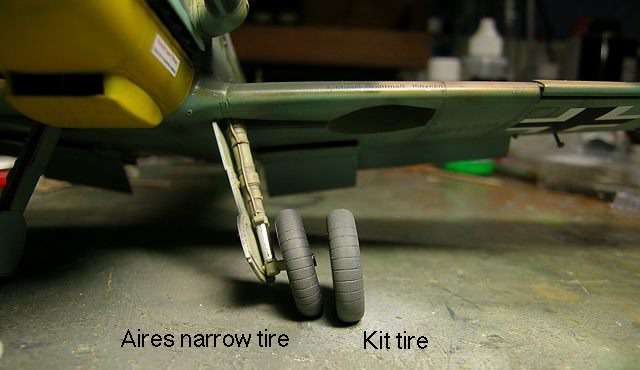 I replaced the kit's tail wheel assembly with Cutting Edge's tail wheel and yoke. Cutting Edge's wheel is slightly smaller in diameter than the kit's wheel. The replacement wheel assembly was modified by removing the dust cover and adding a piece of rigid wire for the strut. Although most G-2s had retractable tail wheels, in-flight photographs show that Schroer's aircraft had the tail wheel locked down and the wheel well covered. Therefore, it was not necessary to open the wheel well on my model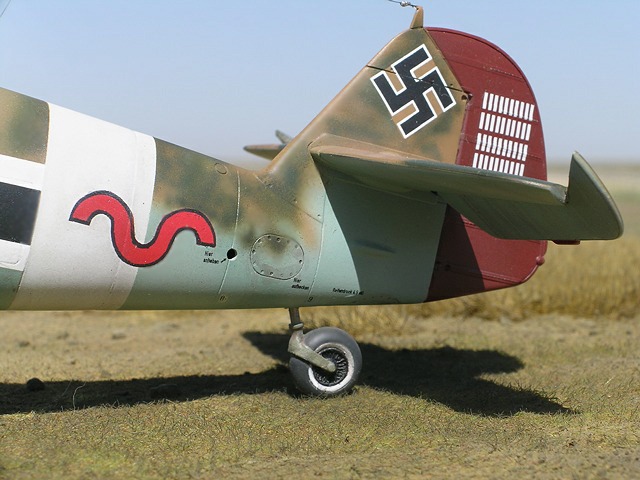 The position of the fuselage antenna lead-in was different between the G-2 and G-4 due to the use of different radio equipment. Specifically, the antennae lead-in on the G-2 entered on panel 5 rather than panel 7. The antenna wire on my model was constructed from stretched sprue. "Tension springs" were added to each end of the antenna wire by threading the stretched sprue through small pieces of coiled filament from an incandescent light bulb. A drop of CA glue held the filament in place. The same technique was used on the wire that secured the open canopy.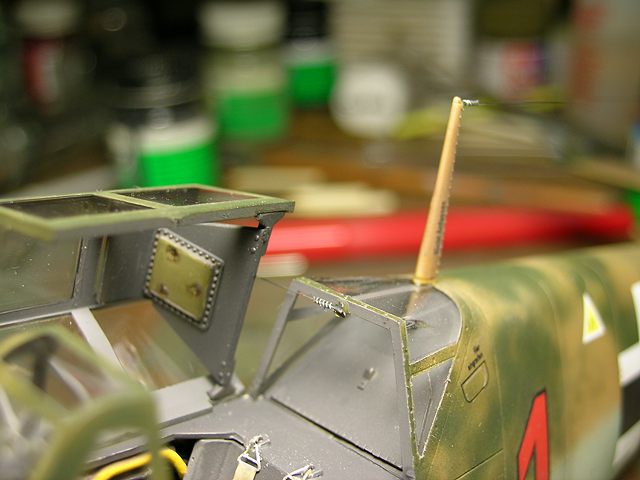 Other additions to the model
The single biggest enhancement to my model was the use of MDC's Bf.109G-2/4 cockpit. Although the kit's cockpit is relatively competent in design and detail, the superb detail and craftsmanship of the MDC cockpit is definitely worthy of consideration, particularly if the cockpit is displayed open. The cockpit area was painted in Polly Scale RLM 66 and then subjected to numerous washes of raw sienna and burnt umber. Details were picked-out with drybrushing and a silver pencil.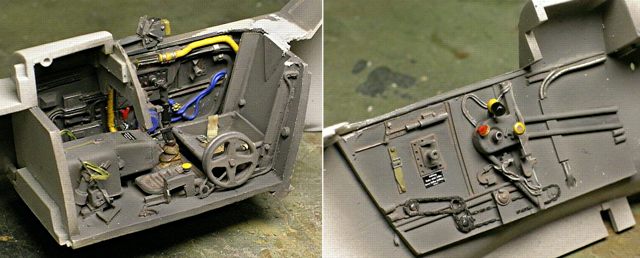 Other replacement items on the model included Cutting Edge exhausts, tropical filter, and elevators. Because the kit's spinner is noticeably bulbous, I replaced it with a resin spinner from Eagle Editions (note that MDC also makes a suitable replacement).
Red 1's Camouflage Scheme
Looking through my references I was surprised to find four different color profiles of Schroer's G-2, all of which depicted the aircraft while it was stationed at Rhodes in February 1943.
Two of the references showed the aircraft in a standard European scheme of RLM 74/75/76, and two showed the aircraft in desert camouflage of RLM 78/79 with patches of dark green (RLM 80 or dark Italian green).
The differences did not end there - below is a table summarizing the most notable differences between the profiles and how they relate to a pair of photographs published in Roba and Pegg's "Jagdwaffe Volume 4, Section 2" (pg 168). Note that my comparison is not intended as a criticism of the various sources - the artists who produced the profiles may have had different reference photos available, or they may have interpreted the same photographs differently.
Source

(see below for complete reference)

Camouflage Scheme

White Lower Wingtips?

Spinner

Comparison with photos in Jagdwaffe Vol. 4, Section 2 (pg 168)

Osprey Bf109 Aces of North Africa

· RLM 74/75/76

· red numbers and rudder

· no yellow on cowl

No

all white?

· tail wheel should be down with wheel well covered

· kill markings on rudder are oversized in profile

· rudder should not be same color as fuselage markings

Histoire & Collections Me109 Vol 2

· RLM 74/75/76

· red numbers and red or red oxide rudder

· no yellow on cowl

No

all white?

· kill markings on rudder are oversized in profile

· incorrect position of fuselage antenna lead-in (panel 7 rather than 5)

· incorrect position and style of first aid symbol on access panel

More Luftwaffe Fighter Aircraft in Profile

· RLM 78/79 with green patches

· reddish brown numbers and rudder

· yellow on lower cowl

No

2/3 RLM 70

1/3 white

· rudder should not be same color as fuselage markings

Jagdwaffe Vol 4 Section 2

· RLM 78/79 with dark green patches

· red numbers and red oxide rudder

· yellow on lower cowl

Yes

2/3 RLM 70

1/3 white

· white wingtips difficult to discern in photographs. Perhaps visible in starboard image.
Scutts. 1994. Bf.109 Aces of North Africa and the Mediterranean. Osprey Publishing (profile 31 on pg 43 - profile by Mike Chappell) .
Breffort and Jouineau. 2002. Messerschmitt Me 109 Vol. II. Histoire & Collections (profile 3 on pg 40).
Sundin and Bergstrom. 2002. More Luftwaffe Fighter Aircraft in Profile. Schiffer Publishing (profile 67 on pg 79 - profile by Claus Sundin).
Roba and Pegg. 2004. Jagdwaffe Vol 4 Section 2: The Mediterranean 1942-1943. Classic Publications (pg 168 - profile by Tom Tullis).
---
I opted to follow most closely Tom Tullis' profile in the Jagdwaffe book because the details seemed to match the supporting photographs best. This photograph of my model gives the view closest to the profile.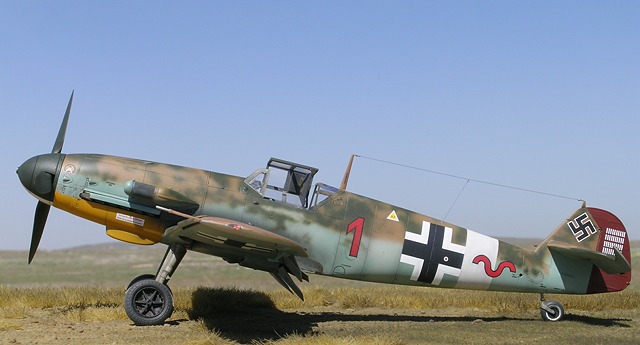 It is worth noting that another photograph of "Red 1" in Osprey's Aces book (pg 68) does not show the dark patches on the fuselage that seem so obvious in the Jagdwaffe book. Perhaps patches of green were applied in the field at a later date than the Osprey photo.
Another uncertainty I had concerned the style of the upper wing crosses. In the Osprey photograph the cross appears as a white outline only. To me this would favor the RLM 74/75/76 interpretation of the camouflage. However, the demarcation between upper and lower camouflage on the fuselage appears to me more like RLM 78/79 than RLM 74/75/76. In the Jagdwaffe book there are photos of other 8./JG27 aircraft (albeit earlier Bf.109Fs) at Rhodes Island in desert camouflage with black-filled wing crosses, so I opted for black-filled crosses on my model. Although I found no clear photographic documentation for the upper wings of Red 1, I added a green splinter scheme to be consistent with the fuselage camouflage.
---
Painting and Marking Red 1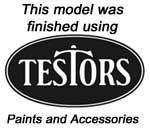 There are no decals available for this particular aircraft. In such instances one can usually scavenge numbers and unit markings from other decal sheets. Unfortunately, the red "1" on Schroer's aircraft was in a style I could not find elsewhere. Although the red wavy bar with black outline was available on EagleCals sheet #32-39, I decided to paint both the red markings so that the colors would remain uniform.
I began by cutting templates from Tamiya tape and positioning them on the model. The templates were based on scaled-up photocopies of the aircraft's profile in the Jagdwaffe book. With the template in place, I sprayed the base color of RLM 23 (red) using Polly Scale acrylic. Once dry, a smaller mask was placed in the center of each marking before spraying the black outlines. The entire markings (red plus black outlines) were then masked until all painting was complete.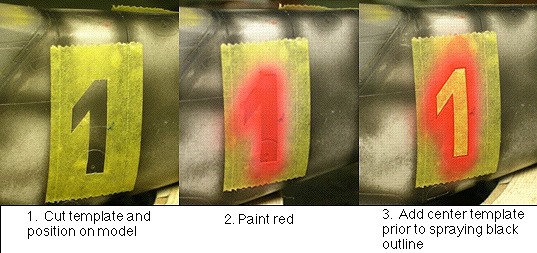 The white fuselage band was painted and masked prior to the addition of camouflage.
The model's camouflage was painted with a combination of Polly Scale acrylic (RLM 78/79) and Tamiya acrylic (XF-58 "olive green"). The national markings and stencils were scavenged from various EagleCals sheets.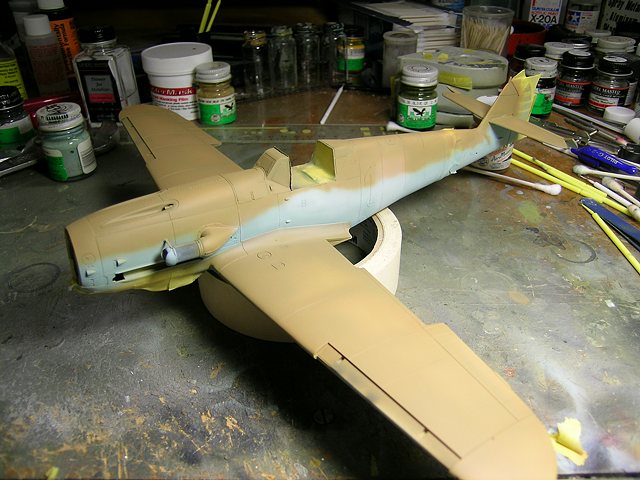 The rudder was painted Model Master acryl "anti-fouling red". While some photographs support the notion that the rudders on some Bf.190 trops were very dark (some people have even suggested black), others show them to be lighter than the interior of the swastika (i.e., not black). In addition, contrary to the color profiles in "Osprey Aces" and "More Luftwaffe Fighter Aircraft in Profile", the rudder on Red 1 was not the same color as the fuselage markings, at least according to a photograph in the Jagdwaffe book. Therefore, I opted for the traditional red oxide interpretation for the rudder, and brighter red for the fuselage markings. The white kill markings were adapted from EagleCals #32-64. They are slightly oversized for this particular aircraft, but close enough.
Images were taken with a Nikon Coolpix 5400 digital camera. The "sharpen edges" tool of Adobe Photoshop was used to restore some of the clarity and crispness lost during image compression.
\
Interpretations of Luftwaffe camouflage evolve as opinions change and more information comes to light. Thus, my interpretations of camouflage and markings for Schroer's aircraft may not be correct. However, I'm not one to be paralyzed by lack of definitive evidence and explanation - I look at the references I have available, ask questions when necessary (Plane Talking is great for this), then build, paint, and move on. If new information proves my interpretation wrong, I can always tackle the project again. Besides, I enjoy seeing how other modelers interpret the same subjects.
Click on the thumbnails below to view larger images:
Messerschmitt Bf 109


Modelling Manuals 17


US Price: $17.95
UK Price: £12.99
Publisher: Osprey Publishing
Publish Date:

January 25, 2002


Details: 64 pages; ISBN: 1841762652
Model, Images and Text Copyright © 2004 by Ian Robertson
Page Created 23 June, 2004
Last Updated 22 June, 2004
Back to HyperScale Main Page