ProModeler's 1/32 Scale
Messerschmitt Bf 109G-4
by Brian Geiger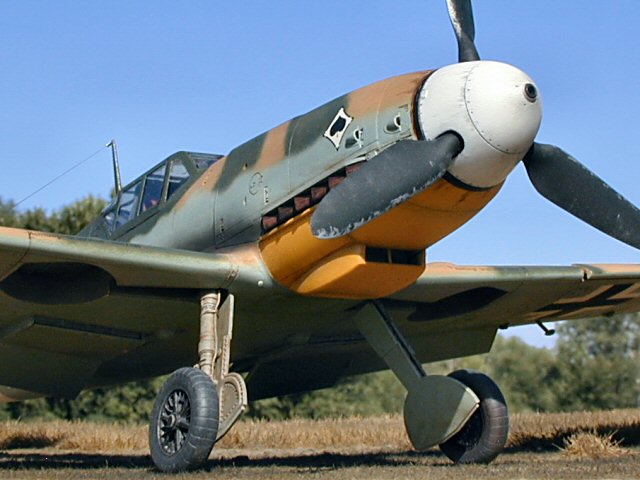 Messerschmitt Bf 109G-4/Trop
Images by Ian Robertson and Brian Geiger


ProModeler's 1/32 scale Messerschmitt Bf 109G-4 is available online from Squadron.com
Don't be fooled by the photos! This is not another kit from the prolific Ian Robertson. Ian was nice enough to share his model base, time, and photo expertise to take some pictures of my tropical Bf109.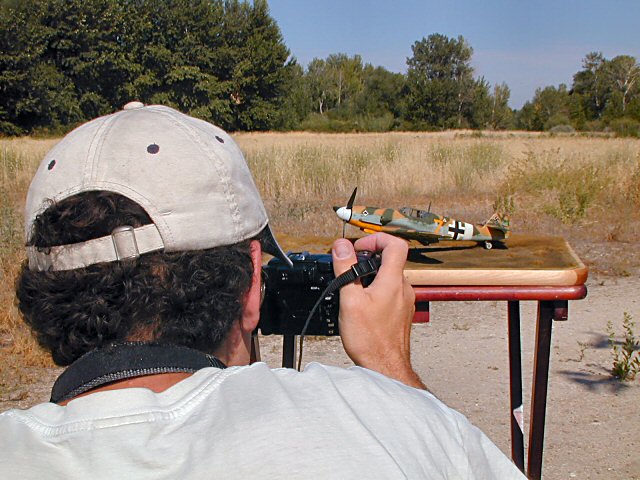 After settling into 1/48 scale for years, I sat on the side lines and watched the parade of new 1/32 kits come out. Ian came forward, along with a couple local modelers, and issued an informal Bf109 challenge. We all set out to simultaneously build 1/32 Bf109 kits to be entered as a group entry in an upcoming contest. If you've never participated in a group build, I highly recommend that you do. Modeling can be such a solitary activity. We kept close track of our progress by exchanging emails with photos on nearly a daily basis. I received a lot of tips to get through the problem spots and seeing other kits take shape kept me enthused and on schedule.

I chose one of the four available schemes from ProModeler's excellent kit, Wolfgang Tonne's "Yellow 7".





The only additions to the kit cockpit are foil pedal straps and photo etch seatbelts from MDC.

Light weathering was added with a wash of Dr. Ph.Martin's sepia concentrated water color ink followed by light drybrushing. The instructions recommend either painting the raised instrument panel detail, or sanding it down to apply the supplied decal. I applied the instrument panel decal over the raised detail with liberal amounts of Micro Sol decal solution. The only draw back was that I got some distortion of the dials as they stretched to cover the entire surface. Cutting apart the dials into sections would have helped. Next time I'd like to try painting it since the raised detail looks very good.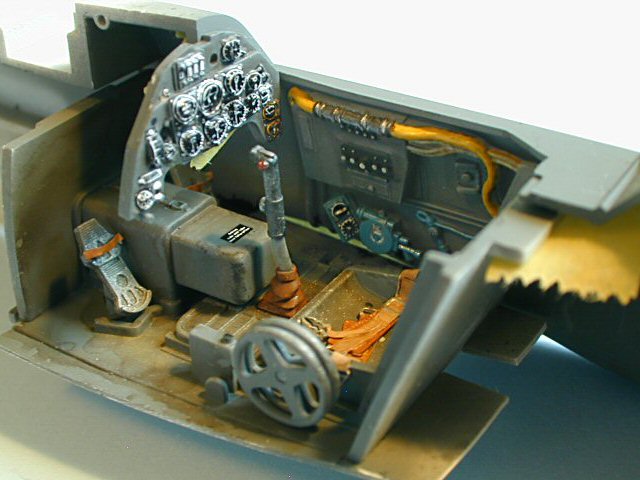 Others have mentioned the need to thin down the cross spars that align the wings into the fuselage so I was prepared. However, I managed to commit new boo-boo's of my own by gluing the grills on the trailing end of the wings in the wrong place, which prevented the wheel wells from sealing and interfered with mating the fuselage spars. Look carefully at those instructions! An evening of tearing things apart and reworking the wings fixed it.

Another question spot for me was the position of the machine guns. I had some references that seemed to indicate that the gun barrels should protrude farther forward than the kit indicated. After scooting them forward and gluing everything in, I came across more references that showed them recessed back. The kit position may be correct, but I like to think that my modification is a happy medium.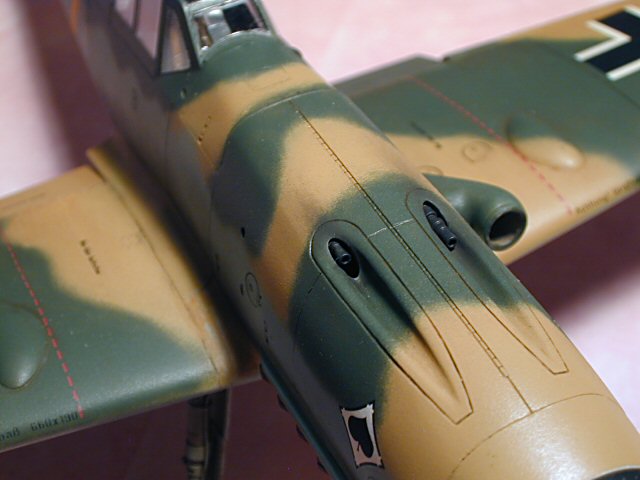 ProModeler includes a nice set of resin wheels that were a little tricky to get aligned right. After breaking them off a couple times during construction, I ended up reinforcing the mating axles with wire pins.

I replaced the prop spinner with The Eagle Editions resin spinner and attached it with brass tubing. The antenna is elastic "E-Z line" with a strand of monofilament for the vertical fuselage antenna lead-in. The "tension springs" were made by wrapping thin wire around a pin vise drill.

Even though the exhaust stacks are not very visible, I drilled them out with a pin vise and finished them with Model Master Burnt Iron Metalizer and RUSTALL.
Click on the thumbnails below to view larger images:
Decals, Painting and Weathering
The model was primed with Tamiya fine white.
Next, Model Master Enamels of RLM 78/79/70 were sprayed using a Badger Sotar 20/20 airbrush. The kit decals were used except for the addition of the tire pressure data, which were from an EagleCals sheet. I airbrushed a coat of Future floor wax to seal the decals and protect them from the subsequent weathering.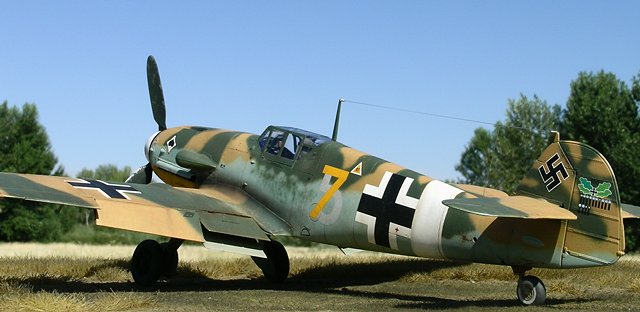 I washed the model with umber and sienna artist oils thinned with turpenoid. This layer was later sealed with Humbrol Matt Cote, with a few drops of gloss thrown in to give a slight satin sheen. Paint chipping on the prop blades and wing walks was done with a Crayola silver pencil. The final step was adding the exhaust streaks and various dirty areas with pastel chalks.





I'm very happy with how well this kit turned out. Our group entry took second place in the collections category at the IPMS Seattle Spring Show 2004.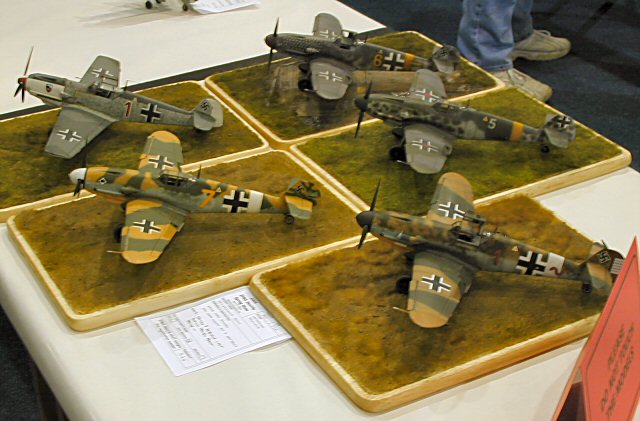 I love the broad spectrum of available subjects and aftermarket parts in 1/48 scale, but the high level of detail and quality found in the newer 1/32 kit is very welcome. The larger size makes complex camo schemes even more attainable, and it still fits in my display case. I've since bought a handful of these kits so this won't be my last.
---
Photography
Images were taken with a Nikon Coolpix 5400 digital camera. The "sharpen edges" tool of Adobe Photoshop was used to restore some of the clarity and crispness lost during image compression. Additional images were taken with a Nikon Coolpix 800 digital camera using Jasc Paint Shop Pro to sharpen and clarify.
Bf 109 Aces of North Africa and the Mediterranean, Osprey Publishing

Jagdwaffe vol 4 section 2 The Mediterranean, Classic Publications

Me 109 Volume II from 1942 to 1945, Histoire & Collections
Click on the thumbnails below to view larger images:
Bf 109 Aces of North Africa and the Mediterranean


Aircraft of the Aces 2

Author: Jerry Scutts
Illustrator: Chris Davey
US Price: $19.95
UK Price: £12.99
Publisher: Osprey Publishing
Publish Date:

October 17, 1997


Details: 96 pages; ISBN: 1855324482
Model, Images and Text Copyright © 2004 by Brian Geiger
Selected Images Copyright © 2004 by Ian Robertson
Page Created 14 September, 2004
Last Updated 15 September, 2004
Back to HyperScale Main Page