Hasegawa's 1/32 scale
Messerschmitt Bf 109G-6
by Brian Geiger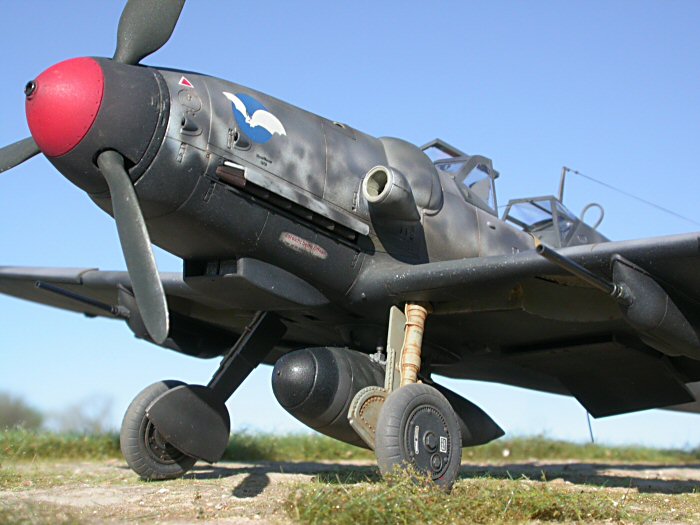 Messerschmitt Bf 109G-6

Hasegawa's 1/32 scale Messerschmitt Bf 109G-6
is available online from Squadron.com
While browsing through all the goodies at the IPMS Nationals vendor room (Atlanta 2005), I spent some time at Jerry Crandall's Eagle Editions table. A new book on JG 300 http://www.eagle-editions.com/jg300.htm had just come out and Jerry had some new decal sheets featuring some of the unique planes featured in the book. http://www.eagle-editions.com/decal88.htm . I was immediately drawn to the dark grungy looking red 6 night fighter scheme. I had yet to attempt a wilde sau so this seemed like a worthy project. Hasegawa's 1/32 kits provide a large enough "canvas" to pull-off busy schemes with greater resolution.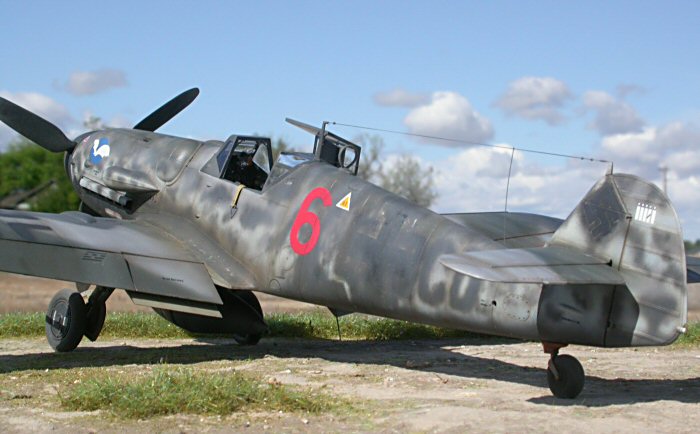 Santa was good to me last Christmas and left a set of Floyd Werner's Master Class Clinic DVDs http://misc.kitreview.com/bookreviews/masterclassvideoreviewbh_1.htm under my tree. This would give me the chance to build the kit with Floyd riding shotgun.
In spite of the near constant ridicule from my kids for "watching video of someone building a model", I really enjoyed viewing each segment before attempting the assembly myself. This was the second 1/32 Me109 I've built so I could appreciate many of the tips that Floyd offered. Maybe I spend too much time "noodling" but Floyd breezed throught the cockpit in a fraction of the time I usually spend. Yet, it turned out great. In fact, I really liked how the DVD series moved through all phases of the model without getting hung up on the little hurdles that I often dread. I was chagrined to find that there were a couple assemblies that I had previously done plain WRONG due to misinterpreting the instructions. I had already been using Mr. Surfacer to fill seams and had read other's suggestions for using thinner or accetone to wipe away the excess, rather than sanding. Somehow, seeing it demonstrated made it work for me. Wow, what a timesaver! When it came time to start painting the exterior, it was obvious that I had a better quality build than my previous kit.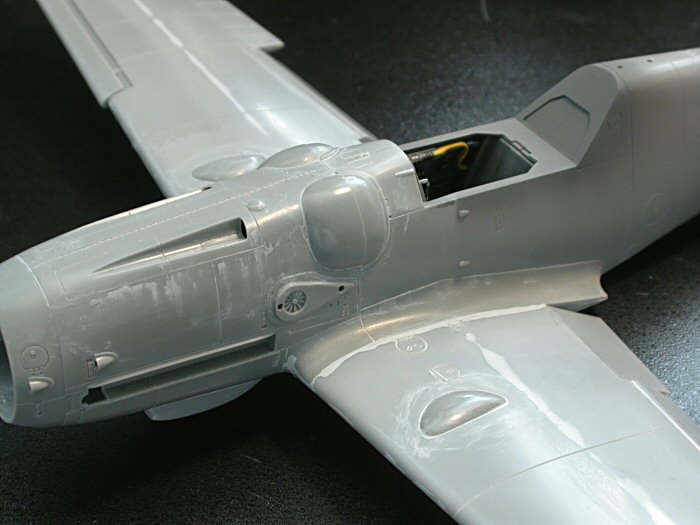 Click the thumbnails below to view larger images:
---
Inside the cockpit, I added eduard pre-painted seatbelts and homemade foil footstraps. I cut out the clear section of the fuel hose and replaced it with a piece of thinned down clear sprue. I thought I was taking the easy road on my last 109 when I used the supplied kit decal. However, the raised detail on the Hasegawa kit is superb and I was stunned to see how easily Floyd made it come to life just by hiting the highlights with a silver pencil. It was easy to do and I really liked how it turned out. The glass on the gunsight was replaced with thin clear plastic and I added stretched sprue hand holds to the forward canopy frame.

I replaced the kit spinner with the Eagle Parts resin spinner. The corrected spinner shape really enhances the overall profile.
The underwing 20 mm gun barrels were replaced with aluminum tube and painted with Humbrol Metal Cote gun metal. Humbrol Metal Cotes respond to a light buffing, resulting in a convincing metal sheen. I touched them up with some pencil lead for added glint.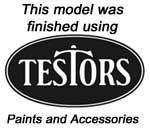 I used a combination of Model Master, Floquil, and Humbrol enamel paints.
I tried to approximate the same painting steps as the real plane except I didn't apply RLM 76 to the underside before blackening it.
The black portions received streaks of lighter shades to break up the surfaces and hint that a light shade was covered over, as evident around the underwing Balkankreuz.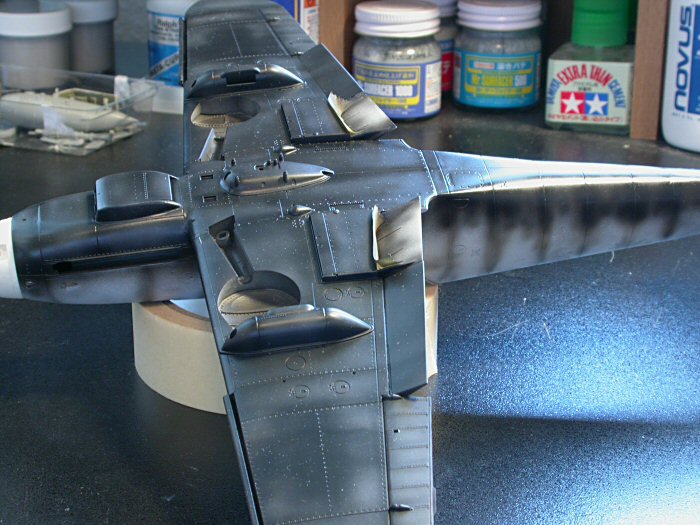 Click the thumbnails below to view larger images:
---
After applying the standard RLM 74, 75, 76 scheme, I added the major decals. Much of the steciling was over-painted on the actual aircraft. I used the white cross decals on the upper wing to guide where they would later be blackened out. I brushed Future Floor Finish over the decals after they had dried. Besides feathering the decal edges, the Future also saved my bacon when I decided that the color initially used to paint over the fuselage Balkandruez was too dark. I wasn't happy with it so I moistened a cotton swab with mineral spirits, scrubbed off the offending paint, and got a second chance. The paint scheme was done freehand with my trusty Badger Sotar 20/20 airbrush.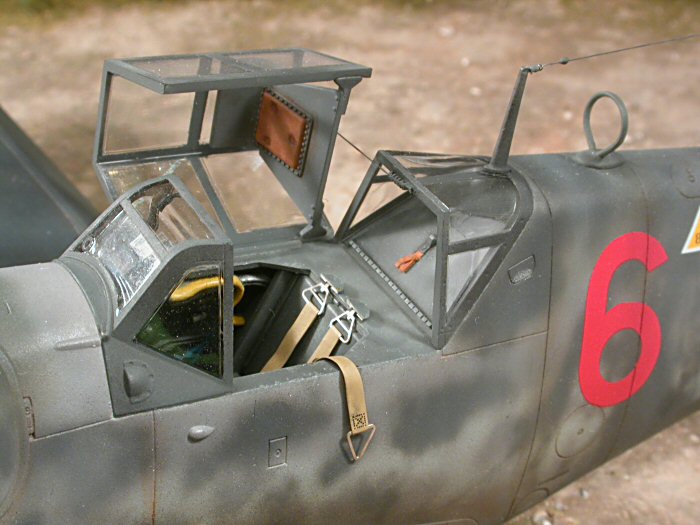 Weathering consisted of a little pre & post shading, washes of artist oils, silver pencil for paint chipping, and pastel chalks. The aerials are a combination of stretched sprue and E-Z line (the name says it all... love that stuff!) with white glue insulators. The tension springs for the antenna and canopy support are wound wire and a light bulb filament respectively.


Pictures were taken with a Nikon Coolpix 4500 and cropped, sized, & sharpened using Jasc Paint Shop Pro 9. The realism of outdoor shots is rewarding but adds additional challenges of wind and weather.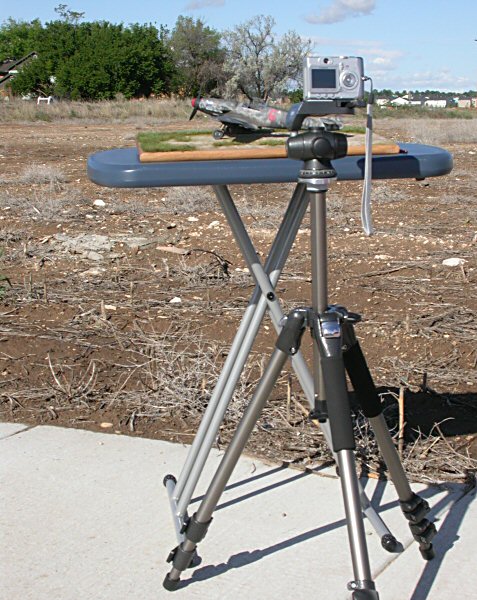 My first attempt almost ended up with the model actually taking flight just before it started raining! With the new housing developments going into my neighborhood, I may be looking for another backdrop soon.




The hacked overpainted wilde sau markings add an extra layer of depth to luftwaffe schemes. The dark menacing colors make for an interesting contrast in a model collection. I'm happy with this addition and hopefully it won't be the last.
Click the thumbnails below to view larger images:
Modelling the Messerschmitt Bf 109B/C/D/E


Osprey Modelling 32


Author: Brett Green
US Price: $18.95
UK Price: £12.99
Publisher: Osprey Publishing
Publish Date:

July 25, 2006


Details: 80 pages; ISBN: 1841769401
Model, Images and Text Copyright © 2006 by Brian Geiger
Page Created 03 July, 2006
Last Updated 21 February, 2007