Hasegawa's 1/32 Scale "Seemann"
Messerschmitt Bf 109G-6
by Ian Robertson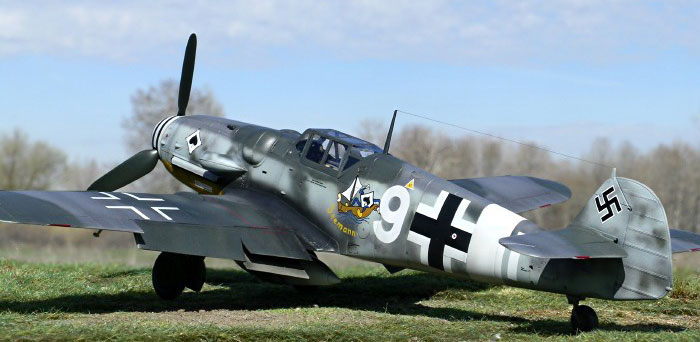 Messerschmitt Bf 109G-6

Hasegawa's 1/32 scale Messerschmitt Bf 109G-6
is available online from Squadron.com
This model depicts a Bf.109G-6 in the well-known markings of Uffz. Georg Amon's (7./JG 53) "Seemann", Sicily 1943. The scheme is based on a number of photographs and several color profiles, including one in Sundin & Bergström's "Luftwaffe Fighter Aircraft in Profile" (pp 54-55).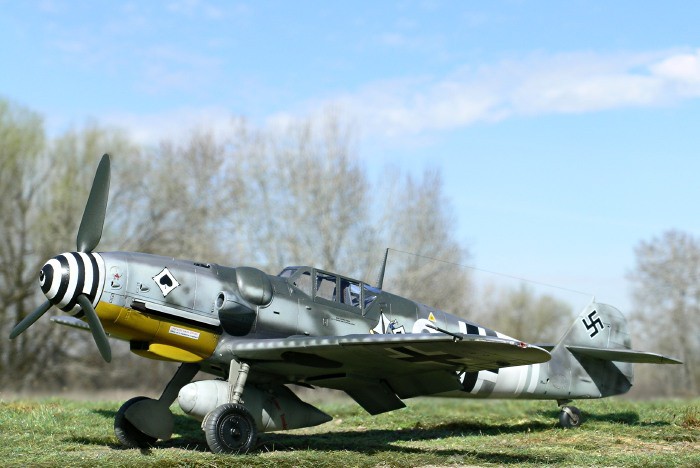 I built my model using Hasegawa's 1/32 Bf.109G-6 kit. No aftermarket accessories, apart from Eagle Strike decal sheet #32038, were used. Note that Illiad Design makes decals in 1/48 scale for "Seemann" and several other Bf.109s from 7./JG53.
---

Amon's Bf.109G-6 "Seemann"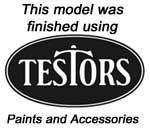 Despite a number of relatively high quality photographs of Amon's aircraft, debate remains about certain aspects of its camouflage and markings. There is wide consensus that the aircraft wore a standard RLM74/75/76 scheme with a white fuselage band and yellow on the lower cowl. Some sources suggest that the underside of the wing tips were white; however, a photograph of what appears to be the starboard side of the same aircraft ("white 9") does not reveal white wing tips. The same photograph also shows that the lower tip of the "9" was slightly overpainted.

A second area of debate revolves around the spinner (no pun intended). A number of sources, including Eagle Strike decals and Sundin & Bergström, suggest a pattern of 1/3 white and 2/3 RLM 70. However, photographs of several aircraft from 7./JG53, summer 1943, show black spinners with tight white spirals. Indeed, the photograph of the starboard side of "white 9" also shows a black spinner with a tight white spiral. I opted for this interpretation on my model. This is also the interpretation advocated by Illiad Design in their 1/48 decals.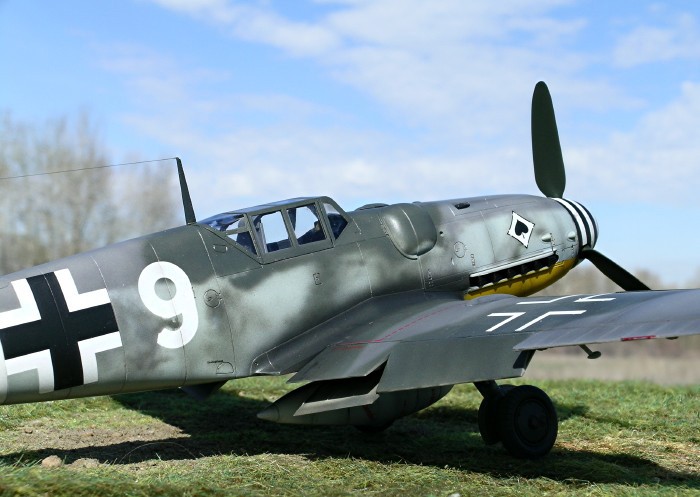 Finally, some sources show "Seemann" with underwing cannon (the R-6 conversion). These cannon are not evident in any of the photographs I have seen of "white 9", including the starboard side photograph mentioned earlier. Therefore, I opted not to include them on my model.
Eagle Strike produces a very nice set of markings for this aircraft. However, there are a couple of details to watch out for. First, Eagle Strike mirrors Sundin & Bergström's interpretation for the spinner, whereas I think the evidence leans toward the black spinner with a white spiral. Second, Eagle Strike provides only a generic diagram for the upper camouflage pattern, and photographic evidence (see Sundin & Bergström, pg 54) clearly indicates a different pattern. This isn't the first time photographic references have revealed mistakes by decal manufacturers. Research is always well advised if you are concerned about the accuracy of camouflage and markings on your model.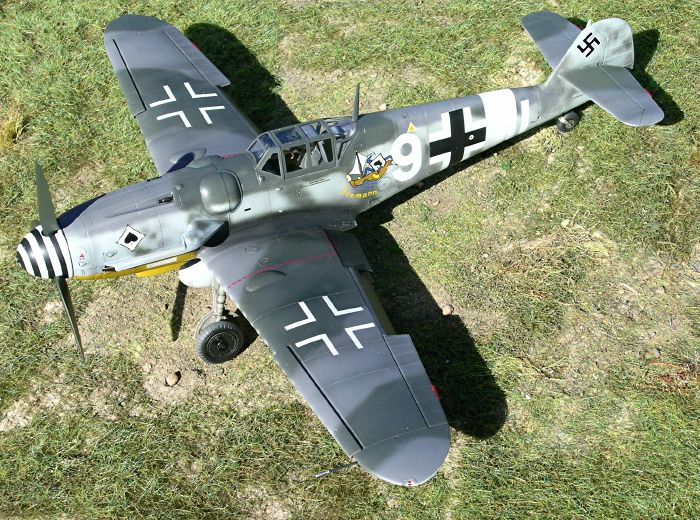 I painted the cockpit of my model RLM 66, and the undercarriage and wheel wells RLM 02. All camouflage and interior painting was done with Polly Scale acrylics and an Iwata HP-C gravity feed airbrush. Prior to adding the camouflage colors I preshaded the model's panel lines as well as some panels in black.

Once the basic camouflage had been added, I sprayed highly thinned black paint to simulate exhaust stains. Some additional "post-shading" over the model was done in a similar manner, although much more lightly than for the exhaust stains.
Images of the completed model were taken outdoors in natural light with a Nikon Coolpix 5400 digital camera. The "unsharp mask" tool of Adobe Photoshop was used to restore some of the clarity and crispness lost during image compression.
Several of the photographs I referred to while painting my model were provided via email by fellow HyperScalers. I greatly appreciate their assistance.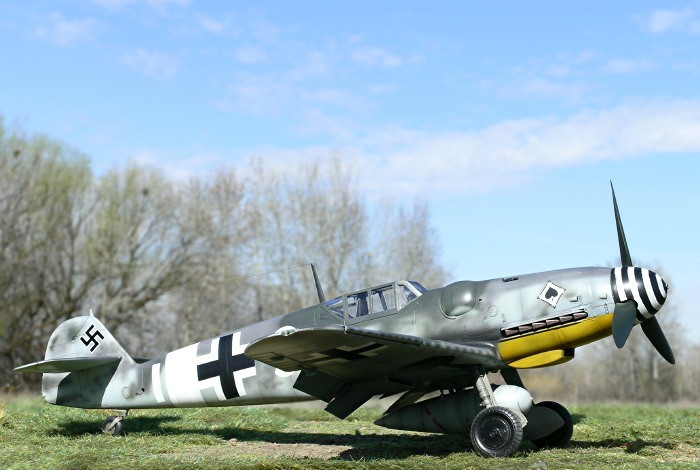 Jerry Crandall (of Eagle Editions) provided valuable advice concerning interpretation of the photographs.
Click on the thumbnails below to view larger images:
Slovakian and Bulgarian Aces of World War 2


Aircraft of the Aces 56

Author: Jiri Rajlich
Illustrator: John Weal
US Price: $19.95
UK Price: £12.99
Publisher: Osprey Publishing
Publish Date:

February 25, 2004


Details: 96 pages; ISBN: 1841766526
Model, Images and Text Copyright © 2006 by Ian Robertson
Page Created 15 October, 2006
Last Updated 21 February, 2007
Back to HyperScale Main Page