Messerschmitt Bf 109G-6
by James Kelly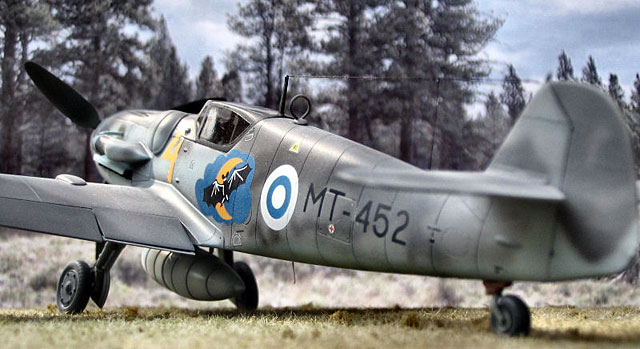 Messerschmitt Bf 109G-6
Finnish Air Force, 1948

Hasegawa's 1/48 scale Bf 109G-6 is available online from Squadron.com

I have wanted to do a project involving a Foreign Bf 109 for some time. Recently, I came across some photos of Finnish Bf 109Gs and knew this would be the subject. In particular, the colorful nightfighter Post-War scheme of HLeLv 31's Yellow 4 (MT-452) caught my eye.
I have no desire to provide a dissertation of the research I did on this project; let it suffice to say that Finnish Bf 109Gs shot down a total of 663 enemy aircraft while losing 32 fighters in combat or to anti-aircraft fire. This kill ratio approaches 27:1, which is impressive to say the least (Hellcats in the PTO achieved a 19:1 kill ratio.). 16 aircraft were lost in accidents and 8 were destroyed on the ground. 23 FAF pilots were lost.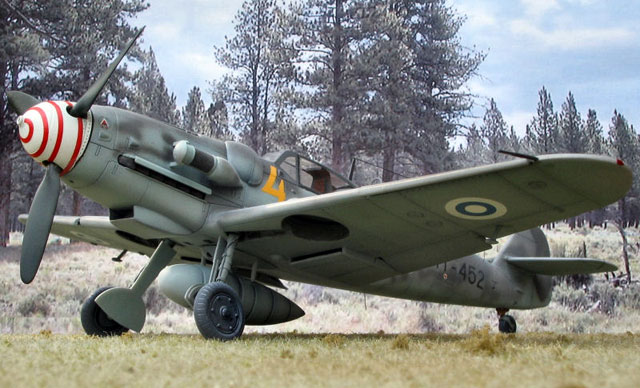 I am providing the links to some excellent websites that cover this topic much better than I could, as I'm more interested in building than I am re-writing previously covered histories anyways!
I used Hasegawa's excellent 1/48 scale Bf109G-6 kit, with a few minor modifications.
I added a fuel line in the cockpit made from fine solder, including an "observation port" made from stretched, clear sprue. The seat harness was made from lead foil, and Waldron buckles were attached.
I also added some "hydraulic" lines on the main gear for the brakes, made from fine gauge wire. These were secured with a few brackets cut from the same sheet of lead foil.
After I was finished with the sanding and filling of the fuselage seams, I rescribed the line along the dorsal and ventral fuselage.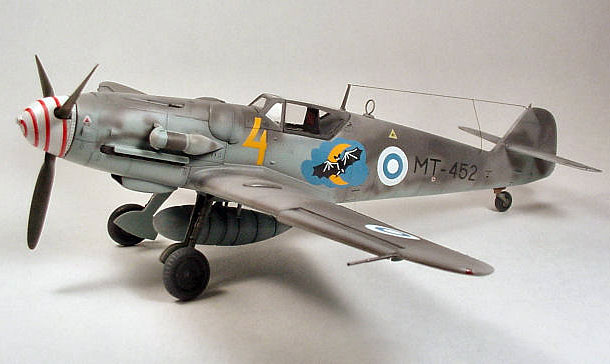 The corrected propeller spinner was the Eagle Editions resin replacement.
I also added a length of fine solder on the ventral fuselage to replicate the small antennae, and 6-0 nylon suture was used for the radio antennae wire. Finally, the gun barrels and exhausts were drilled out.
The daylight camouflage scheme of 74/75/76 was airbrushed with Gunze-Sangyo acrylics using an Iwata HP-C. I preshaded the model with Testor's Aircraft Interior Black. I was not able to find any reference material that spoke to the issue of Post-War Finnish Air Force wheel well colors, so I went with RLM 02.
A friend of mine suggested that they may have been the same color as the underside color, which would make them RLM 76….you be the judge! It would be interesting to know, so if you have this info I'd love to hear from you... (Be careful what you ask for, right?).
The decals used were from the Aeromaster 48-352: Augsburg Eagles, Pt. III sheet.
All in all, this was a very enjoyable project which resulted in an unusual, colorful addition to my collection…hope you enjoy it!
Click the thumbnails below to view larger images:
Messerschmitt Bf 109


Modelling Manuals 17


US Price: $17.95
UK Price: £12.99
Publisher: Osprey Publishing
Publish Date:

January 25, 2002


Details: 64 pages; ISBN: 1841762652
Model, Images and Text Copyright © 2005 by James Kelly
Page Created 04 June, 2005
Last Updated 04 June, 2005
Back to HyperScale Main Page