Hasegawa 1/48 scale conversion
Messerschmitt Bf 109H
by David C. Jones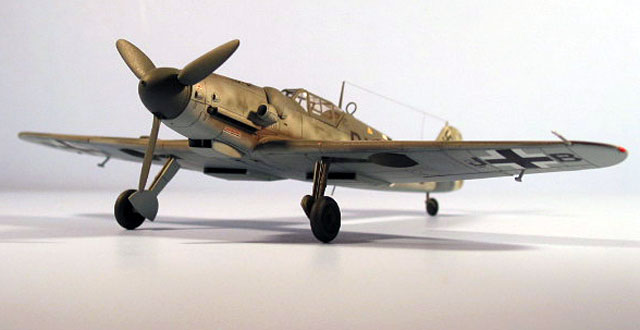 Messerschmitt Bf 109H
Classic Airframes' 1/48 scale Messerschmitt Bf 109 C/D is available online from Squadron
The Messerschmitt Bf 109H was designed as a high altitude interceptor pending the arrival of the Me155 (or Bv155).
The Me155 never arrived and the Bf109H was cancelled due to the success of the superlative Fw190D/Ta152 series.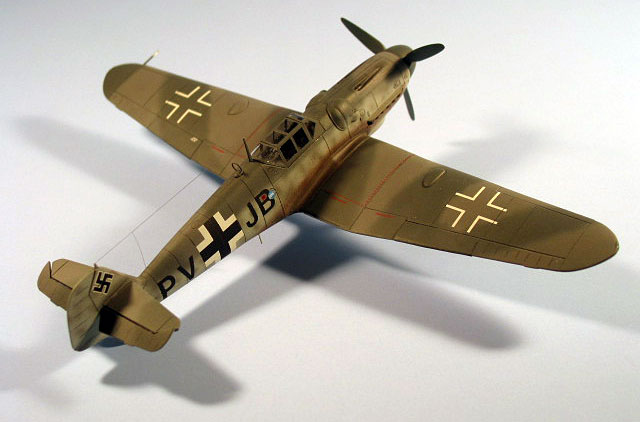 The first prototype Bf109H-0 V54 (Wrk. Nr. 15708) had its maiden flight out of Augsburg, Germany on November 5, 1943 with test pilot Fritz Wendel at the controls. After testing at Messerschmitt the aircraft traveled to various facilities in Germany until the type was cancelled on July 18, 1944. The V54 itself was destroyed during a bombing raid on August 14, 1944 while at the Daimler-Benz Stuttgart plant. The aircraft existed for less than a year.
Regarding the model; it was completed years ago so I have no "in progress" photos.
I depicted the V54 prototype because I had accurate references to its codes PV+JB. It was converted from Hasegawa's 1/48 Bf109G-6 kit. I also added parts of the Eduard photo-etched set designed for the Hasegawa kit.
The construction of the new wing center section was straightforward. The leading edge was plastic tube and the rest was all layered Evergreen plastic sheeting. It also had two brass rods to reinforce the whole wing assembly.
Aside from that, the split flaps were constructed separately as I originally meant to build it with lowered flaps. I eventually decided to have them in the raised position since their interior structure would have to be total conjecture on my part.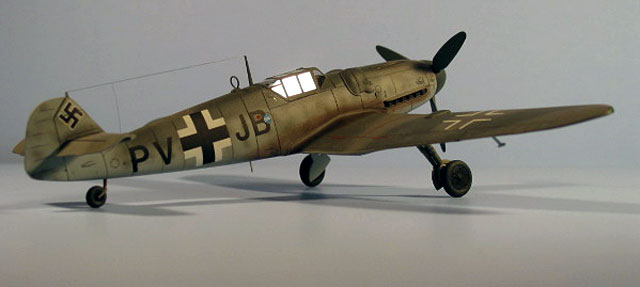 The weathering was kept to a minimum. I only added minor exhaust/gun stains and gave the RLM76 undersides a "patchy" appearance because of it being a converted rather than new build aircraft.
The references I used were:
1) The Luftwaffe Album by Joachim Dressel and Manfred Griehl.
It has no line drawings but an excellent history of the type. They used a model to depict the airplane; I rejected some of their model's details based on the text and other sources.

2) Messerschmitt Bf109 by Robert Grinsell.
Some line drawings (head on view) and great artwork by Rikyu Watanabe. I've always held Watanabe's work in high regard; there is a ¾ view painting of an H-1 (not an H-0) in the book.
I'd consider the line drawings in the book very accurate.

3) The Messerschmitt 109: A Famous German Fighter by Heinz J. Nowarra.
It is old (1963) but it has three view drawings of every Bf109 spin off there ever was. There are accuracy issues with some drawings (they are a bit simplified like in old profile books) but they gave me the gist of what I needed to do.
It also shows a four bladed prop. I believe this is incorrect for the V54; however it would fit the description of the projected H-2 variant. The dimensions, Wrk. Nr. and other data were from this book. I consider the text accurate in spite of its age. Most other sources agree with the text as well. There are references in the text that Wrk. Nr. 15708 was a modified F airframe with a DB601. If this is correct, my model is wrong. Source (4) cites this serial as a G-5/6 airframe. Since the H was to be a high altitude pressurized fighter, it makes sense to me they would have used a G-5 (pressurized) airframe if available. I removed the air scoops to show the model as a G-5 conversion. Source (4) is also more reliable in my opinion.

4) Messerschmitt Bf109 F, G, & K Series by Jochen Prien and Peter Rodeike.
This book references the Wrk. Nr. 15708 as being in the first batch of G-5/6 airframes made at the Erla factory. Hence I incorporated some of the early features (short tail wheel, tall antenna, short tail, aerial configuration) associated with the early G-5/6 series. I did add the R/F loop as described but this was purely a judgment call on my part. My reasoning was the high altitude/longer range missions (even for a test bed) would have required it.
I consider this book to be among the best Bf109 books there is.

5) I later found this after my build; everything matches up exactly to my model except they show lengthened ailerons and slats.
Historie & Collections Messerschmitt Me109 Volume II by Dominiquue Breffort and Andre Jouineau. Line drawing (top view). It is a nice book, but it tends to generalize so I'm sticking to my guns on the aileron/slat issue.
Source (1) cites the aircraft was thrown together in a mere ten weeks so I doubt they made these changes on the V54. Perhaps this was something that would have been on production models.

In essence the model is a culmination of filling in the gaps with (I hope) educated guesses. I'm not a 109 expert by any measure, so any comments are welcome. All I can say is the kit certainly sticks out among a line up of other late model Bf109s. I hope you enjoy the pictures. -DCJ

Click the thumbnails below to view larger images:
---
Model and Images Copyright © 2006 by David C. Jones
Page Created 31 March, 2006
Last Updated 30 March, 2006
Back to HyperScale Main Page