Hasegawa 1/48 scale Bf 109G
Night Fighters Times Two
by Tim Both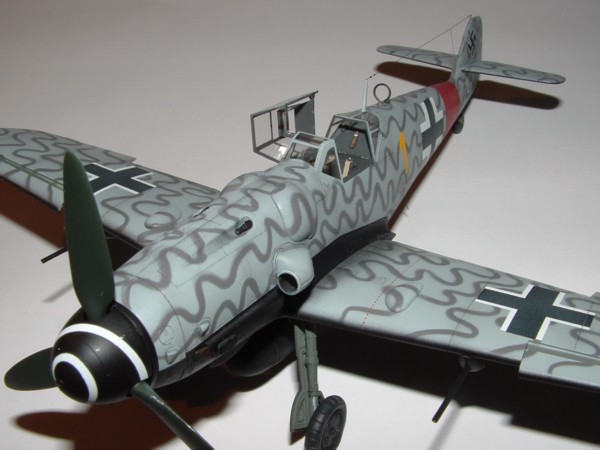 Messerschmitt Bf 109G-6

Hasegawa's 1/48 scale Bf 109G-10 is available online from Squadron

Here are two recently completed Hasegawa 1/48 Messerschmitt Bf109s. I built both almost at the same time in differing nightfighter schemes. Having built many of these kits before I was looking at the painting challenges each kit provided.

I wont bore you with the construction details, suffice to say both had excellent fit and caused no headaches of any kind.
Hasegawa 1/48 scale Bf 109G-10
To the model I added True Details wheels, Ultracast G-10/K prop blades, Eagle Editions MW50 bulge as well as an MDC cockpit.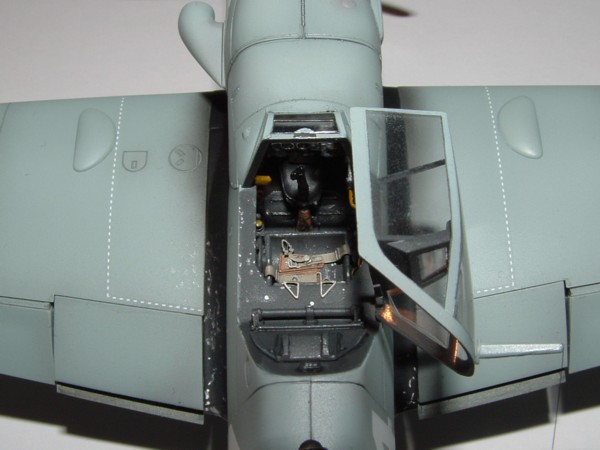 All the aftermarket goodies were outstanding. I scratchbuilt the exhaust dampeners and the tiny rearview mirror using sheet styrene and used the small wheel bumps from a Fujimi 109 as this G-10 had the smaller wheels but extended tail wheel. An error I made was not to add the sliding window on the canopy. This I was going to scribe but too late now…
---

Painting and Markings
I was aware that painting the model in straight RLM 76 would be too plain so I started with an overall coat of RLM 78 and I highlighted the inside of panel lines with RLM 76 to create some contrast. This was further enhanced when I post shaded the panel lines with Gunze Smoke. This spinner had a unique appearance to it so I painted it RLM 75, applied the decal spiral and then edged the decal with black paint by hand. It looks okay and does bear some resemblance to the one photo I have of this plane.
---

Decals and Markings
Decals were from EagleCals and proved to be excellent.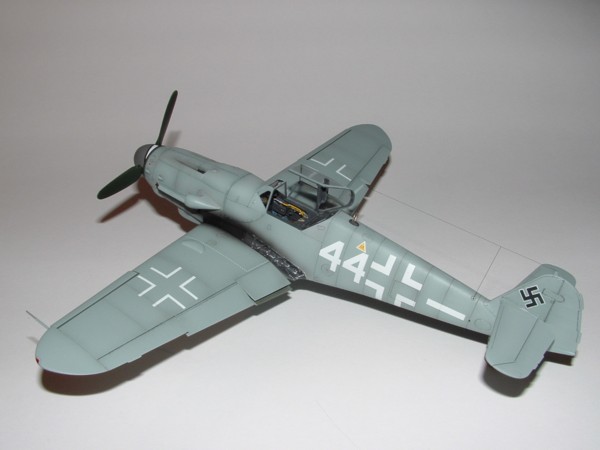 Minimum stencilling was applied and I added paint chips with a silver pen and toothpics and some exhaust staining with highly thinned acrylic matt black. A coat of Testor's Dullcote finished this one off.
Hasegawa's 1/48 scale Bf 109G-6
To this model I added TD wheels again, an MDC cockpit combined with the MDC specific 109G nightfighter instrument panel which I thought was a nice touch.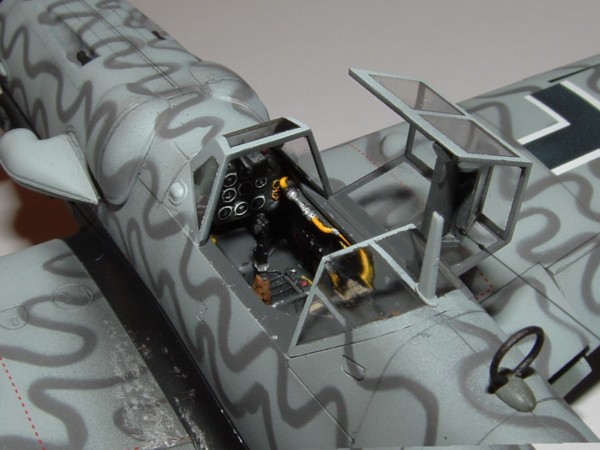 I replaced the underwing cannons with brass tubing, added exhaust shields from styrene sheet and fabricated the whistle on the port exhaust shield from a leftover exhaust stack from another 109. I had no clear picture of this so I fudged it!
---

Painting and Markings
This presented by far the greatest challenge for me. My Tamiya Sprayworks airbrush wasn't up to the job of doing freehand lines so I chose a method that was the reverse of how the Germans did it all those years ago. I sprayed a Gunze RLM 75 undercoat and waited for it to dry thoroughly. I then rolled thin lines of Blue Tak into strips and placed them in what I thought was the correct location on one wing and sprayed a coat of RLM76 to make the squiggle pattern. Once I removed the Blue Tak I found my first effort to be incorrect so after respraying the RLM 75 I committed myself to thinner rolls of Blue Tak and to take much more time to lay them down accurately. The second effort more closely resembled the two photos I had although still not perfectly. I found it important to spray the RLM76 from one direction only otherwise you would get some ghosting when you changed the direction of the spray. I masked and painted the horizontal surfaces first and then the fuselage. In all it took me three nights to get all the painting done.
---

Decals and Markings
The decals were from EagleCals which I believe are out of print. (Thanks to Craig at Aeroworks for those!)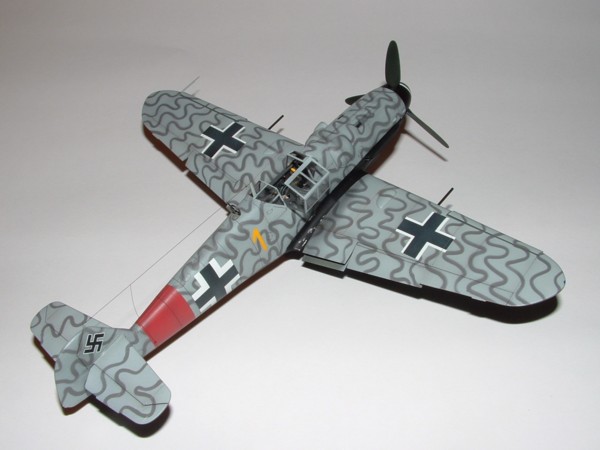 After the challenge of the painting, applying the decals and some light weathering seemed a breeze. I toned down the crosses with a light overspray of RLM 76 as the photos I have of this aircraft shows them somewhat faded.
I tend to build my models in threes, and these two 109s and a Fw190 took three months altogether.
I was very happy with the way they turned out and the use of excellent aftermarket items made them a pleasure to build.
I hope you enjoyed reading about and looking my two night fighters.
Click the thumbnails below to view larger images:
Messerschmitt Bf 109


Modelling Manuals 17


US Price: $17.95
UK Price: £12.99
Publisher: Osprey Publishing
Publish Date:

January 25, 2002


Details: 64 pages; ISBN: 1841762652
Model, Images and Text Copyright © 2005 by Tim Both
Page Created 11 January, 2005
Last Updated 11 January, 2005
Back to HyperScale Main Page