CA-19 Boomerang Mk.II
by Larry Cherniak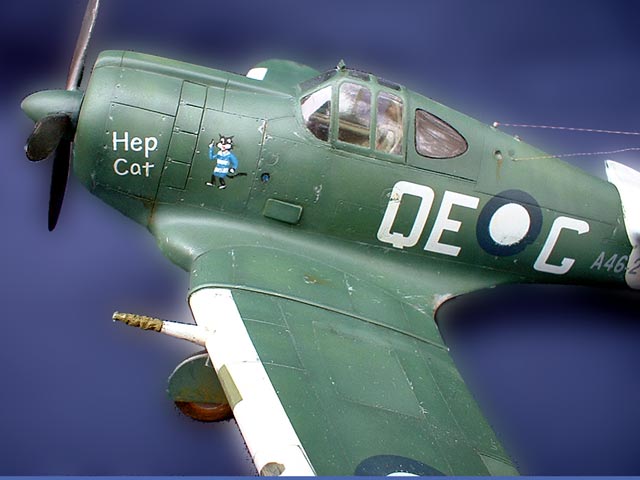 CAC CA-19 Boomerang Mk.II

HyperScale is proudly supported by
Squadron.com
Before building this model (after winning it in a raffle at my model club- thanks Rick!) what little I knew of the Boomerang was mostly innaccurate or downright false. I had thought it was a failed quick-fix lashup of wings derived from North American trainers with a new fuselage. In actuality I have come to consider it a quite successful, mostly original, design, forged quickly (5 months from inception!) in the heat of fear of the Japanese fighters, using a great deal of ingenuity and resourcefulness. Certainly the design was derived from the Wirraway trainer, but in the end nearly everything differed from it- especially the wood-covered tubular steel fuselage.

Although fitted with a two-stage supercharged Pratt and Whitney R-1830-S3C4-G engine optimized for high altitude interception, in the event the Boomerang was superceded by Spitfires and P-40's in that role. Yet it found a successful niche in hopping in and out of jungle valleys just above the treetops, scouting out Japanese troops. They flew in army cooperation and tactical reconnaissance roles, with an F24 camera fitted behind the cockpit (a detail I conveniently left off my model until I can find a plan showing where to put the window!). They also marked targets with smoke canisters for followup by ground-attack squadrons, and used their two 20mm cannon (and 4 x .303 machine guns) to good effect in strafing work (in one instance shearing off the treetops so that the ground troops could see where to target their mortars!). Unfortunately, it sometimes fell victim to "friendly fire" in this role- but crashes on landing took a far greater toll. Check out http://www.kiwiaircraftimages.com/boomer.html for a lot more information, and http://www.adf-serials.com/2a46.shtml for a history of every Boomerang known.
My model depicts A46-217 "Hep Cat", a CA-19 Boomerang Mk. II, C/N 1040, Delivered in 8/1944, 4th Squadron RAAF, Morotai, Halmaheras, early 1945. The "Hep Cat" nose art was painted by resident squadron painter G. Chambers. There was no particular pilot, as the pilots flew whatever was serviceable at the time. It was later passed on to the 5th Sqn and swung off Cape Hoskins strip on New Britain on 12/2/1945, whence it was reduced to components.
The Boomerang in 1/48 Scale
Now, what about modeling the Boomerang in 1/48? You don't see many around, although John Burns lists no less than 8 kits available- mostly vac or resin I suspect. LTD was an early enthusiast-run limited run company which I'm sure helped pave the way for todays burgeoning Eastern European model industry, and I for one am happy to have their efforts (the LTD IAR 80 and LaGG3 are still the only games in town). But they do take a little more work than even the average limited run kit of today. I hope this article can encourage more builders to add one to their collection. (The Tasman models kit KW4801 is also limited run injection and perhaps more commonly available).
The first step was carefully snipping all of the parts off the sprues and filing off the nubs, etc. A razor saw would have been a better tool at some points than sprue nippers. (A few hours spent this way can actually be enjoyable if you like working with your hands- I did it over coffee and lunch breaks at work and had it done in three days). Testfitting, trimming, and cleaning up of rough edges is the order of the day throughout. The plastic is quite soft and workable.

Next, I glued (using MEK throughout- This strong solvent dissolves enough of the soft plastic to self-fill small gaps nicely) the outer lower wings to the lower center wing section, taped them on to hold the dihedral, and set the lower wing assembly aside to dry. This yields a one-piece lower wing with set dihedral, aiding later assembly.

The cockpit came next. What is there is barren but acceptable except for the sidewalls, which could use some tubular framework, consoles, throttle, etc. I built on what was there with metal rod stock, PE leftovers, spare parts, etc. References were the excellent shots in the reference section of this site as well as Ventura Publications "Classic Warbirds No.7".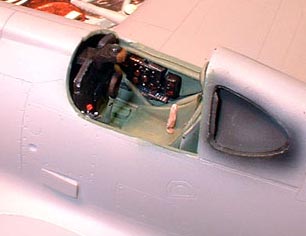 One inner rear quarter window part was either missing or lost, but curiously only one is seen on the instructions. I fabricated a new one from sheet stock. Using ModelMaster or Floquil enamels throughout, the interior was painted British interior grey-green with black consoles and inner rear quarter windows. The cockpit floor, rear, back armor, and engine bulkhead were glued in place. The engine interior area was painted aluminum. Excellent Boomerang color information like this was found on the Red Roo Models website.
I would have liked to add the upper wings after the lower wing was already glued to the completed fuselage, in order to keep a looming substantial wingroot gap to a minimum, but the large fairing on the wings runs from top to bottom so they really needed to be aligned precisely. I therefore glued the upper wings to the lower and would have to deal with the promised wingroot gap later.

The engine came next. This is quite crisply done, just missing pushrods and accessories. The cylinders were painted Tamiya gloss black with a silver drybrush and the rest gloss grey. Pushrods were then added from stretched black sprue. An ignition harness was added from solder. The engine was glued in with epoxy and adjusted after fitting the fuselage halves together. Did I mention the need for careful testfitting? Some cylinder heads, and the bulkhead, needed to be filed down a little to close the nose up.

I then testfitted the wings and sure enough, there was a wingroot gap big enough to trip a (scale) horse. I ended up having to forcibly shove the landing gear bay roof piece up into the fuselage a ways to wedge the bottom of the fuselage apart enough to fill the gaps, fixing it in place with CA and accelerator when ready. This opened up a 1.5mm wedge-shaped gap at the bottom of the engine, which was a better place to fill unnoticed with gapfilling CA. Unfortunately, this now put the engine off-center, so I (cursed, then) snapped it off and glued a couple of cylinder heads to the inside of the cowling with MEK to re-center. I flooded the wingroots with MEK after careful tweaking of the joints and about 5 clamps in different places.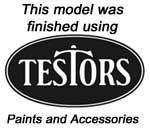 The tailplanes were tweaked with careful filing then glued on. I drilled out the locating holes, but one side fit better with the locating bumps removed altogether. Although an unreinforced butt joint, the MEK bond is quite strong. Several joints now needed minor filing, puttying, and sanding attention. The surface had a fine pebbly finish and faint panel lines. I sanded overall, then deepened the control surface divisions, cowl flaps, and major panel lines with a simple used #11 hobby knife blade pulled backwards across the molded lines.

The rest was pretty standard finishing-up work. The landing lights were homemade from chrome mylar and covered with tape. The better of the two vac canopies was dipped in Future and trimmed to fit. Of the two sets of wheels provided, use the larger pair as they scale up closer to the real thing (If you have spare T-6 Texan wheels and struts they should work here as well).
Although I had detailed the interior just enough to show it off, I thought opening the canopy would disturb the pugnacious lines of the beast too much so I masked the canopy with Parafilm M and glued it on with CA. I then preshaded the panels with dark blue.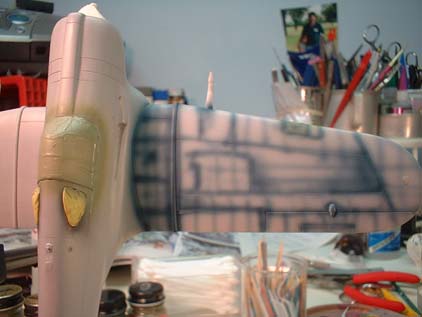 Next Modelmaster Euro I Dark Green FS 34092 (A good match for RAAF Foliage Green) cut with lacquer thinner was applied thinly and built up. Then a mix of the green and some tan was sprayed on randomly for a faded look. When this was dry I masked and sprayed the white wing leading edges and tail. This replicated the order in which the originals' paint was applied, allowing sanding and scratching to reveal wear-through to the underlying green.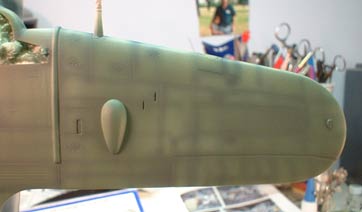 Decals, applied over a Future coat, proved excellent. I love the "Hep Cat" nose art, although I couldn't find any pictures of this exact machine ("Phooey" and several other 4th Sqn birds are covered in the Ventura book). Another coat of Future sealed the decals in, then Modelmaster Acryl flat varnish finished up. Oil washes (mostly raw sienna blends over the white, raw umber and pthalo blue on the green) and pastels followed.
On a light note, after struggling with this thing on and off for months, thinking I had built something unique (having never seen one at a contest in the region in the last 6 years since I've been back at the hobby), what do you think happened when it debuted? That's right, a foot down the contest table was another nice foliage green LTD Boomerang! I felt like women say they do when they show up at a party in the same dress. Go figure.

On another light note, my daughter, then 7, pulled me aside after examining it and said "Umm, daddy, I think you made a mistake." She looked a little downcast (she's so proud of her daddy WINNING before at the NATIONALS! And now he messed up...). "What?", I asked, curious. "Well, I can see scratches in the white paint where you can see some green." Sigh. I gently explained my replica-building philosophy, and how I carefully put those there- just to please myself, I guess.

I enjoyed researching this plane and came to appreciate the pugnacious little Boomerang and respect its role in scouting out the enemy in island jungles. Iím sure that many an allied ground-pounder cheered when he saw one overhead, and many a Japanese soldier who was tempted to take a potshot at one didn't survive the day. It deserves a place on our shelves, squatting between the more graceful Spits who overtook it and Corsairs it sometimes directed. It wasn't beautiful or glamorous, just a stocky mud-crusted soldier doing its job- but there's valor in that as well.
Click on the thumbnails below to view larger images:
---
Model, Images and Text Copyright © 2004 by Larry Cherniak
Page Created 14 March, 2004
Last Updated 15 March, 2004
Back to HyperScale Main Page