Bostons of the RAAF
Part One - Building an RAAF A-20G Havoc/Boston IV
by Brett Green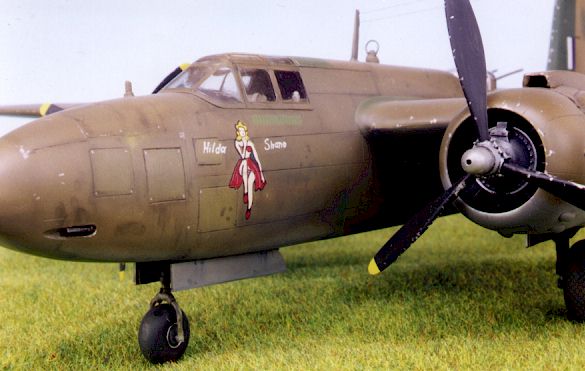 A-20G Havoc/Boston IV
22 Squadron, Morotai Island, September/October 1944
Five more images in the text and four more at the bottom of the page
Have you ever had one of those modelling projects that you get 90% finished and then decide it is just irretrievably bad?
This started out as one of those projects.
I built AMT's 1/48 scale Havoc when it was first released in 1995. Construction went quite smoothly with only a few hiccups (see full description below). I had a specific idea of what I wanted to achieve for the paintjob - a chipped and damaged, faded Olive Drab with Medium Green splotching. But, for one reason or another, the paint job just would not come out right. I stripped back the paint and started again with a result no better than the first attempt. At this point I took the model to Chris Wauchop and told him if he wanted it, he could have it. He accepted the offer and the model sat collecting dust in the back of Chris's shop for three years!
A recent article on RAAF Bostons in Quarter Scale Modeller got me fired up again. I retrieved my model from Chris (yes, I'm an indian giver!), stripped the paint off one last time and refinished the model. This time I'm fairly happy with the results.
Here is a good case for not throwing kits away if you're unhappy with them the first time around!
RAAF Bostons operated exclusively with 22 Squadron. They saw front-line action between November, 1942 and November, 1944. The first Bostons used by the RAAF were DB-7Bs and A-20Cs.
Early use of Bostons in New Guinea revealed a fatal flaw. Three aircraft were destroyed when 20 lb fragmentation bombs exploded prematurely after being released from the bomb-bay. The discontinuation of these bombs on Boston missions was the simple solution to this tragic problem.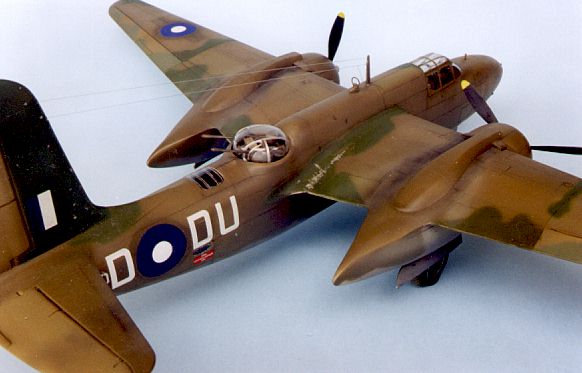 22 Squadron Bostons at Port Moresby sometimes operated alongside 30 Squadron RAAF Beaufighters. The role of the Boston was that of a conventional bomber on its first target run, with additional strafing runs over the target area taking advantage of its heavy forward-firing guns.
Operations were conducted under the typically appalling conditions encountered in the South-Western Pacific Theatre. Crews fought malaria, harsh heat, stifling humidity, tropical thunderstorms and unfriendly wildlife before even leaving the ground. RAAF Bostons encountered heavy anti-aircraft defences, and the long distances flown over water and jungle presented real dangers. As if all this was not bad enough, many downed aircrews were executed - some being beheaded.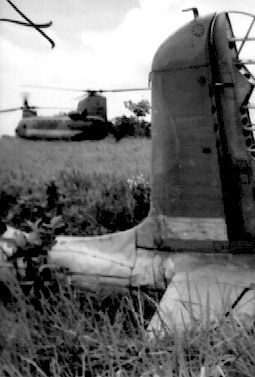 The local conditions were a constant challenge to maintenance personnel, but the Boston proved to be a reliable workhorse and was popular with its crews.
22 Squadron followed the Allied advance; island-hopping from Moresby to Goodenough Island, to Kiriwina Island, to Noemfoor and finally to Morotai.
In June 1944, 22 Squadron received replacements for its weary Boston IIIs. The turreted A-20G added welcome extra bomb-carrying capacity. The added defensive capability afforded by the Havoc's power-operated Martin turret was academic at this stage of the Pacific war - air resistance by Japanese forces was almost unheard of.
29 A-20G Havocs (Boston IV) were eventually delivered to 22 Squadron.
The service life of these aircraft was cut prematurely short by a Japanese air-raid on 22 Squadron's base at Morotai Island. This raid destroyed eleven and damaged two A-20s. This was the end of Boston/Havoc operations for the RAAF. The Squadron was immediately withdrawn to Noemfoor to be re-equipped with Beaufighters.
22 Squadron Bostons operated alongside USAF Squadrons in New Guinea operating the same aircraft type. Many Bostons still lie abandoned in the jungles of the South-Wester Pacific. During the 1980s, an RAAF-sponsored mission recovered two Boston airframes in excellent condition. Both are in advanced states of restoration. One will remain in Australia, and one will be returned to New Guinea for their War Memorial.
AMT's 1/48 scale A-20G Havoc in the box
AMT's A-20 kits are a welcome addition to the growing range of World War Two aircraft available in 1/48 scale.
The A-20G "Havoc" with its distinctive Martin turret was the first variant released by AMT. This was closely followed by the A-20B/C Boston , the glass-nosed A-20J and the P-70 night-fighter variant.
The A-20G "Havoc" is typical of AMT's recent releases. It is a very nice model.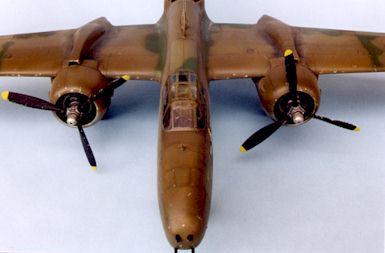 The outline of the kit captures the spirit of the Havoc with its skinny fuselage, bulged in the middle for the Martin turret; the big fin, the rakishly angled horizontal stabilsers; and the near flat dihedral of the graceful wings. Engraved surface detail is very crisp and restrained. There are few sinkmarks or visible ejector pin mark and the undercarriage, engines and cockpit are adequately detailed.
This model represents the most common variant of the A-20G with the six-gun nose and turret. The earliest production G models had a four-gun nose and no turret.
Options are few, but the canopy may be positioned open (also displaying the life-raft stowage area), alternate nose armament is supplied, the turret rotates and the guns elevate (if you like that sort of thing!). Other nice touches include moulded brakelines on the main gear legs and detailed gear doors. There's even a partial bomb-bay.
The most noticeable shortcomings of this kit are the main wheels. These feature a rather bizarre and totally fictitious fish-scale tread pattern. They will need to be replaced with either the True Details or MDC resin items. The keen superdetailer may also wish to add structural features inside the very large, very empty main gear bays. Apart from that, AMT has this subject pretty well nailed!
AMT's parts breakdown and construction sequence is admirably simple for this kit.
Construction commences with the cockpit. Although only made up of six parts, the impression is quite convincing when assembled. Sidewalls have appropriate three-dimensional detail moulded integrally. Brass-etched harnesses were the only addition.
The Martin turret is similarly simple but effective.
A one-piece wing spar ensures that the correct dihedral is set, and provides welcome structural strength to the fuselage.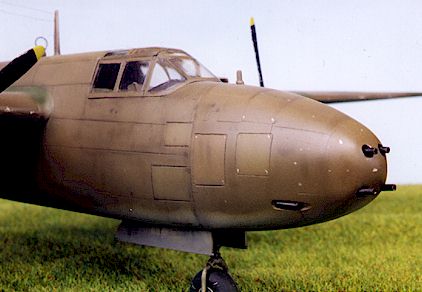 The nose section was a poor fit. I completed the nose sub-assembly (parts 86,87 and 88) then added the nose to the assembled mid-fuselage. Lots of filler was needed for the join on both sides of the fuselage. The other problem is that this nose join is not on a "natural" panel line. I rescribed a number of panels after the nose was faired in. In retrospect, I probably should have added each nose half to each fuselage half before assembling the fuselage. This would leave an easier to manage gap at the top and/or bottom seam.
Whatever sequence you use, don't forget to add plenty of nose weight for the tricycle undercarriage.
More filler was required at the lower wing root joint and around the engine nacelles. Fitting the bomb-bay doors was also difficult as there are few good locating points for this long, flexible part. Adding a few tabs of scrap styrene to the inside of the bomb-bay opening will provide a more secure bond for the bomb-bay doors.
The kit was otherwise built almost from the box. Only a few extra items were employed for this job. The DF loop was replaced with copper wire, "True Details" resin weighted wheels were installed, aerial wire was added using invisible mending thread (monofilament) and brass tube substituted for the kit's plastic gun barrels.
Construction and Markings
RAAF Boston IV s (A-20Gs) were delivered in standard USAAF Olive Drab, Medium Green and Neutral Grey colours. RAAF roundels were painted over the US Stars, and the "bars" were overpainted in a colour with a similar tone to OD. Dull Blue and White fin flashes were applied to most aircraft. The style and position of Squadron Codes varied widely. The colour was probably either RAAF Sky Blue, or white. Photographs indicate that it is likely that both colours were employed on different aircraft during the same period. RAAF serial numbers were applied in 8" high, Medium Sea Grey characters. Paint repairs would have been made using standard RAAF colours, creating a patchy appearance.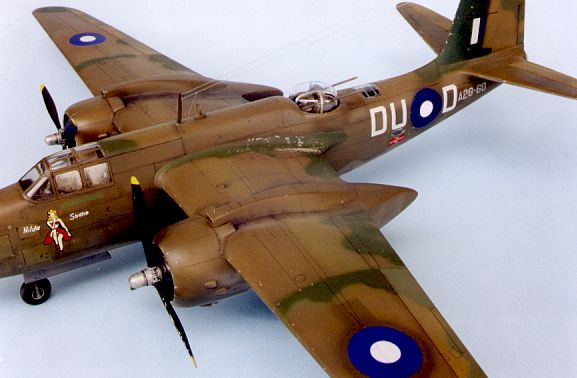 I "pre-shaded" panel lines using Tamiya XF-1 Flat Black acrylic. This was followed by a coat of Aeromaster Acrylic 1043 Neutral Grey and Gunze H307 Olive Drab. While the OD was still in the paint-cup, I mixed in a few drops of Gunze H71 Middle Stone. I used this lightened mix to pick-out a number of random panels. I lightened the mix further and added a few drops of Tamiya X-21 Flat Base before masking and spraying the fabric control surfaces.
Gunze H320 was used for the US Medium Green. This colour was also lightened for the control surfaces. The fin was painted Polly Scale K3/178 Foliage Green, and more panels were picked out in different shades of brown and Olive Drab. The main paint job was completed with a very thin coat of black over panel lines.
Decals came from a number of sources. Fuselage roundels and fin flashes were from Tasman's RAAF Roundels (set 7202). I used Tasman's new "semi-weathered" roundels (set no. CS4808) for the upper wings. Aussie Decals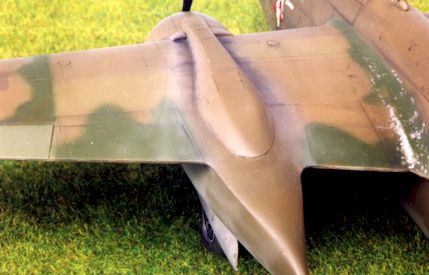 supplied the nose art (from Boston set no. A48015) and the 8" stencil serials (set no. 703). "Just Planes" new Faded Sky Blue Letters was the source of the squadron code.
Final weathering took place after the decals had set. Panel lines on the lower surface were highlighted with a sharp 2B pencil, and upper surface panel lines received a thin wash of Tamiya X-18 Semi-Gloss Black.
Paint damage was added, mainly to the wing leading edges and the tail surfaces plus wingroot walkways, using tiny spots of Tamiya XF-16 Flat Aluminium applied with a fine brush.
Wings and engine nacelles were sprayed with thin streaks of Tamiya XF-57 Buff and X-21 Flat Base to represent exhaust staining.
Apart from some fit problems around the nose and lower fuselage, the AMT kit was a straightforward and satisfying project.
This project has reinforced a couple of important principles for me. First, never give up on a modelling project; and second, even a basic Olive Drab paint job can be made attractive with careful weathering and unusual markings!
There are a number of good, inexpensive references on RAAF Bostons. The best of these is:
Boston, Mitchell and Liberator in Australian Service by Stewart Wilson, Aerospace Publications, Canberra, Australia, 1992. ISBN 1-875671-00-5

Also, see Quarter Scale Modeller No. 16, September 1998. In addition to the very informative construction article covering both the Boston III and Boston IV, this magazine reproduces the otherwise impossible to obtain, (for most of you out there) and excellent, drawings from APMA Magazine issues 3/86 and 2/87.

A terrific general reference, including colour photos, is Airpower Magazine from january 1996, Volume 26 No. 1. This may be available as a back-issue from the publisher.

And we should not overlook the Squadron "A-20 in Action" book.
---
Article, Images and Model Copyright © 1998 by Brett Green
Page Created 23 November, 1998
Last updated 02 May, 2006
Back to HyperScale Main Page
Back to Features Page