Kitbashing a 1/48 scale Canadair
CT-133 Silver Star
by David Askett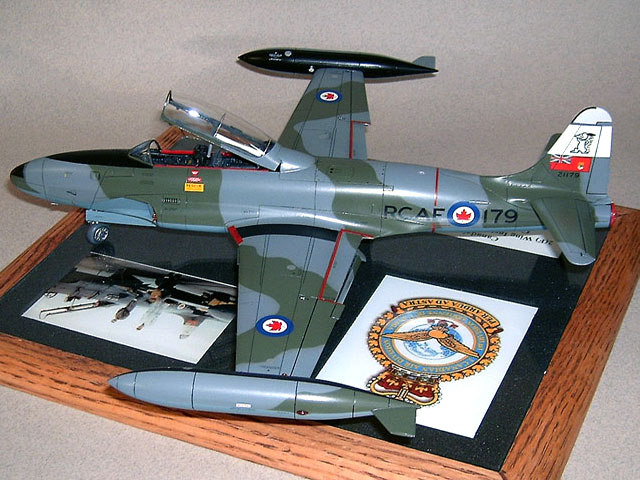 Canadair CT-133 Silver Star


HyperScale is proudly supported by Squadron.com
But Why?
This is usually the first question I'm asked by modellers; why go to all the trouble of kitbashing this model when two different 1/48 scale kits of the T-bird, from Hobbycraft Canada and Testors/Hawk, are readily available? Well, both these kits look undeniably like T-birds when built up, but both have pretty major accuracy problems that are glaringly obvious to anyone who's familiar with this aircraft. Of the two, the older Testors/Hawk kit is, surprisingly, more accurate in shape than the much later Hobbycraft offering. I considered basing my model on this kit, correcting faults where necessary and adding extra detail, but in the end I decided it would actually be easier to make my Silver Star the way Lockheed did – start with a P-80C Shooting Star, and turn it into a two-seater!
I came to this decision after picking up a second-hand Monogram P-80C Shooting Star at a club swap meet for the princely sum of $3. This old kit captures the shape of the P-80 very well, and does not have any serious accuracy problems. By combining Monogram's kit with the best bits from the T-bird kits by Hobbycraft and Testors/Hawk, I realized that a very nice model could result.
---
The Real Aircraft
The Lockheed P-80 Shooting Star, designed in 1943 and first flown on January 8, 1944, was not a terribly successful fighter by anyone's standard. It did, however, achieve a number of "firsts" during its time in service; first USAF aircraft type to exceed 500 mph in level flight, first jet to be manufactured in large quantities, first U.S. jet type to be used in combat, etc. Probably its greatest claim to fame, however, came when a second seat was added to a P-80C to convert it into a trainer, and one of the greatest aircraft of all time - the TP-80C, later renamed T-33A - was born.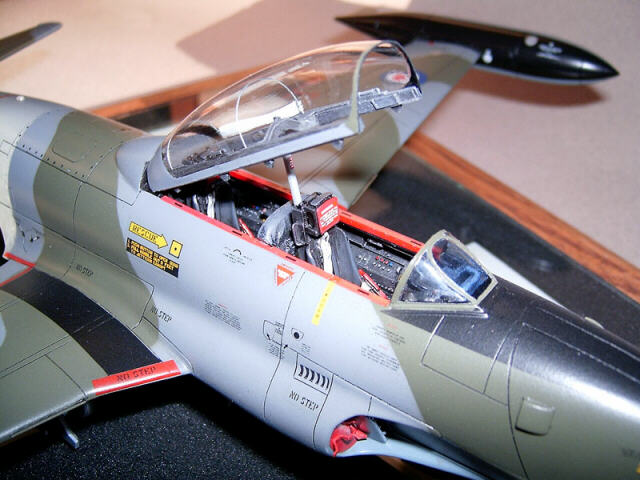 The TP-80 trainer was developed from the P-80 in 1947, in response to an earlier suggestion from the USAF and an increasing number of P-80 accidents. To make room for an instructor aft of the pilot, Lockheed modified a standard P-80C fighter by reducing the size of the fuselage fuel tank, inserting a 26.6" long plug in the fuselage forward of the wing leading edge and, to balance things, a 12" long plug in the fuselage aft of the wing trailing edge. To make up for the reduction in fuel capacity that resulted from shrinking the fuselage fuel tank, wing tip tanks were added. To conserve weight, the built-in armament of six 0.50" machineguns was reduced to two.
The new trainer first flew on March 22, 1948. It was an immediate success, with handling characteristics equal to those of the P-80C and a HIGHER top speed due to its longer, more aerodynamic fuselage. Initially designated TP-80C, the aircraft was rechristened TF-80C on June 11, 1948, and finally T-33A on May 5, 1949. Production of the type continued until August, 1959, by which time Lockheed had built 5691 T-birds at a cost of $123,000 apiece. By comparison, only 1731 P-80s were constructed, each costing $93,456.
American-built T-33s served in the air forces of more than twenty countries. Additional T-birds were built under license in Japan and Canada.
---

Canada and the T-bird
In support of the NATO buildup during the Cold War, Canada undertook to provide training to not only its own aircrews, but also for several thousand Allied personnel. To provide for the jet training phase of the program, Canada was initially given twenty T-33A-1LO T-birds by the U.S. government, and loaned an additional ten by the USAF. These T-birds were later returned to the USAF, or transferred to other NATO countries after the RCAF standardized on the Canadian-built version of the T-33.
Canada began building its own T-birds in 1951, the first flight taking place on November 27, 1951. Powered by a 5100 lb. thrust Rolls Royce Nene engine, in place of the Allison J-33 fitted to the American version, the Canadiar-built version was known within the company as the CL-40 but designated T-33A Silver Star Mk.3 by the RCAF, later renamed CT-133, but was usually referred to simply as the T-bird. Eventually, a total of 656 Canadair-built T-birds would be delivered to the RCAF, serving in various roles such as armaments training, photoreconnaissance, pilot training, target tug, ejection seat trials aircraft and hack. The well-liked aircraft would continue in Canadian service until its retirement in 2004. Canadian-built T-birds were also operated by the air forces of France, Greece, Portugal, Turkey and Bolivia.
Construction / Conversion
A few years ago I built Hobbycraft Canada's kit of this aircraft, with minimal improvements. The resulting model looked nice, but unfortunately never looked quite "right" to my eye. It became obvious that the model had a number of shape problems, the most important ones being intakes that are too short, an oddly-bulged mid fuselage that makes the model look over-inflated, a rear canopy fairing that's too short and misshapen, and cockpit sills that not only slope downwards towards the front, but also converge when they should be parallel. These faults combine to result in a model that, to me at least, looks more like a caricature of the T-bird than the real thing.
To build a more accurate T-bird, I'd intended to combine the best parts from Hobbycraft's kit with the more accurately shaped fuselage from the Testors/Hawk kit. Upon further examination, though, it became apparent that Testors' kit, though more accurate than Hobbycraft's, nevertheless had its share of problems as well. It was at this point that I acquired the second-hand Monogram P-80, and decided to make it the basis for my model.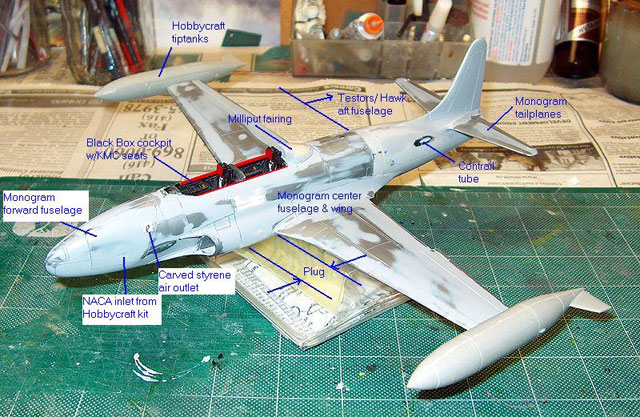 Monogram's kit of the P-80 Shooting Star dates back to the mid 'Seventies and is beginning to show its age, with its limited detail and raised panel lines. With just a little extra work, however, it can be built into a very impressive model. More importantly to me, its shape and dimensions are very nearly perfect, meaning that it could be relatively easily converted into an accurate model of the T-33.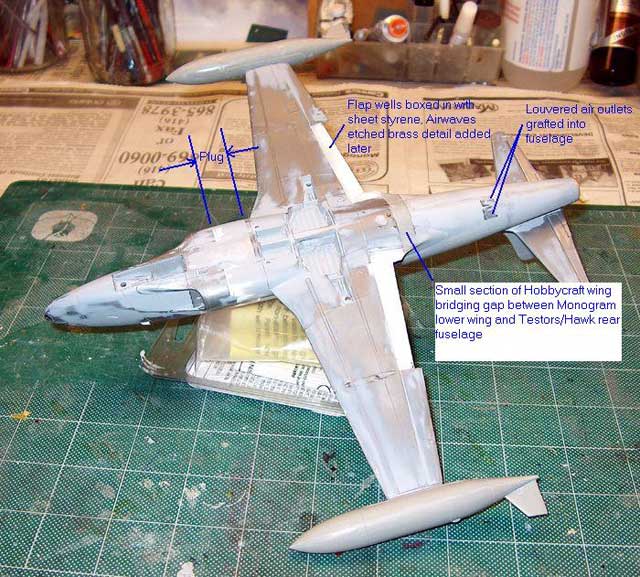 The labeled photos of the unpainted model show the major work carried out. Suffice it to say, there was a lot of surgery involved! The major components all fit surprisingly well, though, despite the fact that they were sourced from three different kits. More importantly, the resulting model "looks" like a T-bird, and its scale dimensions match those of the full-sized aircraft very closely.
In addition to the Hobbycraft and Testors/Hawk T-33 kits, and the Monogram P-80, other products used on the model were:
Reheat – etched brass set for the flap wells
Black Box – resin cockpit set
KMC – resin ejection seats; to me these appeared more accurate to me than Black Box's seats.
MV Railroad Lenses – for the landing lights attached to the top of the nosewheel leg.
Falcon – vacuformed canopy hood. This was modified so that the sides ran parallel to each other, instead of converging towards the front. The windscreen wasn't used as it is much too large; the far more accurate windscreen from Monogram's P-80 was used instead. Note that, on every T-33 and Silver Star I've ever seen at least, the windscreen center panel is tinted blue.
The nosewheel is the one from Monogram's F-86 Sabre kit, cut in half and widened approximately twenty thousandths of an inch with sheet styrene.
After the model was assembled, it was completely rescribed using an Olfa P-Cutter, calligrapher's scratch knife, the back of an Xacto No.11 blade, and a pin chucked into a knife handle, as appropriate.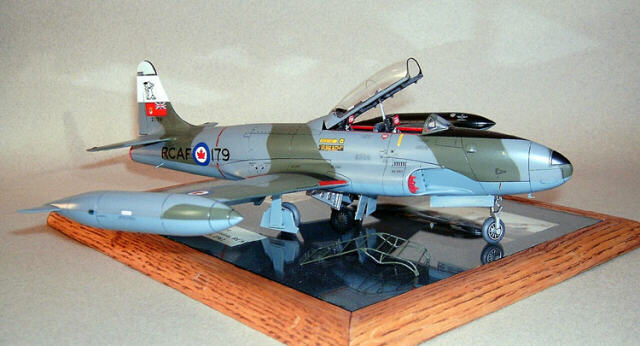 After discovering a fantastic photo of T-bird 21179 as it appeared while serving with 2 Wing Instrument Flight at Grostenquin, France in October 1962 at www.grostenquin.org, my mind was made up about as to which particular aircraft the model would be finished as. Gunze acrylics, custom-mixed to match the Canadian versions of NATO's standard camouflage colours Dark Green, Dark Sea Grey and PRU Blue, were applied with an Iwata HP-BCS airbrush.
Aside from the Snoopy artwork on the tail, which I drew on my computer and printed on clear decal film, the decals came from various sheets from Leading Edge Models. The FOD covers and boarding ladder (I never did work up enough nerve to permanently glue the ladder to the finished model!) were scratchbuilt from plastic and metal.
I really enjoyed working on this project, and am happy with the result, but we REALLY need an accurate, detailed new model kit of this incredibly important aircraft type.
Are any manufacturers listening?
Click the thumbnails below to view larger images:
---
Model, Images and Text Copyright © 2005 by David Askett
Page Created 27 March, 2005
Last Updated 26 March, 2005
Back to HyperScale Main Page