Italeri's 1/72 scale
"Air North" Douglas DC-3
by Geoff McDonell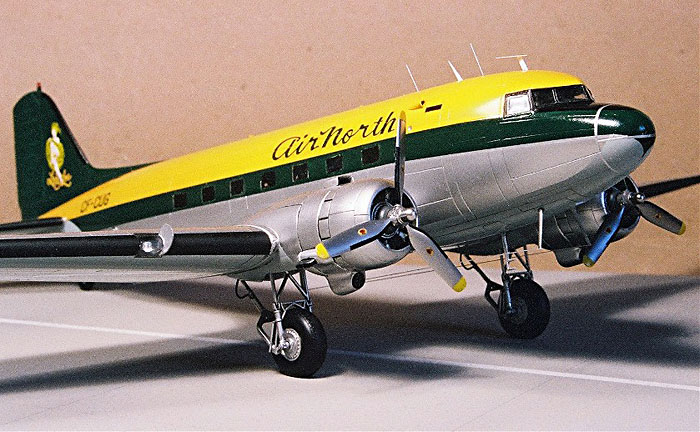 Douglas DC-3

HyperScale is proudly supported by
Squadron.com
I don't know why more folks don't build civilian DC-3/C-47 models. There are sooo many colourful schemes and quite a few decal sheets available, yet I don't see too many on the 'net. I've always been a fan of civilian DC-3's since much of my youthful ramblings around local airports allowed me to photograph many examples. Air North has always been one of my favorite "must-do" colour schemes and when Leading Edge Decals released their civilian DC-3 decal sheet with this scheme as part of the collection, I had to get to work.
I used the out of production Esci C-47 1/72 scale kit as my starting point, having a good cache of these in my stash. The model was built up pretty well straight out of the box, with a bit of additional detailing to properly represent the details associated with Air North's "Lady Lou" DC-3. I was also lucky to have a good set of walk-around photos of "Lady Lou" courtesy of a friend who had some time to kill in Whitehorse, and shot a roll of film while he was at the airport there.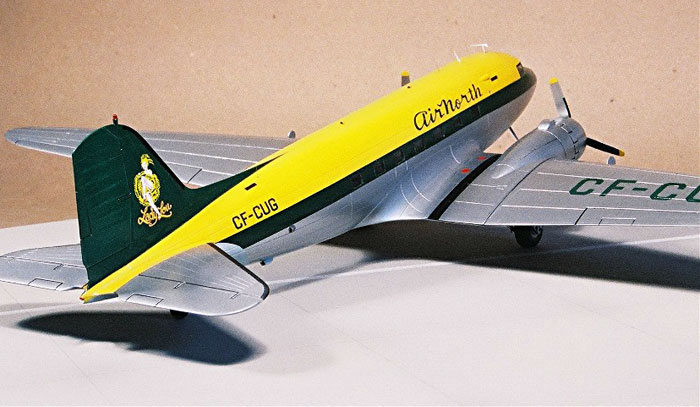 Modifications required were:
Revised exhaust outlets,

Antenna arrangements

Air scoops at rear lower fuselage area

Vent outlets along top of fuselage spine
I also added the brake lines and flattened the tires to add some realism.
Painting the model started with a coat of flat light grey to the topside of the fuselage, followed by a coat of Floquil Reefer White to create a nice uniform base for the yellow final paint. I used Floquil Reefer Yellow to start, applying three good solid coats of that, then gave it a light sanding with some 1500 grit sandpaper used wet. The final coat was Testor's Model Master Chrome Yellow enamel thinned with about 30% lacquer thinner, with three good solid coats of that to get a nice gloss finish.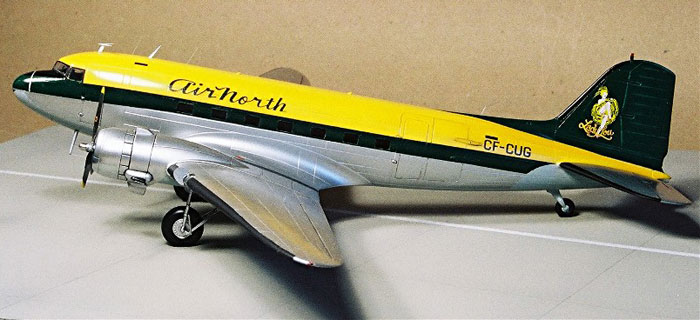 Once that was dry, I masked off the yellow areas, and applied a dark gloss green (Humbrol's # Green thinned with lacquer thinner) to the vertical tail. The next step was to mask off the tail and apply the aluminum to the wings, tail and fuselage sides. I used Alclad II Aluminum for that, and then masked that all off and sprayed on some gloss light grey (XtraColour ADC Grey FS 16473) for the fuselage and wing bottoms. The final step was to mask off the leading edges of the horizontal stabilizers and wings so I could apply the flat black de-icer boots. (That was about three months of messing around with a variety of paint and masking issues all rolled up into a short paragraph!)

The propeller blades and hub dome were finished with Alclad II Chrome over gloss black acrylic paint, with the hub brush painted with some Humbrol's Steel enamel. Tires were painted with a mix of Humbrol Coal Black semi-gloss that was mixed with a few drops of Humbrol's Panzer Grey to get a rubber look.

I'd kept the fuselage windows masked with rectangles of Scotch Magic Transparent tape so as to create a good sharp edge to them. This would allow the green fuselage cheat line decal to be applied, and once dry, I could run my X-Acto knife tip along the edge of the tape masks to create a fairly clean "cut-out" from the decal. I found this set of Leading Edge Decals to be pretty accurate and they fit very well, however I noted that the "stiffness" of the carrier film created some frustrations fitting the decals around the compound curve of the nose area, and getting them to snuggle down into the recessed panel lines.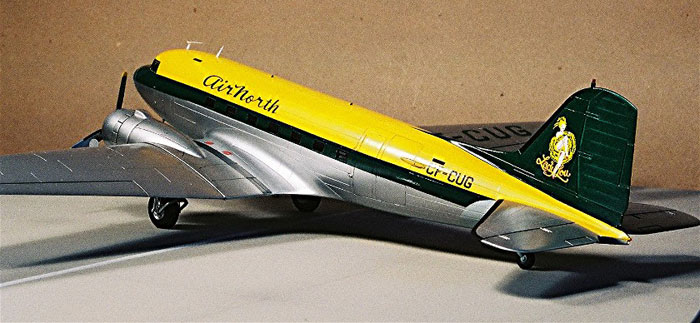 I applied some final weathering using some graphite powder around the engines, along with some pastel and water-colour washes around the various "grungy" areas of the many DC-3's I've seen. I used a bit of dry-brushing on the fabric flying surfaces (ailerons, elevators and rudder) to create a subtle differential tone to them.

I'm now looking at the rest of the colourful DC-3's on that Leading Edge decal sheet and planning a production line of Dakotas for next winter's big modeling project.
---
Model, Images and Text Copyright © 2004 by Geoff McDonell
Page Created 07 October, 2004
Last Updated 07 October, 2004
Back to HyperScale Main Page