Delta III 8930
Scale: 1/96th
Medium: card
Kit: Model designed by Erik te Groen, available at http://www.lansbergen.net/modelbouw.htm

---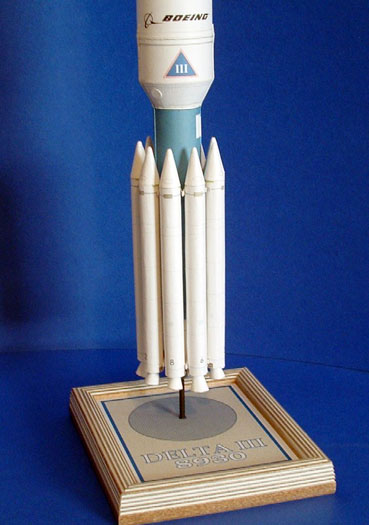 The Delta III, an uprated version of the Thor-Delta series of launch vehicles, was one of those ideas that looked good on paper but didn't work so well in reality. While it was a commercial flop, the McDonnell Douglas project did succeed in testing the liquid hydrogen upper stage that Boeing (which later acquired McDonnell Douglas) would use on the Delta IV.
Delta III was designed to launch 8.3 metric tons into low earth orbit (LEO) or 3.8 metric tons to geosynchronous transfer orbit (GTO). There were three Delta III launches. The first, Delta 259, was launched in 8/27/98 and failed 75 seconds after liftoff, destroying a $225 million communications satellite. Delta 269 was launched 5/5/99. It carried another communications satellite, but when its second-stage engine wouldn't restart, it stranded the payload in a low parking orbit. As concerns about Delta III's reliability grew – coupled with a downturn in the commercial satellite market -- the third and final Delta III flight, Delta 280, was flown with a dummy payload. It was launched 8/23/00.
Afterwards, Boeing stopped production of the Delta III and reassigned various hardware to its Delta II-Heavy and new Delta IV family of launch vehicles.
This card model is one of many fine Delta rockets designed by Erik te Groen and available free online. The "kit" comes as 105 parts (some are spares) that print onto eight 8.5x11 sheets. There are four pages of clear and well-diagramed instructions.
I printed the sheets onto 65-pound white card stock. Except for an additional piece added here and there to provide more detail, the model was built basically stock. To give the model added strength, I attached the payload and fuel tank "skins" onto appropriately sized model rocket tubes.
I scratchbuilt the stand using an old picture frame, foam-core board and a wooden dowel.