Boeing's Delta IV Heavy had its first launch in December. The flight was either a success (if you talk to Boeing) or quite-a-bit-less than a success (if you talk to virtually everyone else) but whatever it was, it was spectacular.
I usually scratchbuild launch vehicles in 1/96th scale, but I wanted a quick weekend project, so I decided to try a Delta IV Heavy in 1/144th scale. The model features my normal skin-on-tube construction. I design the rocket's skins, or outer coverings, then affix them to an appropriately sized model rocket tube. I was lucky to find a tube that matched the Delta IV's diameter in 1/144th scale.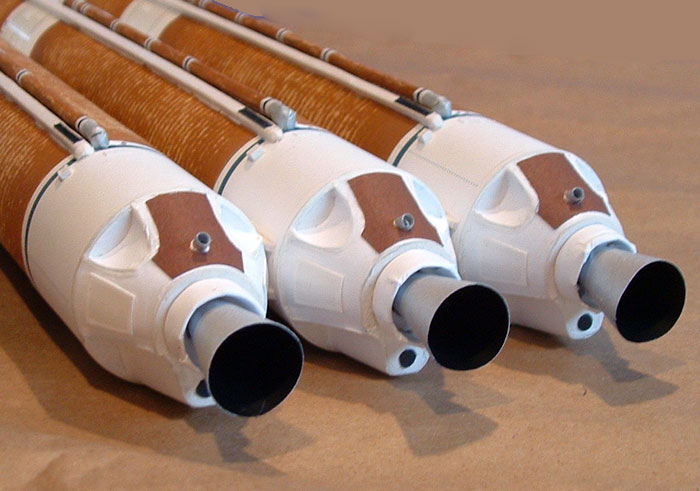 Since the rocket is made up of three Common Booster Cores, (CBC) that meant I had to build three of everything, except for the center CBC's second-stage and payload fairing. In all, I used seven different types and weights of paper on the model.

One of the prominent visual features of the Delta IV is the ridged and weathered insulation on the CBCs' fuel and oxidizer tanks. It is somewhat akin to the sprayed-on foam insulation of the shuttle's External Tank, but it also serves another purpose -- to protect the rocket from fire. The Delta IV is designed to catch fire when it launches; if you've seen photos from the first flight, you've no doubt seen the serious charring on the rocket. When asked about this, Boeing's reply amounted to, "Uh, we meant to do that...."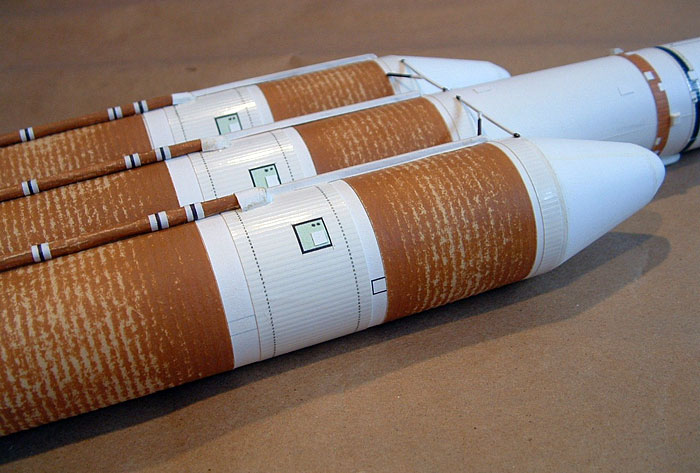 To replicate the foam on the model, I found a ridged paper at an art supply store. It came in a tan color, so I airbrushed it with a darker brown. When it was dry, I sanded the paper to remove the paint from the ridges, thus creating the weathered and mottled look of the real thing.
Click the thumbnails below to view larger images:
---
Model, Images and Text Copyright © 2005 by David Hanners
Page Created 12 April, 2005
Last Updated 12 April, 2005
Back to HyperScale Main Page