Some thoughts on
Dragon 1/72 Scale Armour
by Glen Porter

Detail of Dragon's recent 1/72 scale StuG IV

images by Brett Green



HyperScale is proudly supported by Squadron.com
As a 1/72 scale aircraft builder, I've always been impressed by Dragon's line of 1/72 scale kits. Although they had some fit problems, the level of detail was so high that it far outweighed most other manufacturer's products. When it was announced that they were going to get into Braille Scale armour I was eagerly awaiting their arrival as I had always been interested in armour modelling. A rumour went round that they may be going to produce 1/72 scale individual track links and although I've heard some bad things about them in 1/35 scale, I was keen to give them a go.

Well - big disappointment. Not only did the rumoured individual track links not appear, but the level of detail was no better than others, and it was also a bit on the soft side, and they still had the fit problems. I personally thought, if they can't at least match Revell's offerings, then they aren't going to get any of my hard earned cash, especially as Dragon was producing much the same kits as Revell.

Over the period since their first release, I've occasionally been tempted to buy one, either to see if there had been any improvement or because they had done something new. The first one I bought was the Panther Ausf G and I was very disappointed. The upper and lower hulls, in diecast, did not fit together very well and, as I said earlier, the detail was soft, the moulding was a little rough and those tracks, while they had good detail where still rubber bands. Next was an Abrahams, and it had been designed to be motorised with all the compromises that that entails, so that was put aside.

I then heard about the Armour Pro Series and read a review that said it included link and length tracks. I thought "Great, they are finally doing what the modellers want". WRONG! The fist Armour Pro kit had them but the next two didn't. Ah, The frustration of it all. So, on with the occasional buy in the hope of some improvement.

I spotted a Tiger I with Zimmerit. I thought "That's different", so I bought one. Not bad. Not perfect but not bad. [see pic.] Some of the detail is lost under the zimmerit, such as the pistol ports in the turret and the gun is off centre in the turret and it shouldn't be, but thats not a high price to pay for something new and good. Unfortunately, when I built it, I discovered the return rollers are too wide creating problems mounting the rear outer road wheels and the tracks are too short and that IS a major problem. Still, a good effort.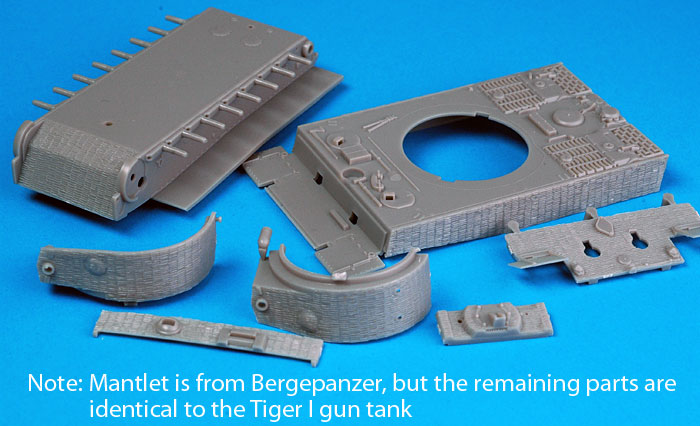 Another Tiger I, this time marketed as a Bergepanzer which, I am told, it's not. Apparently it was used to demolish mine fields. Also with zimmerit, but this Tiger was an earlier one with the rubber tyred road wheels. Now these earlier Tigers had 24 road wheels per side, where-as the later ones, with the steal wheels, had only 16. Dragon, the clever little devils, have moulded 12 of the 24 wheels as one, [see pic] with little links between the wheels of adjacent axles. Interlock these with the other 12 and all 24 will slip neatly on to the 8 axles.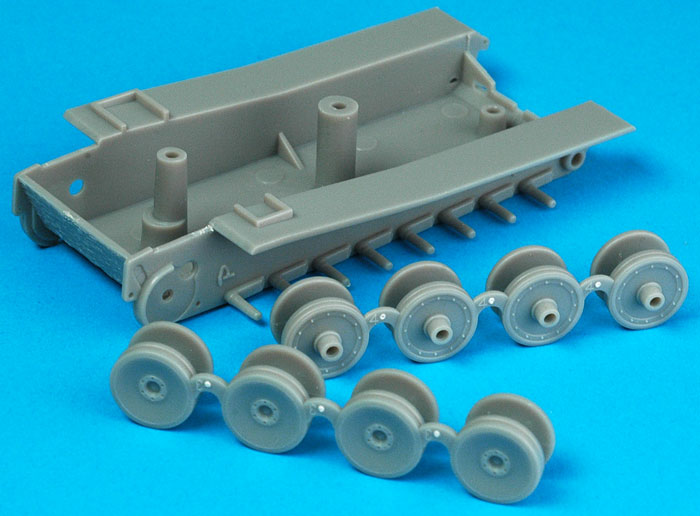 Click on the thumbnails below to view larger images:
---
All aligned and spaced correctly. Very nice but still the rubber band tracks are too short. More frustration.

This Zimmerit and the interlocking road wheels, I am told, is the product of what Dragon calls Slide Mould Technology. Now I'm not sure exactly what that entails but if it allows them to do tricky stuff like they've been doing, I'm all for it.

Enter the second of the Armour Pro series. A Jagdpanther Early Production with Zimmerit. Good? Well let's see. The zimmerit is a different style to that used on the Tigers, detail looks reasonably crisp and the moulding is better than earlier efforts. However, the nonappearance of the link and length tracks and the possibility of the rubber band tracks being too short again, is not good but the main problem is the engine deck on this model is from the Panther Ausf G and apparently only the last few Jagdpanthers produced had this deck. Now this engine deck is a separate part, but Dragon don't yet do an early Panther with the correct deck and buying another model is a pretty expensive way of getting the correct part. So this model will also have to be put aside to see what develops. Hopefully, someone will produce a resin deck with the appropriate PE screens.

Dragons rubber band tracks have been a problem all along, enamel paint refuses to dry on them, although acrylics are okay and now I'm hearing more and more stories of them being too short. Enter the DS100 tracks. What are they and are they any good? Well, I haven't got around to using them myself, but I'm told they take enamel paints with-out problems and the ends can be glued together using ordinary plastic glues. If you like to assemble tracks onto your models before painting, as many do, then realistic sag can be induced, PROVIDING THEY ARE LONG ENOUGH.

The latest kit I've bought is the Stug IV and it looks very good. The only other one I've seen is by Revell and it's definitely not one of their best. In fact it's one of the last Matchbox 1/72 scale kits before the brand was pulled off the market and it lacks detail and has some shape problems.

The Dragon Stug IV is a big improvement on their earlier kits [see pic.].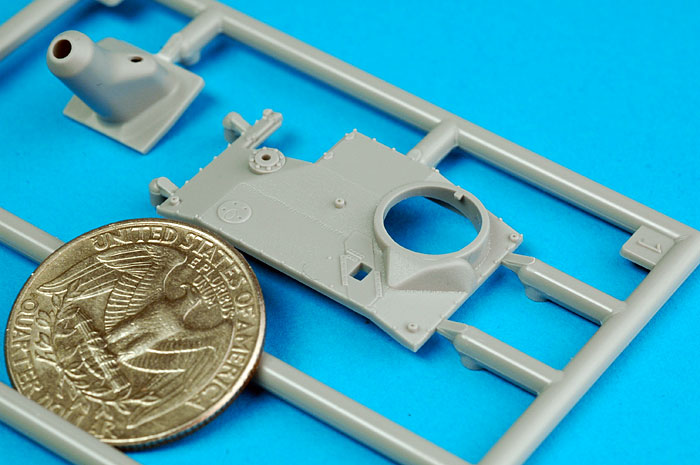 Click on the thumbnails below to view larger images:
---
The detail is so clear and crisp on the mouldings that it almost looks like the sprues are moulded by some-one else such as Hasegawa. All the hatches are open, all the tools are separate and all the road wheels, although moulded in pairs, have a slot between them. [Slide Mould Technology again]. Tracks are the new DS100 sand-yellow variety which I haven't used yet but I'm told are good. My only criticism of this kit is the awful coloured instructions which dragon have persisted with ever since they started out with 1/72 scale Armour. It's a pity, because their line-drawing instructions used to be among the best.

So, what we have here, is a very experienced model company that has produced some very good aircraft kits in 1/48 and 1/72 scale and armour kits in 1/35 scale, delivering 1/72 scale armour kits below their best potential but steadily improving to the point where they are within a smidgen of the yard stick, Revell, and along the way introducing some innovative production ideas which no other model manufacturer is doing. As I see it, there are only two thing standing in their way.
They are not listening to their customers. Several web sites, On The Way for one, have done surveys and asked their 1/72 scale regulars what kind of tracks they prefer and the overwhelming reply was link and length. Of course, there are some who prefer one-piece tracks and I think the ideal for Dragon would be to supply both types in a kit.

Get rid of those awful coloured photographic instructions and go back to the original line drawings.
No matter what they do, I think Dragon is going to be "the"company to watch along with some of the Eastern Europeans and Revell had best not rest on their laurels.
---
Text Copyright © 2005 by Glen Porter
Images Copyright © 2005 by Brett Green
Page Created 22 June, 2005
Last Updated 26 June, 2005
Back to HyperScale Main Page