Home | What's New | Features | Gallery | Reviews | Reference | Forum | Search
Dragon's 1/48 scale
Fokker Dr.I Triplane
Part 1
by Marlon Schulz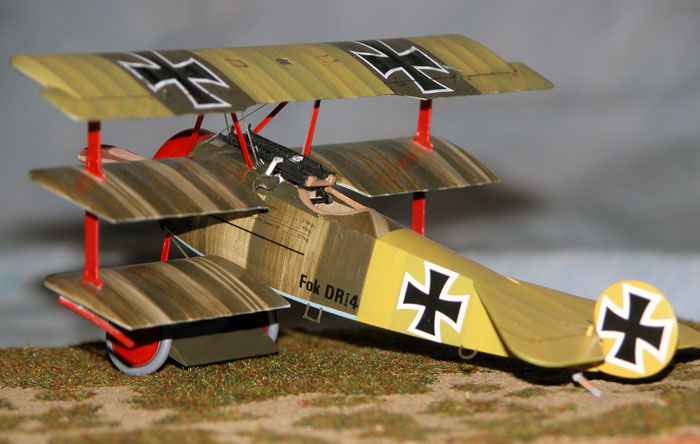 Fokker Dr.I
This is the Dragon 1/48 scale model of the Fokker Dr.I Triplane. The only modification done was to the horizontal stabilizer. The tips were rounded and the area of the horn balances were enlarged as per the Ian Stair drawings from Albatros Productions.

My model depicts Fokker Dr.I 454/17. It was flown by the Staffelführer (squadron leader) of the Royal Prussian Jagdstaffel 11 , Ltn. Lothar von Ricthofen.
While engaged in combat with Bristol fighters of No. 62 Sqdn and No. 73 Sqdn Camels, Ricthofen suffered a leading edge failure of the top wing whilst flying Fokker Dr. 1 454/17 on March 13 1918.

From a height of 4000 meters he struggled to regain control of his crippled aircraft , but close to the ground he turned to avoid some high tension wires and crashed badly. He was severly injured and would not return to Jasta 11 until July 1918.
The streaky Fokker factory finish is very difficult to replicate. It took much experimentation .By using photographic retouching techniques taught to me by a lady friend with many years experience as a photographic artist,
I believe I did a credible job replicating the factory finish..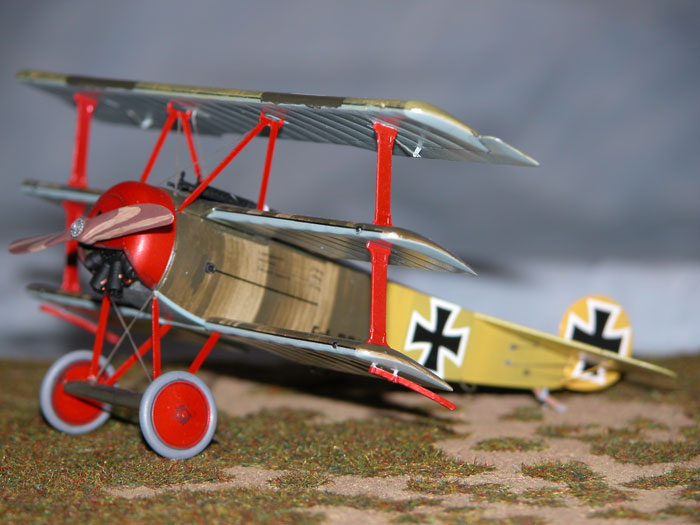 The model was initially completed as an factory finished aircraft. The pale yellow overpainting was applied in a thin coat as per the original with the factory finish showing through.. When interviewed in their later years, many German World War 1 pilots used the terms 'lasur' or 'lasieren' meaning glazing or transparent coating to describe in the field overpainting.

Pale yellow was Lothar's personal colour and was a reference to his service with the cavalry unit Dragoner-Regiment 'von Bredow' Nr.4 . The upper surface of the top wing, tailplane, rudder and rear fuselage were in pale yellow.

The red cowl and interplane struts were in red, as was the Jasta 11 unit marking. The cabane struts, landing gear struts, wing tip skids, and wheel centres were often, but not always in red.


---
Images Copyright © 2005 by Marlon Schultz
Page Created 01 April, 2005
Last Updated 28 April, 2005
Back to HyperScale Main Page
Back to Gallery Index