Home | What's New | Features | Gallery | Reviews | Reference | Forum | Search
Monogram's 1/48 scale
F-100D Super Sabre
by Jerry Creager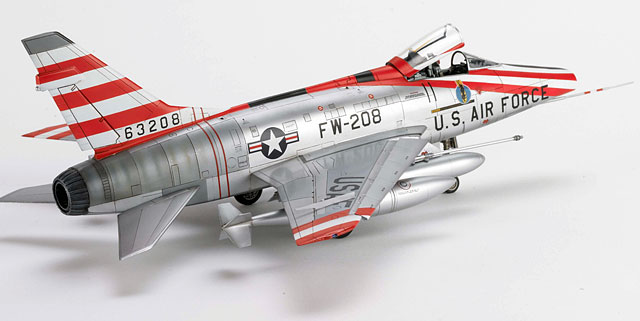 F-100D Super Sabre
Here is Monogram's 1/48 scale F-100D Super Sabre. This kit represents an aircraft from the 494th Tactical Fighter Squadron.
The raised panel lines found on the Monogram kit were sanded off and completely re scribed. The cockpit is detailed using the Black Box F-100 detail set. The two inboard external fuel tanks are from another monogram kit and are representative of the type found on this particular aircraft.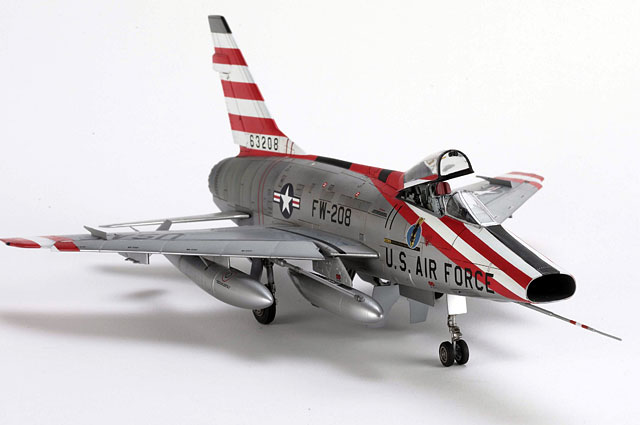 The horizontal stabilizer which is molded into the fuselage on the kit was cut and re positioned to the position usually seen in photographs of F-100's at rest.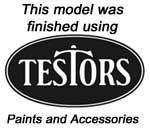 After the kit was completely assembled it was given a coat of black Tamiya high gloss acrylic paint mixed with Testors Metalizer Thinner (70% thinner, 30% paint ) as a primer. This lays down a hard very smooth high gloss finish. Since the metal finish will show up the smallest flaws the gloss black highlights these flaws and gives you and opportunity to correct them before the final metal finish is applied.
I used two coats of Flouquil Bright Silver thinned to about 70% Testors Metalizer Thinner and about 30% paint. I sprayed this at about 10 psi using a Pasche airbrush. This combination of thinner and paint dries fast and will leave a silver finish that can be handled and masked. After the final finish was applied I gave the entire model a coat of Future and allowed it to dry a good 24 hours. This will protect the finish and provides a good surface for the decals.
As a follow up to the primer method mentioned above I have since found that using high gloss enamel thinned the same, 70/30, works better than the acrylic. I had trouble getting the acrylic paint to "feather" at the points where I had corrective work. If you looked carefully you could see where the" touch up" left a faint line. This was difficult to completely eliminate. I found that the enamel worked much better, but it took longer to dry (about 24 hours). Touch up over the enamel blended in and you could not find any trace of the repair.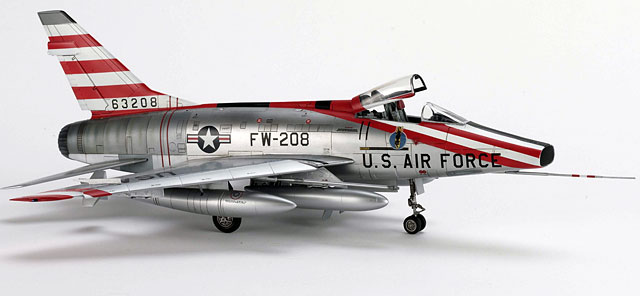 The red and white stripes were painted last. The squadron insignia was scanned into a computer from a book and reduced to the proper size. The image was then printed on decal paper. This step was done by a friend. The rest of the decals were taken from various F-100 decal sheets.
I would guess that this project took about 50 hours to complete.


Click on the thumbnails below to view larger images:
---
Images Copyright © 2006 by Jerry Creager
Page Created 03 February, 2006
Last Updated 21 February, 2007
Back to HyperScale Main Page
Back to Gallery Index