Home | What's New | Features | Gallery | Reviews | Reference | Forum | Search
Monogram's 1/48 scale
F-100D Super Sabre
SMAMA Pattern Aircraft
by Jerry Creager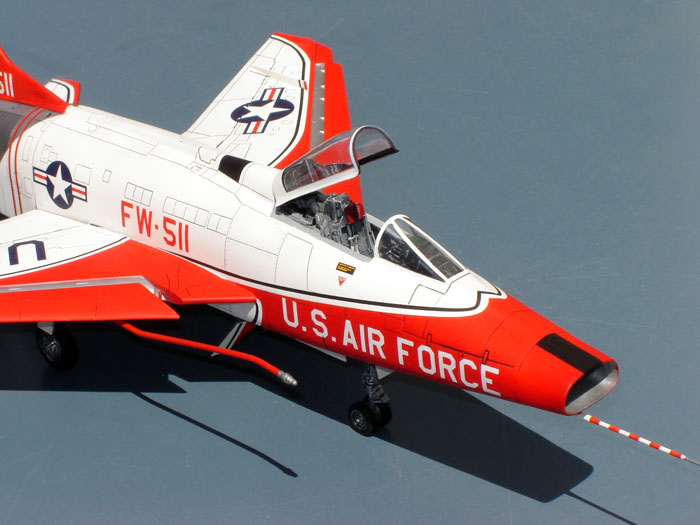 F-100D Super Sabre
I have always had an eye for colorful aircraft paint schemes. I donít know why but the modern dull gray with black markings just doesnít do anything for me. I like color. One of my most favorite jets is the F-100, and when I ran across the Cutting Edge decal sheet for the SMAMA Service Engineering depot I knew I had to build it.

I tried to get some background information on the SMAMA Service Engineering Depot based at McClellan AFB, Sacramento, California, but there wasnít a lot of data available. The SMAMA stands for Sacramento Material Air Martial Area and was in service between the late 50ís and late 80ís according to my limited information. The McClellan facility was responsible for managing the logistics and support for the repair and maintenance of a host of different aircraft in service at that time. They provided on-the-spot engineering and technical support for problems occurring to a variety of aircraft under their assignment.
The kit is the 1/48 scale Monogram F-100D, and it has been around for a long time. I re scribed all of the panel lines and separated the horizontal stabilizer. After the kit was painted and decaled I installed the stabilizer in the parked position.
I used the Black Box detail cockpit set for the interior.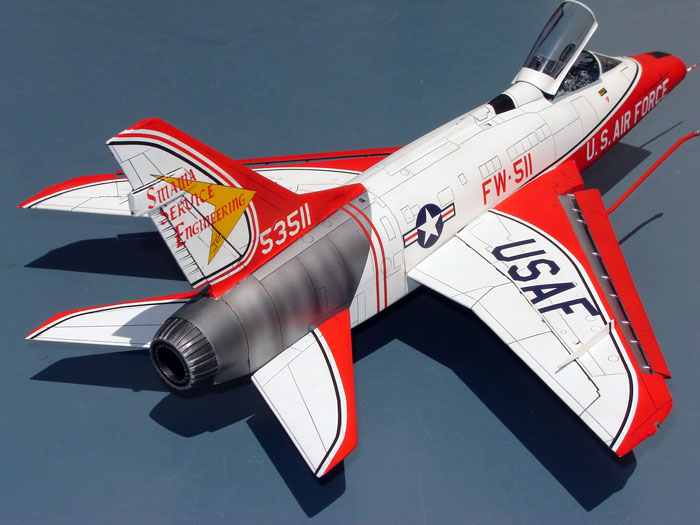 No other modifications were made to the kit.
The painting was reasonability simple. The entire model was painted overall flat white with the exception of the afterburner area which was a series of metallic colors.
The Cutting Edge decal sheet recommends the use of a set of BlackMagic masks to mark off the red areas. I used the masks and they worked perfectly.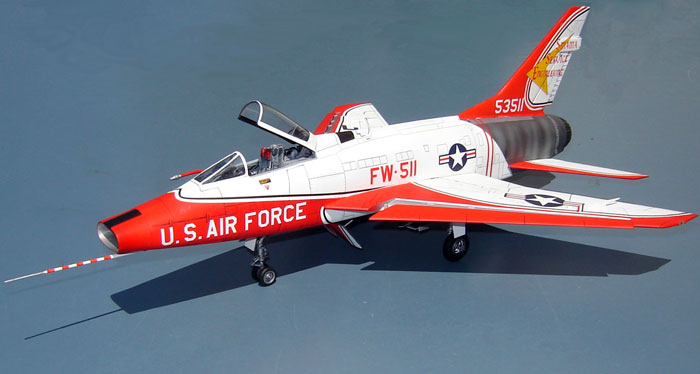 A generous coat of Future was applied before decaling. However, the decals were another story. I donít know if they were too old or what, but when I applied the vertical stabilized decals they disintegrated. I was barely able to salvage the clear portion with the lettering, but most of the red could not be used. This required a lot of touch up paint and put my airbrushing skills to the test.
After this first disaster I applied two coats of Micro Scale Decal Film the remaining decals. This helped considerably but I still had trouble in certain places where the decals had to conform to a curve.
I had hoped to enter this model and a contest but the ďtouch up paintĒ areas would not pass the close scrutiny of a judge. The model shows up fine in a photograph.

Click on the thumbnails below to view larger images:
---
Images Copyright © 2006 by Jerry Creager
Page Created 21 July, 2006
Last Updated 20 July, 2006
Back to HyperScale Main Page
Back to Gallery Index