Hasegawa & Academy 1/48 scale kitbash
Oh no, not another Tomcat!
by Fariborz "Fred" Shammas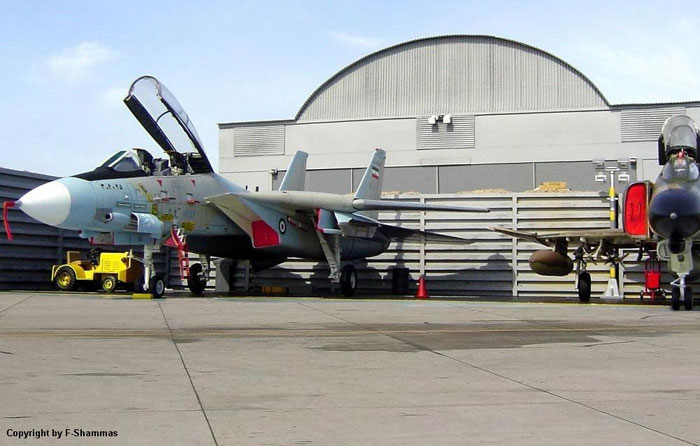 Grumman F-14A Tomcat


Hasegawa's 1/48 scale F-14A Tomcat is available online from Squadron.com

This is my first article submitting to HyperScale but I have been posting my pictures on HyperScale's Plastic Pix forum for some time, featuring my Middle Eastern air force collection.

As a die-hard F-14 nut, I was thrilled to see the "new" IRIAF low visibility gray scheme in Tom Cooper's Osprey title, Iranian F-14 Tomcat Units in Combat. Having burnt out on repeated iterations of the "Asia Minor" scheme for this venerable blowtorch, I had to give this new look a try.




This model is a combination of the Hasegawa F-14A fuselage, and the Academy/Minicraft F-14 wings.
Why do I combine these two kits?
Because it offers me the flexibility to install the wings in either the extended or fully swept positions, which comes in handy when photographing my models.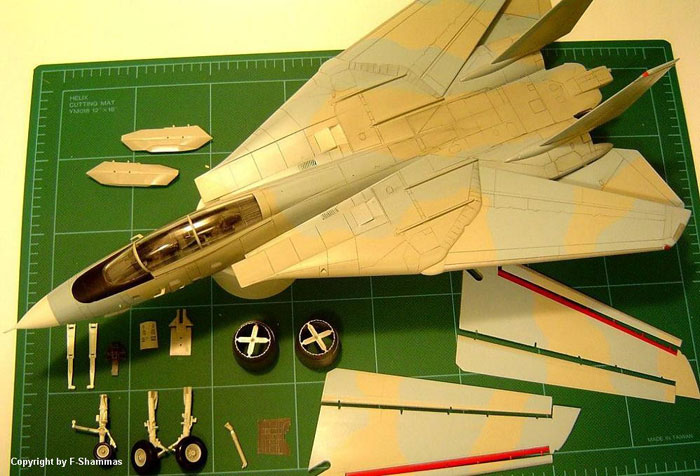 All the pictures are taken by myself.
---

Construction
I will keep this to a minimum.

I built both the Hasegawa and Academy wings up separate from the fuselage, and they are easily interchangeable as seen in the photos. Most readers know that the Hasegawa F-14 is not the most user-friendly kit, but it is the most accurate. I also used some Verlinden accessories for the ejection seats, as well as the gun gas vent door on the left side of the nose.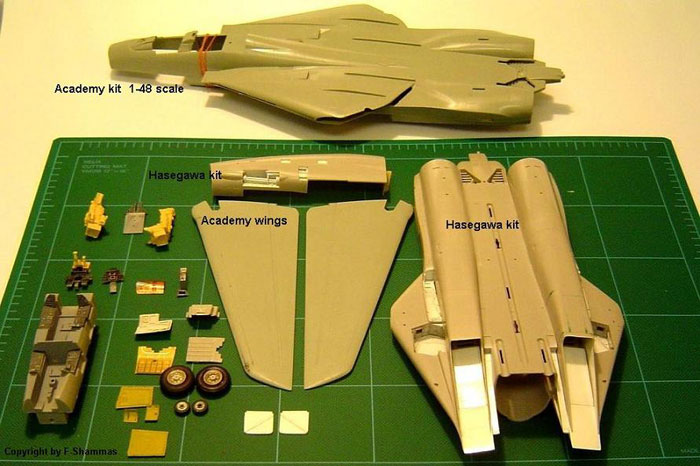 Click the thumbnails below to view images full-sized:
---
Most difficulties in construction were with the engine intakes and mating them with the lower fuselage. Much adjustment was required. The rest of the nose/fuselage/empennage construction was trouble-free, with the usual amount of tweaking and minor adjustment.


Painting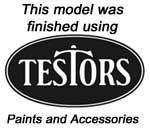 Using the multi-view illustrations on page 56 of Tom Cooper's book as a guide, as well as the photos taken from the left and right sides, I started by painting the fuselage assembly and wings with Model Master "Russian Fulcrum Grey".
After allowing this to dry for a couple of days, I then applied Model Master "Flanker Medium Blue".
As usual, I thinned my paints with Testor's liquid cement. Suffice to say, the paint has sufficient 'Bite" to stay anchored to the plastic…
---

Decals
I started by spraying the model overall with Testor's Glosscoat. After that, I applied the "IRIAF" markings, which were made by my friend Let.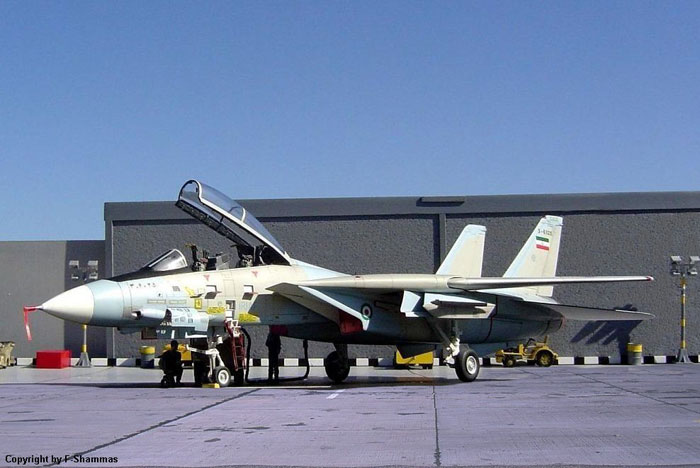 Then came the Iranian flags and national insignia. I had some of these printed onto clear decal paper, but since the white was not printed, I had to lay down a white background for the white areas first. Once that was done, I laid down the flag and roundel insignias. Once decaling was complete, I applied another gloss coat to seal the decals, and then I followed that with a coat of clear flat. I used a pencil to highlight the recessed panel lines prior to decaling, which is a little different from how most people do things.

The rest of construction was uneventful.

Hope you like it!
Click the thumbnails below to view images full-sized.
Click the "Back" arrow on your browser to return to this page:
---
Text, Models and Images Copyright © 2005 by Fariborz "Fred" Shammas
Page Created 27 May, 2005
Last Updated 27 May, 2005
Back to HyperScale Main Page