Monogram + Lone Star 1/48 scale
Northrop F-15A Reporter
by "Bondo" Phil Brandt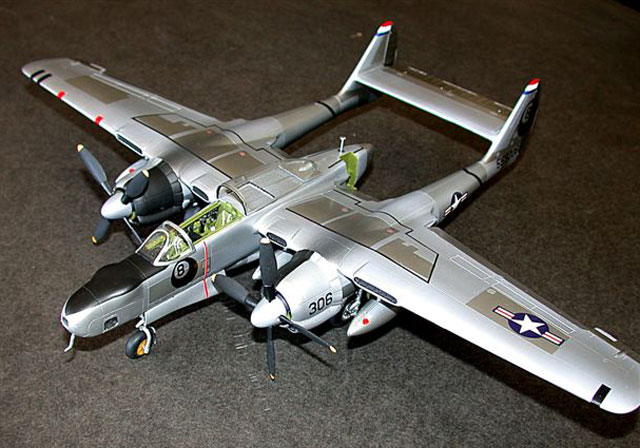 Northrop F-15A Reporter

HyperScale is proudly sponsored by Squadron
The Northrop F-15A Reporter joins the North American F-82 as arguably the two least-known post-World War II propeller-driven aircraft.
Conceived as a highspeed (440 MPH), long range (4000 miles) turbocharged reconnaissance platform, it was an outgrowth of the cancelled P-61C escort fighter. The significant military aircraft drawdown in late 1945 was responsible for only thirty-six F-15A airframes being produced, of which as many as twenty-eight reached Far East postwar operational areas.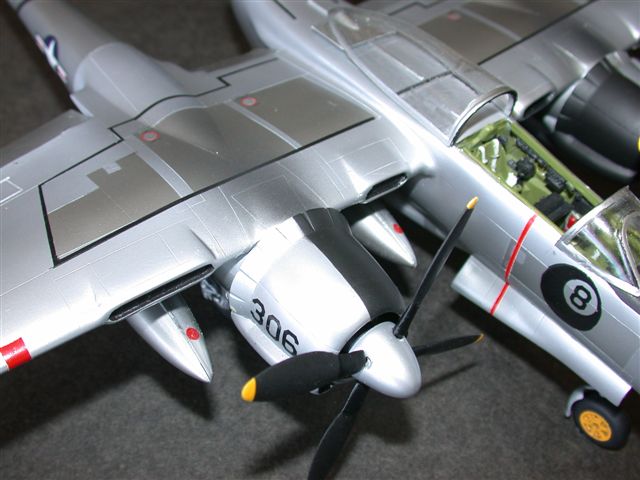 Flown exclusively by the 8th Photo Reconnaissance Squadron "Eight Ballers", the Reporter's military career lasted only two years (1947-1949), but its accomplishments were staggering. Huge expanses of the Far East including Japan, Korea and the Philippines were photomapped, the first such operation in history. Particularly important was the mapping of the Korean peninsula, which became extremely valuable just one year later when North Korean forces attacked across the DMZ.
The Reporter was quickly overcome by Jet Age RF-80s, and most of the airframes languishing at Johnson Air Base west of Tokyo were scrapped in place. Sundry Reporters made it back to the CONUS to be converted to firebombers, and some were bailed to test agencies and eventually scrapped. No Reporters have survived; the last, a firebomber conversion, crashed on takeoff at Hemet, California in the Sixties.
Conversion Basics
We are all aware that AmTech announced release of an injected 1/48 Black Widow family, including a Reporter, what, two years ago? AmTech has been beset by business and health (of its principal) issues, and modelers such as this curmudgeon just don't have that much time to fret away.

Thus Mike West's Lone Star Model release (a year ago) of a very complete Reporter conversion set for the elderly-but- just-fine (IMO) Monogram Black Widow was welcomed by employees of the Bondo Industries Conversion Division, and work commenced immediately. I've previously written a lengthy review of the Lone Star set, so I'll tread more lightly on it in this article.
---

Conversion Set Components
Included are: a multipiece cockpit tub w/seats, new engine nacelles and engine front faces, nacelle cooler fairings, turbocharger fairings, recce nose, tail boom plugs, prop blades, spinners, a vacuformed crew nacelle and canopy and a crew boarding ladder and stairwell.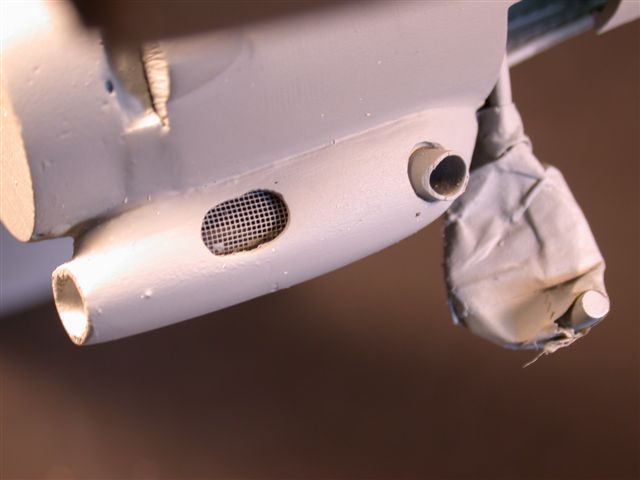 Construction Basics
Sanding and rescribing the twin-boom Monogram airframe took two days, and Bondo thought this would be the toughest part. He was wrong! Fitting the resin tub into the vacuform pod, fairing the wings into said pod--I used through-pod brass tubing to locate and strengthen the wing/fuselage joint--and insuring alignment of the stabilizer with the wings and pods was by far more taxing. The forward portion of both tail booms were altered by cutting off designated portions and adding new resin boom castings, engine spacer blocks, engine faces and the new engine nacelles (the cooling flaps were thinned via Dremel) with integrated oil cooler cheek fairings.
---

Cockpit / Canopy
The very large (eleven feet in the real item!) canopy was separated from the windscreen and posed in the open configuration to more clearly reveal the very nice busy-ness of the Lone Star tub and seats. Associated canopy retraction components and the reinforcement arches for windscreen and canopy were scratchbuilt.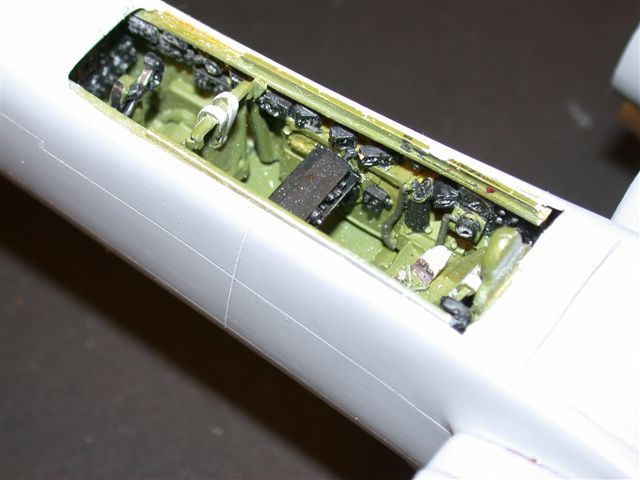 Click on the thumbnails below to view larger images:
---

Weight and Balance
Because of the solid recce nose, I was unable to place enough weight forward to get that nosegear on the ground, and the gear isn't that sturdy either. Sooo, the bird remains a tailsitter. I drilled a small hole in the bottom of the nosewheel and glued in a quarter-inch length of plastic rod which, in turn, slips into the plaque surface with an interference fit.
Finish
In the beginning there were many iterations of lacquer primer, 3M Blue Acryl lacquer putty, wetsanding (up to 12,000 grit) and then starting over with primer. Small surface discontinuities may be easily seen during this putty/primer routine by holding the appropriate portions of the model closely to an incident light. After a few passes of the aforesaid sanding routine, more than a few portions of laboriously-scribed lines had disappeared and had to be reaccomplished.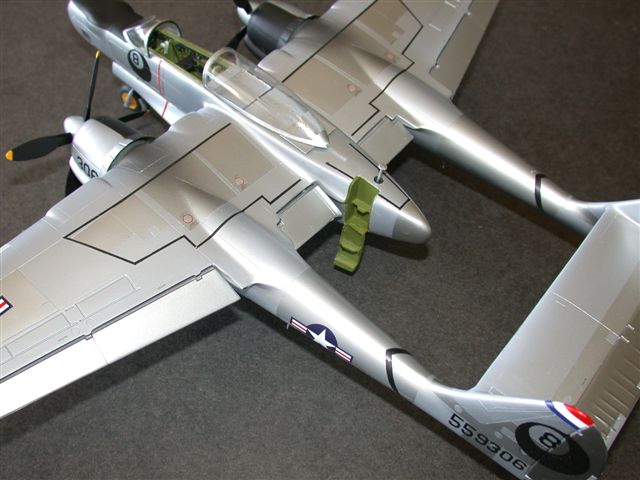 An overall coat of Alclad II Aluminum was initially applied, and then contrasting panels were shot with Duraluminum, Dark Aluminum and, for the fabric-covered stab and rudders, Magnesium. Masking for the multishade routine--I can't say enough good about the yellow Tamiya masking tape which I use in considerable quantity--was very labor intensive, as was the masking for all wingwalks and other markings. I didn't use decal stripes because they're almost as labor intensive as the masking--I've done decal wingwalks on 1/72 B-52s and B-47s!--and they're too delicate if not clearcoated....and I usually prefer to not clearcoat Alclad, because it can "kill" natural metal brightness. Antiglare black panels were shot with Testors Acrylic. Since Alclad offers such a slick, hard surface, I gently wetsanded the areas about to be coated in black with 1000 grit to help create a mechanical paint bond.
---

Markings
The distinctive Eighth Photo Reconnaissance Squadron "Eight Balls" were a no-brainer. I simply cut two circle stencils out of Tamiya tape, placed them in an eccentric configuration, and shot Testor's black.
Then it was just a matter of placing an AeroMaster black "eight" in the smaller aluminum circle which remained when the inner mask was lifted. Serial numbers and national insignia were also done with AeroMaster.
Well, the bleeding's finally over in this involved conversion, but with gratifying results, at least for this senior modeler. As for the rest of you Black Widow family fans pining away for the Amtech releases....as Dirty Harry said so many years ago, "Do ya feel lucky?"
Well, do ya?
If I were y'all, I'd go the "bird-in-the-hand" route with the available-now Lone Star set.

Click on the thumbnails below to view larger images:
---
Model, Images and Text Copyright © 2005 by Phil Brandt
Page Created 13 April, 2005
Last Updated 14 April, 2005
Back to HyperScale Main Page