Hasegawa's 1/48 scale
F-16CG Block 40
by Piero De Santis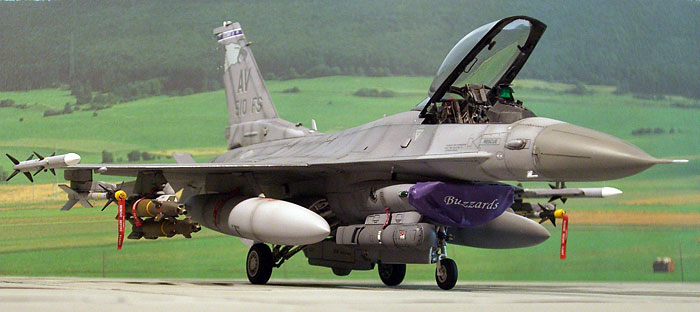 USAF F-16CG Block 40
Buzzards Squadron

Hasegawa's 1/48 scale Harrier GR.7 is available online from Squadron.com
The F-16CG enters service in the USAF as a version optimised for the night attack mission.
Two big USAF fighter squadron based at Aviano AFB are equipped with F-16C/D block 40: FS 510th "Buzzards" and FS 555th "Triple Nickel".
Both squadrons were heavy involved in the NATO actions over the Balkans conflicts for the Bosnia and Kosovo.
The Block-40 includes:
Modified cockpit with a new wide angle HUD.

Cockpit tub colours and lights for night operations.

New big undercarriage wheels, legs and bay doors.

Strengthened dorsal plaques.
For my model I choose the squadron commander's aircraft from the "Buzzards" Squadron, based at Aviano AFB during the Allied Force operations over Kosovo in the 1999. It has a big screaming buzzard squadron badge applied on both side of the tail fin and purple mission markings under the canopy.
---
The F-16 in Plastic
There is almost everything on the F-16 in all the three main scale 1/72nd, 1/48 and 1/32nd: kits, decals, resin detail sets, photo etched sheets, conversion sets…
Looking only at the 1/48 scale, I choose the Hasegawa kit: you can find so many different variant and boxes from Hasegawa, A, A+, B, B+, C and D of different blocks (30, 40, 52).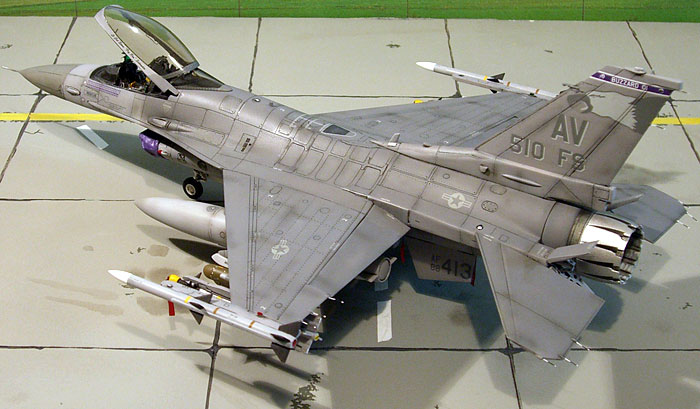 Other F-16's kit in 1/48 came from Academy (a "simplified copy of the Hasegawa), Italeri (cheap), Revell (Italeri re-boxed), ESCI, Tamiya, Monogram, Arii… no comment, please go with Hasegawa.
The 1/48 scale "Hasegawa" F-16C (block 40-52) has many parts in common with the other Hasegawa F-16's boxes, with some extras to build a GE power version.
To improve the C version I got some extra parts from the aftermarket and from other kits:
Aires resin cockpit for F-16C.

Shull-24 resin GE exhaust nozzle.

Shull-24 resin PIDS pylons.

Aires resin wheel bays.

Eduard photo etched set.

F-2B Hasegawa kits: this kit contains the correct wheels and legs for block 40, plus many other detail parts.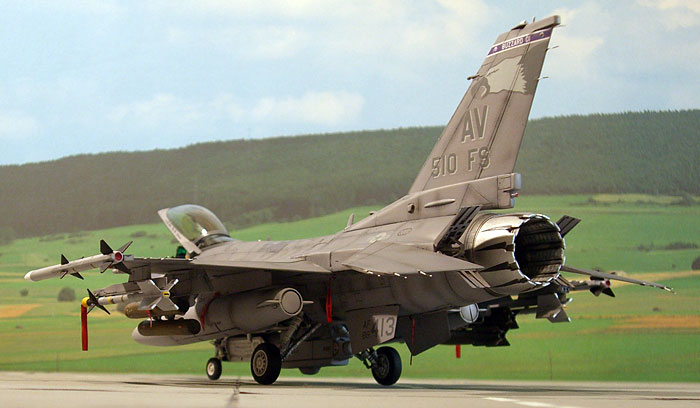 Now some information related to the assembly of the Hasegawa kit.
Cockpit resin set must be sanded a lot before placed inside the fuselage parts. A precise cut must be done on the plastic fuselage to fit the resin cockpit.

A 10 grams weight must be placed into the nose to avoid a tail sitting model.

Because I was not so happy with the resin seamless intake and I like a lot the purple FOD with white "Buzzards" logo, I decide to scratch build one using masking tape.

Wheel bays are easy to fit inside the fuselage.

Join the wings with the fuselage was the biggest task for me building the kit… I can't found a way without using an amount of Tamiya bi-component filler.
As I said before, many details were added to obtain a block 40 aircraft replica and some panel lines were corrected too.
Paint
I painted my model using my Aztek double-action airbrush.
References I used for the correct camouflage pattern can be found on the ASTRA Decal instruction sheet, on the "Aviano AFB" book and on the FS510th web site.
The colours are:
Medium Ghost Grey (FS36270)

Dark Ghost Grey (FS36118)
I use acrylic paints from Gunze.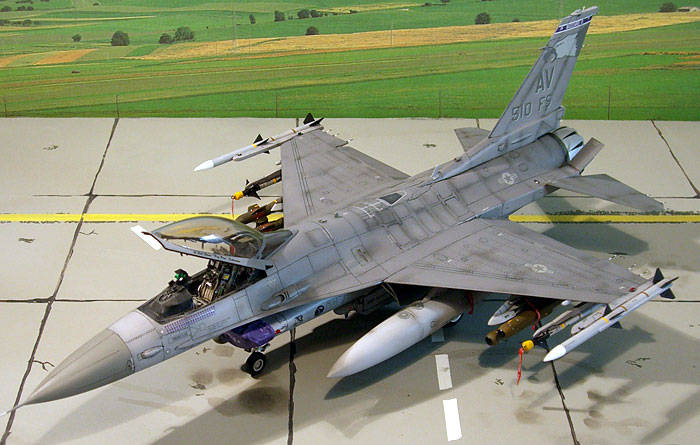 Pre-shading and post-shading as usual for my models.
I spayed some clear smoke along the panel lines.
---

Decals
I got the decal sheets for "Aviano F-16CG" by "Astra Decal": printed by Cartograph those decal are not the "best" of their production, because are not very thin and correct.
I sprayed a cote of clear gloss from Tamiya" to prepare the model for decaling.
"Microscale" Set/Sol were used to apply decals.
To finish a cote of clear gloss from Tamiya and then a flat clear from Gunze.
---

Weapons and Ordnance
To load my F-16CG as a "Fast-CAS" I got a Lantirn laser pod from a Hasegawa modern weapons set.
I added an asymmetrical configuration with a pair of GBU-12 LGB under the right wing and a pair of rocket pod under the left wing.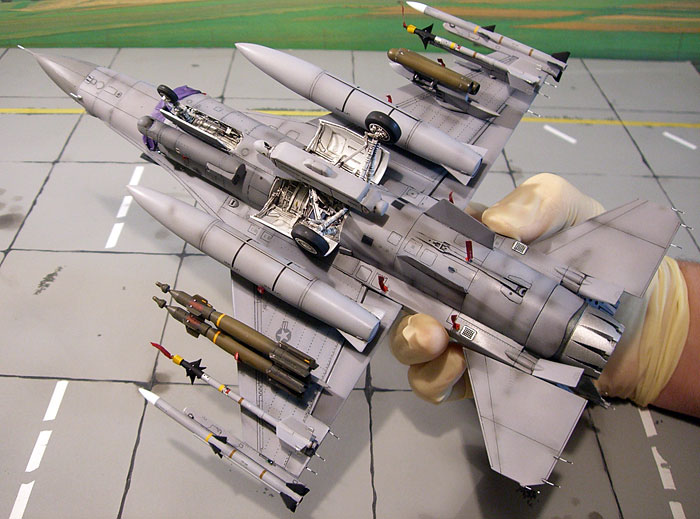 AIM-9M infra-red missile under wing rails and AIM-120B at the wing tip rails.
An ECM pod ALQ-131 from Hasegawa weapons set was added under the belly pylon.
A pair of "standard" fuel tanks under the internal wing pylons.
Some RBF tags from Eduard's etched sheet were added all over the model to add a touch of colour and realism.
Books that can be recommended for references are "DACO F-16C/D" book, some "World Air Power Journal" back issues, "Aviano AFB" monograph volume and "HT Model F-16" volume .
Specific information, support and references on can be found on the web.
CIAO!
Piero
Click the thumbnails below to view larger images:
Modelling the Harrier I and II




Osprey Modelling 1

Author: Glenn Ashley

US Price: $17.95
UK Price: £12.99
Publisher: Osprey Publishing
Publish Date: September 25, 2003
Details: 80 pages; ISBN: 184176647X

Model and Images Copyright 2006 by Piero De Santis
Page Created 13 February, 2006
Last Updated 21 February, 2007
Back to HyperScale Main Page