Hasegawa's 1/48 scale
F-16D Block 40 Barak
by Piero De Santis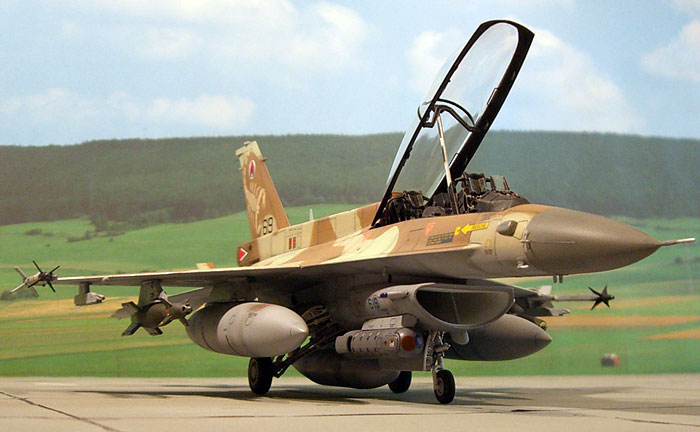 F-16D Block 40 Barak
Scorpion Squadron

Hasegawa's 1/48 scale Harrier GR.7 is available online from Squadron.com
The IDF F-16D entered service in 1983 together with F-16C. These were Block-30 aircraft.
A lot of modifications were done compared to USAF's F-16Ds.
New Israeli RWR-ECM war package.

Big dorsal spine.

Extended tail spine.

Provisioning for Israeli's weapons.
After some years, Israel acquired a new batch of F-16C/D, this time were Block-40 aircraft.
Block-40 are specifically optimised for night operations, and includes some modifications compared to the Block-30:
Modified cockpit with a new rear HUD repeater screen.

Black coloured cockpit tub and seats with new lights for night operations.

New big undercarriage wheels, legs and bay doors.

Two chaff & flares box instead of three on each side of dorsal spine.

New big intercooler intake on the port side.
For my model I choose the 619 from the Scorpion Squadron, based at Haztor AFB.
Is has a big scorpion squadron badge applied on both side of the tail fin.
---

Modeling the F-16
There is almost everything on the F-16 in all the three main scale 1/72nd, 1/48th and 1/32nd: kits, decals, resin detail sets, photo etched sheets, conversion sets…
Looking only at the 1/48th scale, I choose the Hasegawa kit: you can find so many different variant and boxes from Hasegawa, A, A+, B, B+, C and D of different blocks (30, 40, 52).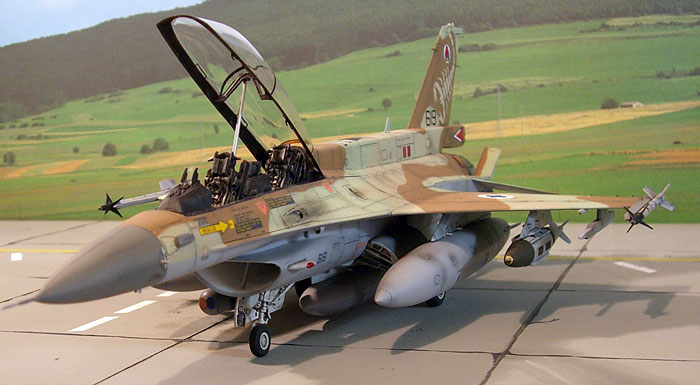 But, as for many other kits, not everything you need is in the box and for the Israeli's D you need all the parts listed before: Hasegawa made a limited-edition box of the IDF F-16D with a resin dorsal spine and other minor antennas parts, but not with the right-looking for me and many details missing.
It seemed very strange that Hasegawa put the name "F-16D Braaket" on the box. This is not correct because the Israeli name for the F-16C/D is "Barak".
Other F-16's kit in 1/48th came from Academy (a simplified copy of Hasegawa), Italeri (cheap), Revell (Italeri re-boxed), Heller (idem), ESCI, Tamiya, Monogram, Hobbycraft, Arii, Otaki… no comment, go with Hasegawa.
The 1/48th scale "Hasegawa" F-16D has many parts in common with the other Hasegawa F-16's boxes, with some extras to build a D version not referred to a specific block.
To improve the D version I got some extra parts from the aftermarket and from other kits:
Black Box resin cockpit for F-16D.

Cutting Edge resin big mouth intake.

Cutting Edge resin dorsal spine.

Shull-24 resin GE exhaust nozzle.

Aires resin main wheel bay.

From Eagle Design's conversion set I got all the ECM/RWR bulges and antennas plus the four big squared antenna's boxes.

Because the Israeli's F-16 use to carry the enlarged 600 gallon fuel tanks instead of the standard 300 gallon fuel tanks, I found a pair of this plus the correct wing pylons in the F-2B Hasegawa kits. This kit contains also the correct wheels and legs for block 40, plus many other detail parts.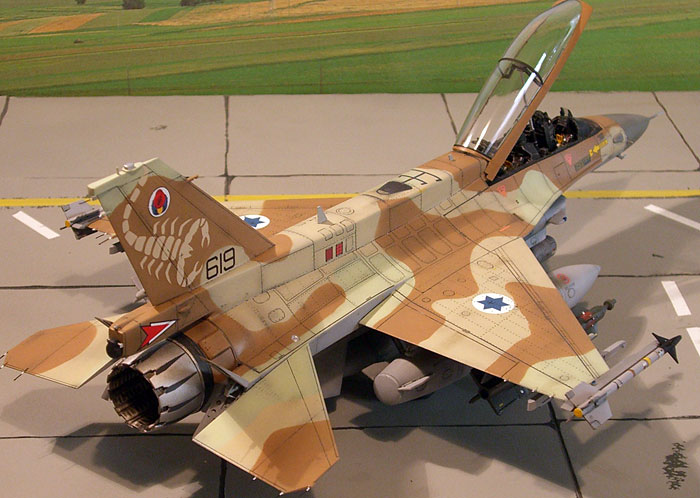 Now some information related to the assembly of the Hasegawa kit.
Cockpit resin set must be sanded a lot before placed inside the fuselage parts.

A 10 grams weight must be placed into the nose to avoid a tail sitting model.

The resin seamless resin intake needs some dry-fitting testing. The engine-fan duct can't be used together with the resin wheel bay. I decided to short the resin duct.

Wheel bay is easy to fit inside the lower part of the fuselage.

Join the wings with the fuselage was the biggest task for me building the kit… I can't found a way without using an amount of Tamiya bi-component filler.

I scratch build the enlarged pre-cooler intake.

The resin dorsal spine needs to be removed from a long block of resin. Pay attention to this step for your health.

I decide to use the kit vertical fin instead of the resin one.
As I said before, many details were added to obtain a block 40 aircraft replica and some panel lines were corrected too.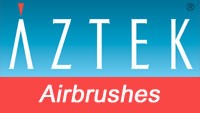 I painted my model using my Aztek double-action airbrush.
Instead of following the Hasegawa painting guide for the camouflage pattern I referred to the marvellous Isradecal book covering the F-16C/D "Barak" in Israeli service.
The colours are:
I use acrylic paints from Gunze.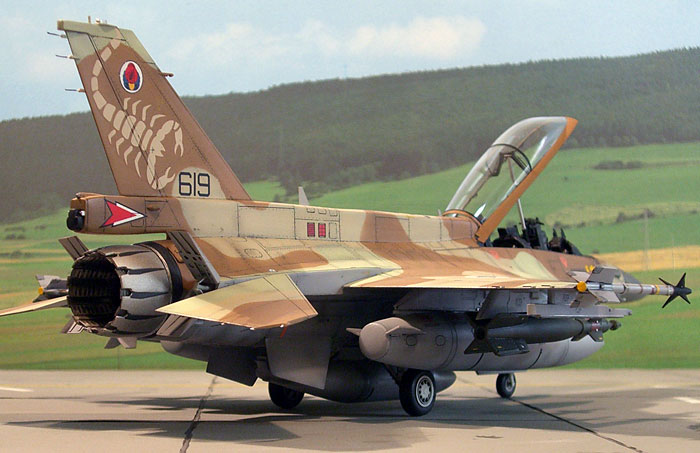 Pre-shading and post-shading as usual for my models.
I spayed some clear smoke along the panel lines.
---

Decals
Hasegawa's kit decals are too thick and colours are wrong… white is not "white"… looks more cream.
I got the decal sheets for "F-16C/D Barak" by "Isradecal", very thin and correct.
I sprayed a cote of clear gloss from Tamiya" to prepare the model for decaling: I do not use "Future" anymore over the Gunze colour because they "cracked".
Those decal are very thin with no silvering at all. "Microscale" Set/Sol were used to apply decals.
To finish a cote of clear gloss from Tamiya and then a flat clear from Gunze.
---
Weapons and Ordnance
To load my F-16D I got a Litening laser pod from a Hasegawa AV-8B kit and pylon came from Hasegawa modern weapons set.
I added an asymmetrical configuration with a GBU-16 LGB and a JDAM.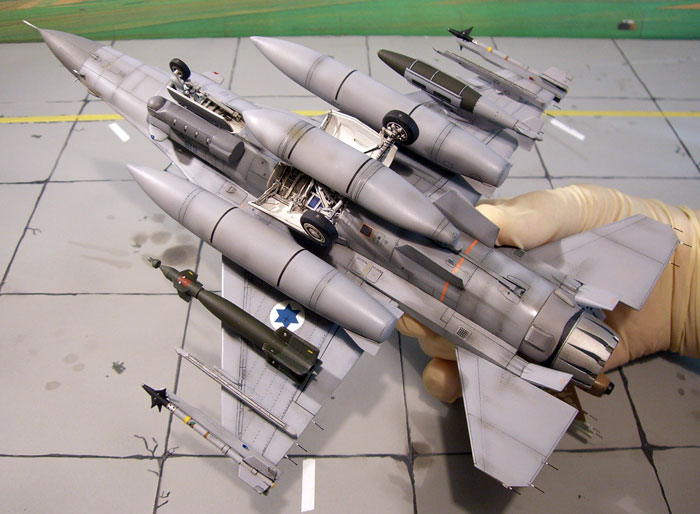 AIM-9M infra-red missile at the wing tip rails.
Another fuel tank was added under the belly pylon.
Books that can be recommended for references are "Isradecal F-16C/D" N°4 and some "World Air Power Journal" back issues.
Specific information, support and references on can be found on the web as F-16.net website.
CIAO!
Piero
Click the thumbnails below to view larger images:
Modelling the Harrier I and II




Osprey Modelling 1

Author: Glenn Ashley

US Price: $17.95
UK Price: £12.99
Publisher: Osprey Publishing
Publish Date: September 25, 2003
Details: 80 pages; ISBN: 184176647X

Model and Images Copyright 2006 by Piero De Santis
Page Created 08 February, 2006
Last Updated 21 February, 2007
Back to HyperScale Main Page