Monogram/ Pro Modeler's 1/48 scale
F-4E Phantom II
by Don Fogal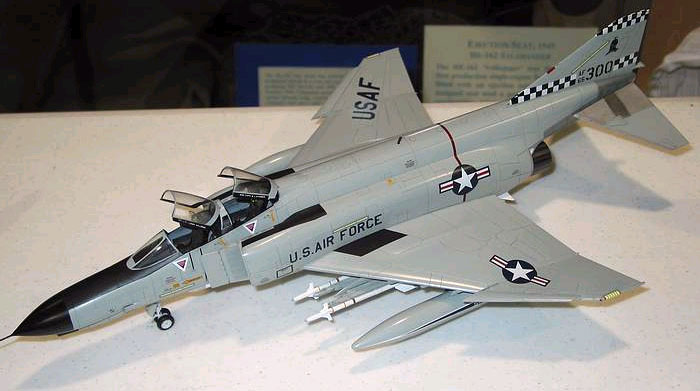 McDonnell Douglas F-4E Phantom II
57th Fighter Interceptor Squadron


HyperScale is proudly supported by Squadron

Hi everyone, this is my first submission to HyperScale, I hope you like it.
I'm a member of a local hobby club (High Flight in Willow Grove, Pa.), and it was at some of the members coaxing, that I decided to submit an article.

This is Monogram's Pro Modeler 1/48th scale F-4E Phantom II. I'm sure everyone knows that this is the Hasagawa's kit re-boxed, but I'm not complaining, I think it was a great move on Monogram's part to start re-boxing Hasagawa's kits, and offer them at a better price.

I won't go in to the history of the Phantom, as any one reading this article is probably as big a fan of this airplane as I am, and I can't say any more than what you've already read.
Sorry I don't have any in progress photos, as I didn't know I'd be submitting this as an article. I built this one pretty much out of the box; I did however have to add the leading edge slats. I used the fairings from the Testor's F-4E kit, and made the outboard slats from plastic card. I cut away a 1/16th strip from the outboard wing, and added the actuators, and slats.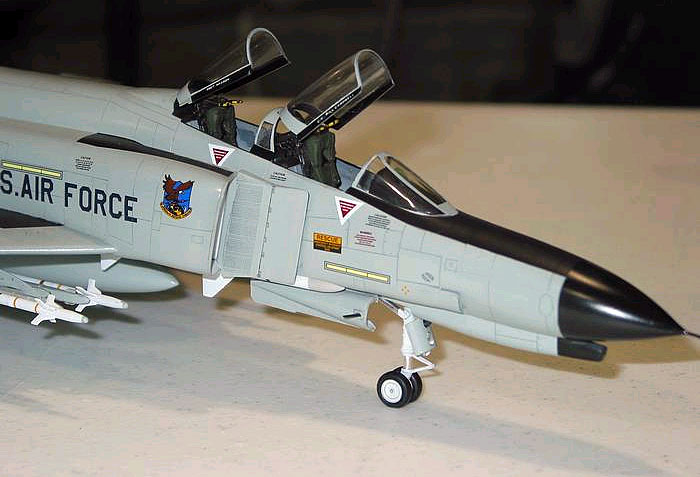 The AIM-9's, and AIM-7's are from the Hasagawa weapons set, the rails are from an old Monogram F-4D. (They look better than Hasagawa's). The ejection seats are from Black Box. Any one that has built this kit knows it is a pleasure to build, nice detailing, good fit, and no major hassles. Seems Mr. Hasagawa is getting good use out of this mold, as it's the basis for all the other variants that they're releasing.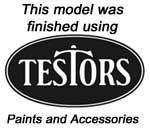 The painting is all done with Model Master, and the decals are Experts Choice (No. 48-3 F-4E, 57th FIS, Keflavik, Iceland, Commanders A/C and William Tell 1982). These are excellent decals, they went down with a minimum of Micro-set, and look great.
I had picked this aircraft and scheme because I thought it was one of the cleanest, nicest looking schemes the Phantom wore. I have a growing collection of F-4's, and this one has to be the neatest looking of the lot. It was difficult not to weather it too much, these birds were kept very clean, almost immaculate compared to the ones painted in SEA colors. I gave it a wash of dark gray, just to accent the panel lines, and minimal weathering, and wear.
The aircraft is painted ADC gray overall, and several shades of Metalizers on the tail.
To achieve what I think is a more accurate and better looking "scale shine", I mixed Testor's Dull Cote with Gloss Cote to create a slightly glossy satin finish.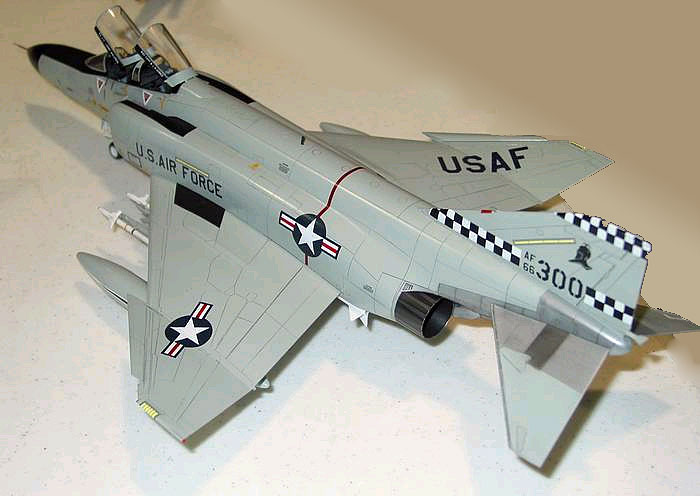 I liked the effect, as did the guys at the club.
Armed for the squadron's primary mission, long-range intercept, and air defense, she looks as mean, as she is beautiful.

I enjoyed building this one, and there are many more to follow.

The pictures are taken during one of our club meetings at the Delaware Valley Historical Aircraft Association Museum; Dave W. Aungst took all the photos. (Thanks Dave.)

I may try my hand at photographing some of my models on my own later.
Additional Images and Project Summary
Click the thumbnails below to view images full-sized.
Click the "Back" arrow on your browser to return to this page:
Modelling the F-4 Phantom II




Osprey Modelling 3

Author: Geoff Coughlin, Neil Ashby

US Price: $17.95
UK Price: £12.99
Publisher: Osprey Publishing
Publish Date: September 25, 2003
Details: 80 pages; ISBN: 1841767468


Model and Description Copyright © 2005 by Don Fogal
Images Copyright © 2005 by David W. Aungst

Page Created 20 May, 2005
Last Updated 20 May, 2005

Back to HyperScale Main Page