Tamiya's 1/72 scale
F4U-1D Corsair
by Roger Fabrocini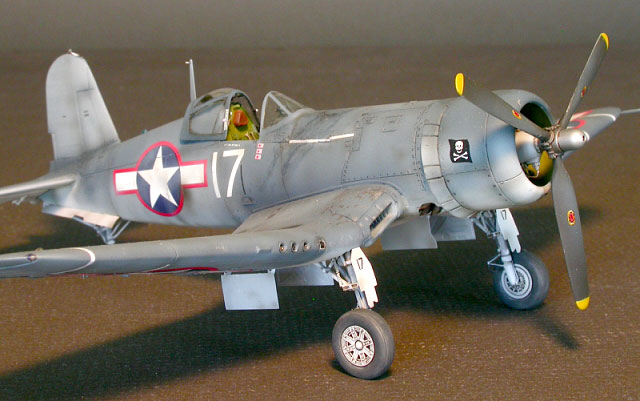 Chance-Vought F4U-1D Corsair

Tamiya's 1/72 scale F4U-1D Corsair
is available online from
Squadron
Here is Tamiya's 1/72 scale F4U-1D Corsair, kit #60752, finished as Lt. Cmdr. R.R. Hedrick's F4u-1a #17 of VF-17 based on Ondongo, New Georgia, November 1943.

Never one to be accused of taking the road less traveled I continue my endeavor to deplete my inventory of unbuilt Tamiya 1/72 scale Warbirds. Tamiya's subject choices may be considered pedestrian, but for this modeler's money they are the best 72nd scale aircraft on the market.
:

I added a number of details and made some additional "tweaks".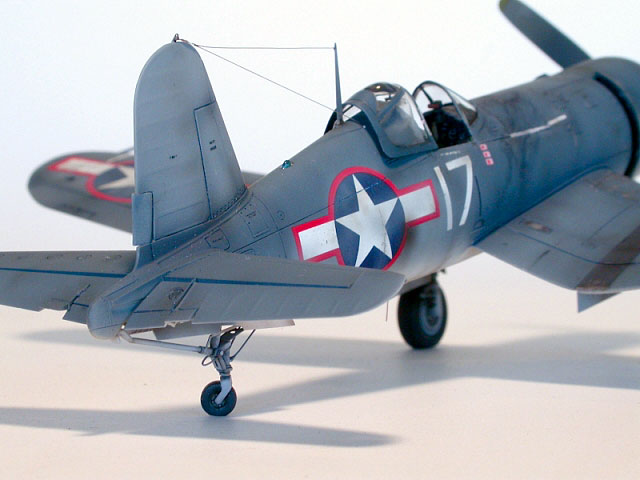 I added many detail parts for aftermarket sources, scratch-built some and performed some tweaks (i.e.: modified existing kit parts).
---

Aftermarket Parts
Aftermarket parts are as follows:
Eduard P.E. sets #73-215 (color) & 72-049 supplied most of the detail for the gear legs, gear wells, well doors, seat and belt buckles. Straps are lead foil.

Aries resin cockpit #7048 (for the Academy kit) considering my past, um...., experiences fitting Aries detail sets I thought, how much harder could it be fitting it into another kit?

Moskit exhaust #72-20 (these are too easy, it's like cheating)

CMK #7031 navigation lights.

scratch built detail:

.50 cal. gun tubes made from stainless steel tubing mounted in a block of plastic glued behind the wing openings.

wing tank drains made from hypo needles.

main gear legs detailed with solder wire and return springs fashioned from .004 stainless steel wire.

wing tip position lights built by cutting a notch into the wing tip, filling with CA glue, and sanding to shape.

recessed position lights built by drilling out the lights, backing with foil tape and filling the hole with colored Testor's Window maker cement .
---

Tweaks
First tweak was to reposition elevators and trim tabs. Actuators are from the Eduard fret, rudder tab is from air foil shaped stock.

The second tweak was to reposition the engine cowling flaps to a more neutral position and add detail to the inside surface.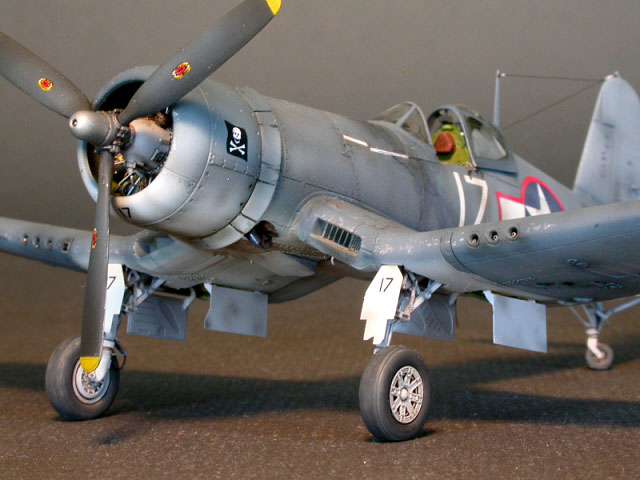 The last tweak was to thin the kit windscreen and canopy to a more scale thickness. After what i can only describe as a disastrous attempt to cut and fit a vac-u-form replacement, i thought I'd experiment with thinning the kit parts. A metal cone shaped cutting bit was used in my dremel tool to thin the edge of the windscreen and the insides of the canopy. Micro-mesh pads were then used to polish out the clear parts. Worked like a charm


Painting
VF-17's Corsairs fought in the US Navy tri-color scheme of non-spec. sea blue and non-spec. intermediate blue upper surfaces and non-spec. white lowers.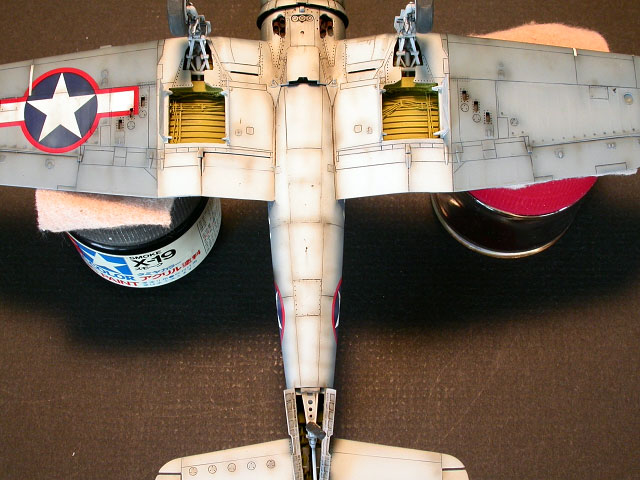 Mr. Color white + a drop of sail color was sprayed over preshaded lower surfaces. Mr. Color Sea Blue +Navy Blue, mixed with various amounts of white and Intermediate blue were used on the upper surfaces. Mr. Color intermediate Blue + white was used for fuselage sides, vertical tail and lower outer wing panels.
---

Weathering
Lightened and darkened shades of the base colors were used to obtain the heavy weathered effect worn by almost all Corsairs that operated in the Pacific theater during WWII.
Paynes gray artist oils was used to accent to upper's panel lines and replicate fuel stains, etc. Raw Umber+black artist oils was used for heavier stain areas. Markings were toned down with a very thin over spray of the base colors.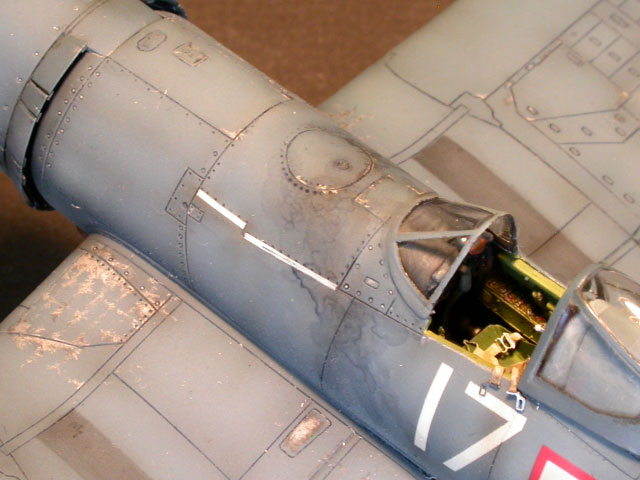 Final weathering was obtained with a thin mix of Tamiya Red brown + Black sprayed along panel lines, in recessed areas and streaked onto the wings and fuselage. Subtle paint chipping was achieved using a Prismacolor silver pencil. Wing walks were added using Mig Productions pigments over the final flat coat. Soot black and gray were used
---

Markings
Lt. Cmdr. Roger R. Hedrick flew three F4u-1a Corsairs while assigned to VF-17. I wanted to model his first #17, Bu.No.17659. I used Eagle Cal sheet #72-20 though it supplies markings for his last a/c #18005. I believe that the his name on the canopy rail should read Hedrick R.R. (page 41 of Lee Cook's "The Skull & Crossbones Squadron") for his first #17.
I pore over hundreds of pictures to help detail and weather a model, but always turn to the HyperScale community for help with interpretation, and guidance.

As always, I like to thank all for their direct and indirect help and inspiration.
Click the thumbnails below to view larger images:
Modelling the F4U Corsair




Osprey Modelling 24

Author: Brett Green
US Price: $17.99
UK Price: £12.99
Publisher: Osprey Publishing
Publish Date: October 10, 2005
Details: 80 pages; ISBN: 1841768804
Model, Images and Text Copyright © 2005 by Roger Fabrocini
Page Created 01 August, 2005
Last Updated 01 August, 2005
Back to HyperScale Main Page