Hasegawa's 1/48 scale F-86 Part One
Canadair Sabre Mk.6
by Mike Robertson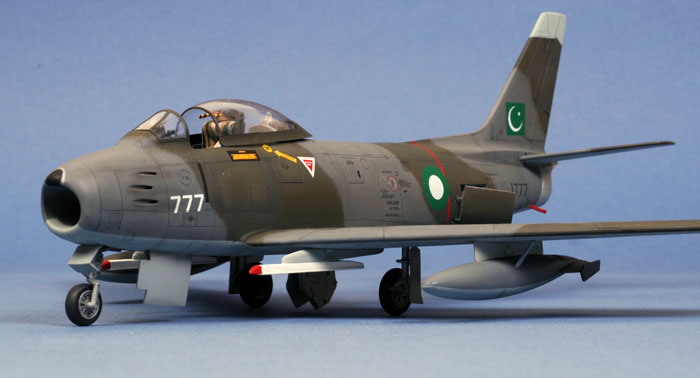 Canadair Sabre Mk.6
Pakistan Air Force circa 1970's

Hasegawa's 1/48 scale F-86 Sabre is available online at Squadron.com

The basis of this kit is the Hasegawa Luftwaffe Sabre that included resin wingtips to reduce the span thus providing the slatted 6-3 wing.
The markings are from On Target Decals sheet number MA-48120 which feature aircraft profiled in On Target Profiles 6, North American, Canadair & Commonwealth F-86 Sabre in RAF, RCAF, RAAF, SAAF, Pakistani and Malaysian Service, published by The Aviation Workshop Publications and authored by Jon Freeman.
Generally, the kit went together quite well with light filling required at the lower wing to fuselage joins.
The nose cone caused some difficulty due to the larger circumference of this part in relation to the attachment area on the forward fuselage. Considerable sanding was required to obtain a good finish.
The resin wing tips were a generally poor fit overall being thinner in section and a butt fit as provided. Holes were drilled in the resin tips and area of the wing where they join to provide strength by inserting plastic rod. This was followed by a coat of filler to increase the tip thickness to match the wing and the inevitable sanding, filling, sanding process to obtain an even thickness.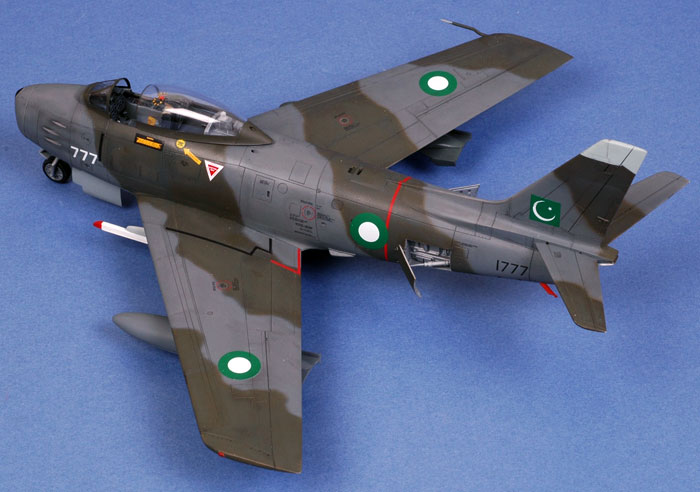 The scoop found on the right fuselage adjacent to the speed brake was removed as this is appropriate for the F86F-40 Sabre of the JASDF.

The 'sugar scoop' intakes were made from plastic strip and square stock and slowly shaped to match photos. The Sabre featured is an ex-Luftwaffe jet and featured a Martin Baker ejection seat.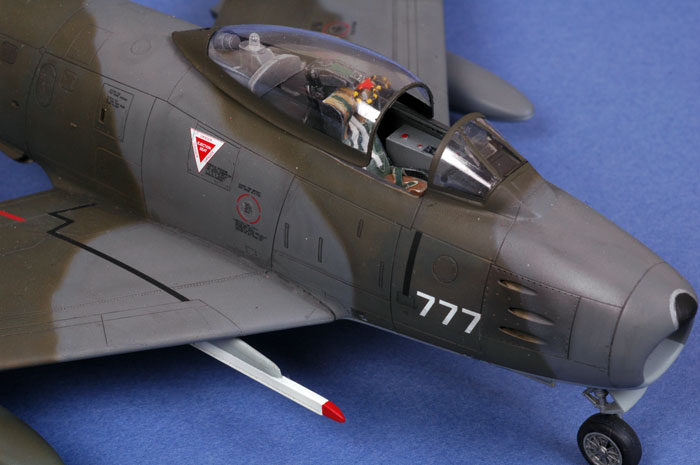 The seat used in the kit is from the Hasegawa F8 and modified to represent the seat fitted to Luftwaffe Sabres.


The author notes that the ex- Luftwaffe Sabres flown by the Pakistani Air Force may have retained their Luftwaffe colours. This is the choice I made and I welcome information from any modeller that can shed some light on the subject as I am planning a similar project in 32 scale.
Xtra colour Luftwaffe enamels were used to paint the kit.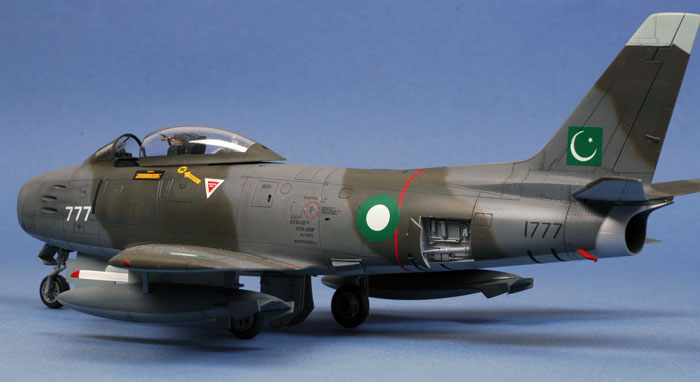 The initial coats of each colour were lightened with white then weathering was applied with darker tones of the colours to reflect the appearance of the aircraft operating in the climate of Pakistan.
The decals were applied using Micro set and sol with no adverse reactions. The decals were in register apart from one minor inconsistency with one roundel. A final coat of Testor's semi-matt varnish was applied to seal the decals.


I am quite happy with the end result in general.
I didn't quite get the sit of the open speed brakes right and the 'sugar scoops' look a little too big but then, that leaves me room for improvement.
Many thanks to Jon Freeman for the inspiration from the book and, the Pakistani Air Force for painting their Sabres.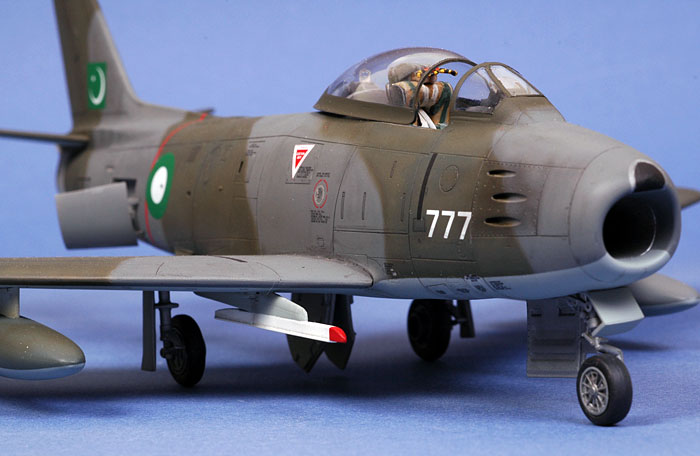 Now on to the next project...
Click the thumbnails below to view larger images:
---
Model and Text Copyright © 2006 by Mike Robertson
Images Copyright © 2006 by Brett Green
Page Created 17 December, 2006
Last Updated 21 February, 2007
Back to HyperScale Main Page