Hasegawa's 1/48 scale
F/A-18F Super Hornet
by Frank Mitchell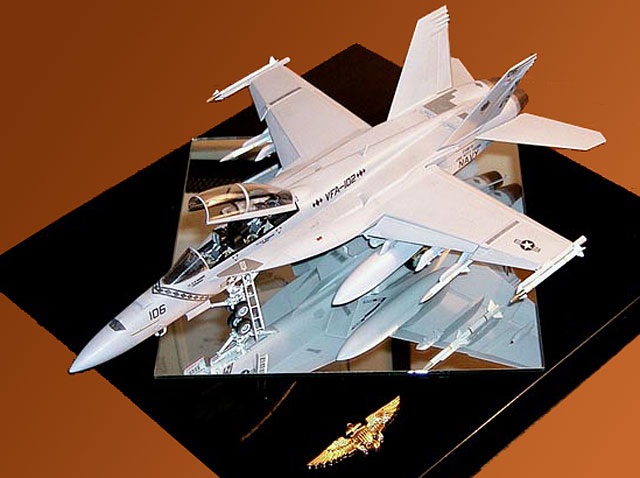 F/A-18F Super Hornet

Hasegawa's 1/48 scale F/A-18F Super Hornet is available online from Squadron.com
I had been waiting for this kit to hit the market for some time because I wanted to build one for a good friend of my daughter (and me), LT. Geoff Hughes, USN.
Geoff is a true overachiever (Annapolis, fluent in Russian, and now a faculty member at the Navy's Tactical Aircrew Combat Training Unit in Florida), and a very nice guy. For the several years before joining Top Gun, however, he was in VF-102 flying the F/A-18F Superhornet.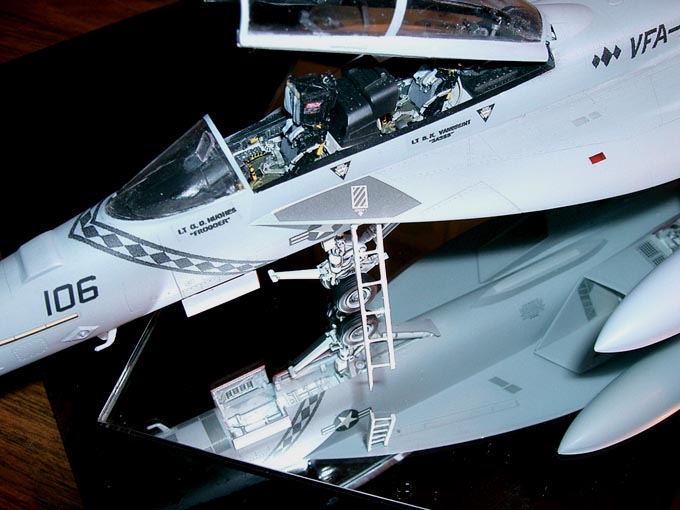 We had talked about me doing one for him, but there really wasn't a decent 1/48 kit out there. However, it turns out that VF-102 had worked with Hasegawa while stationed in Japan, so Geoff knew this kit was on the way. I picked one up when it was introduced at the Atlanta Nationals in July.
The kit is very good. I am sure that some will find problems, but I thoroughly enjoyed building the kit and adding detail according to the pictures and other info supplied by Geoff (Interesting things, kits. They actually give you all those little pieces and you don't have to scratch-build everything. Amazing.).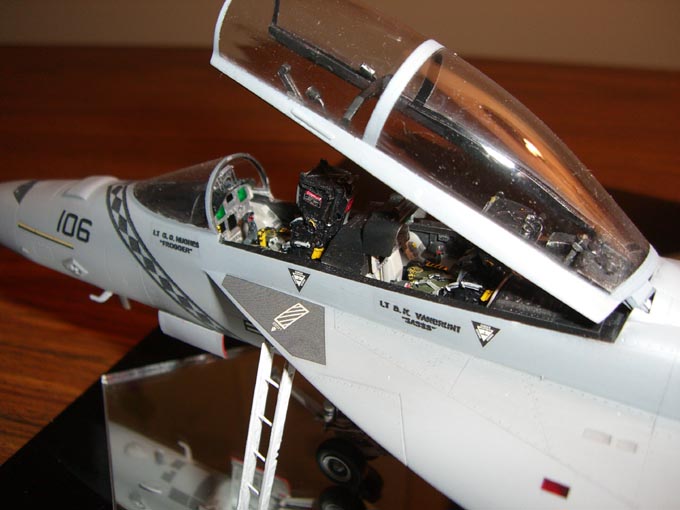 Basically, the fit is good, and little detail really has to be added on the exterior beyond the usual attention to the little things. I did detail the interior; after all, its main audience would be someone who put a lot of hours in that seat. Of course, by the time you read this, there will probably be aftermarket stuff available, but the kit captures the original quite well, at least in my view.
Not surprisingly, I wanted to do Geoff's "own" aircraft, so some work was needed. Obviously, those markings weren't available, and while the squadron markings in the kit were for VF-102, they were for the CAG bird and Geoff's was in lo-viz. I tackled that problem by copying the sheet on my black and white laser printer, then playing with the resulting gray copy to get the right color for the model. Geoff's name, along with those of the backseater and the Plane Captain were simply typed into a Word document and reducing it to the right size. The appropriate pieces were copied onto decal paper on the laser printer.

Don't look for heavy weathering/pre-shading/dirty appearance for two reasons: A) I am not a big fan of that look, and B) None of the '102 birds that I have pictures of look that way.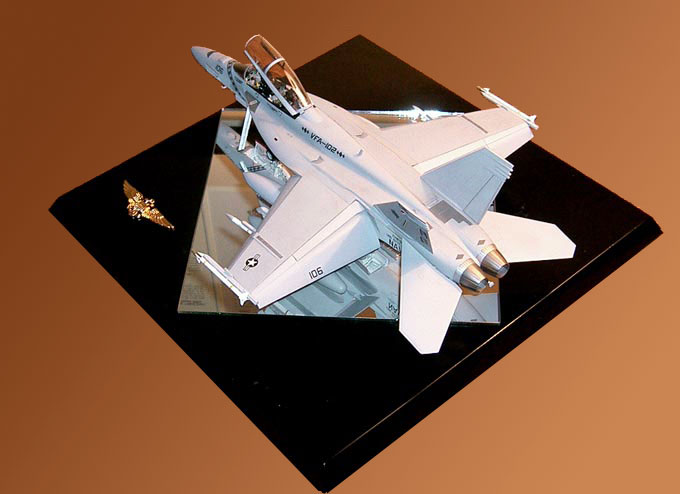 The loadout is the one that was most common for the missions they flew.

The display base is a piece of ¾" plywood cut into a square, and finished in gloss black. A mirror was added to show off the underside and a set of Navy wings was added just because I thought they looked nice.

In all, this was a fun build, and I recommend it.
---
Model, Images and Text Copyright © 2005 by Frank Mitchell
Page Created 17 October, 2005
Last Updated 16 October, 2005
Back to HyperScale Main Page