Classic Airframes' new 1/48 scale
Fiat CR.42B Biposti
by Phil Hale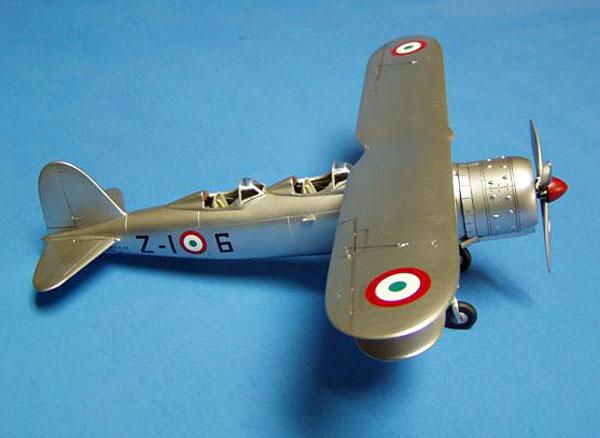 Fiat CR.42B Biposti

Classic Airframes' 1/48 scale Fiat CR 42B Biposti is available online from Squadron

For a review of the kit contents, see Steven "Modeldad" Eisenman's in-box review here on HyperScale.
---
Well, here we are again sports fans.
I hope you are not getting tired of me and this flock of Falcos that have flown from my workbench in the last few months. Well, guess what, I知 done. This will be the last CR.42 that you see with my name on it.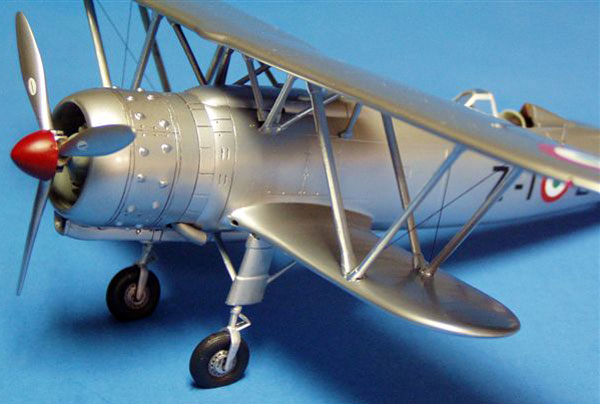 I guess it is fitting to save the one of a kind, oddball machine till last, eh? The single seat CR.42 reminds me of a sports car, a Mustang or a Ferrari. So I guess the Biposti is the family sedan or station wagon. According to my sources, there were only a few of this variant produced, maybe as few as two or three. The scheme that comes in the kit is for 1946. It really looks funny when compared to the single seater.
Okay, Okay, enough of this. On to the build.
I would imagine that CR.42 enthusiasts will have to have one of these. Classic Airframes 1/48 scale Fiat CR.42 Biposti gives you new fuselage halves but you will still need to do a little cutting on the forward section of the lower wing. I値l show you in a photo (below) roughly where to cut. The cuts are simple and will only take a few minutes to do.

You are also provided with a new fairing for the scoop under the cowling and a new piece for the forward part of the upper fuselage. Since the fuselage is longer, you値l need to add the new forward piece under wing section.
The rest of the kit builds without further modification. I had a little trouble getting the new rear cockpit floor to fit but a little trimming helped. I recommend test fitting till you get the best possible fit.
You値l need to cut off the wheel spats and use the exposed gear forks.
If you love Fiat CR 42s, you値l want one of these kits and if you池e looking for something unusual to build, this might fit your pistol. I challenge you to get one and build it.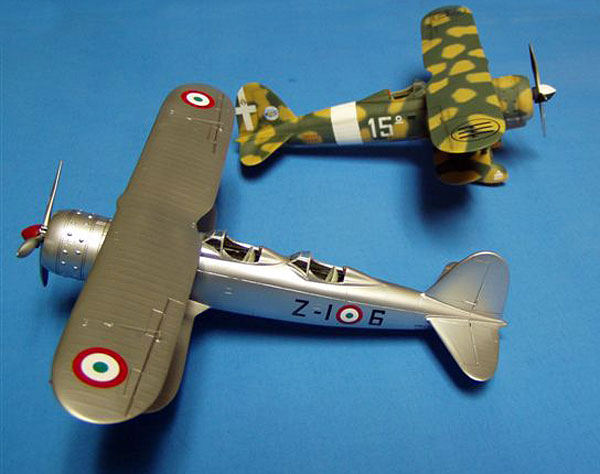 Do it for fun and then take it to a contest or club meeting. You値l probably have the only CR 42 there and for sure have the only Biposti. These usual pieces really attract attention and usually spark some interesting conversation.
Dr Phil
Thanks to Classic Airframes for the sample
Click the thumbnails below to view larger images:
Italian Aces of World War 2


Aircraft of the Aces 34

Author: Giorgio Apostolo
Illustrator: Richard Caruana
US Price: $19.95
UK Price: 」12.99
Publisher: Osprey Publishing
Publish Date:

November 25, 2000


Details: 96 pages; ISBN: 1841760781
Model, Images and Text Copyright ゥ 2005 by Phil Hale
Page Created 02 June, 2005
Last Updated 02 June, 2005
Back to HyperScale Main Page