Home | What's New | Features | Gallery | Reviews | Reference | Forum | Search
Fiat G.50
by Thomas Pedersen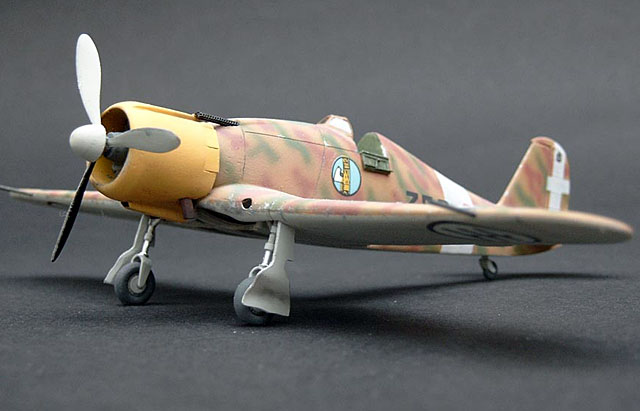 FIat G.50
Here are some pics of my newly finished Airfix FIAT G-50 in 1/72 scale.
This started out as a quick-build, to get something finished, but ended, not much, but a little more complicated.
Interior:
I realized that what was supplied by Airfix (just a seat) was not enough, as everything is very visible in the open cockpit. So I had to do a little scratcing to fill out the empty hole! I did a instrument panel, some structure on the fuselage sides, and side consoles. Not much but that helped a lot.
I was so satisfied that I was disappointed when I glued the two fuselage halves together and saw that most of it was almost invisible! I therefore cut open the door so you could see the interior. The door itself is made of thin sheet styrene with a handle of stretched sprue.
---

Exterior:
There was only a few panel lines (raised) on this little model so I decided to try and rescribe them as this seemed to be a manageable task for me. I used a sewing needle in a pinwise without any problems, as a guide I used dymo-tape.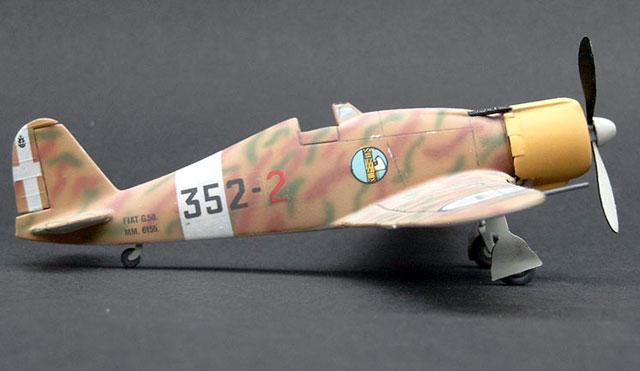 The cowling is in one piece and was thick walled, I cut out the cowl flaps and made some of sheet plastic to get a more realistic thickness.
The windscreen in the kit is also very thick, so I made a new out of heat stretched clear plastic card, using the original as a mold.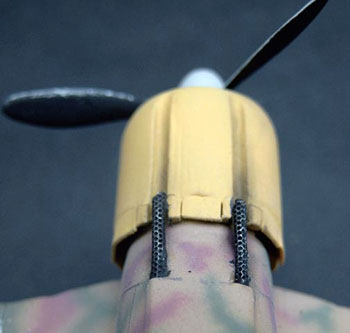 The cowl guns were made from a set of etched gun jackets from Toms Modelworks, and I think the effect even in this small scale is good. I heated the etched mesh over a lighter untill it changed color and then rolled it over some thin pieces of copper wire.
I used True Details wheels. Normally I think their wheels are too flat, but those "blurps" of plastic Airfix submitted was simply too bad!