Roden's 1/48 scale
Fokker D.VII F
by Armin Sobotzik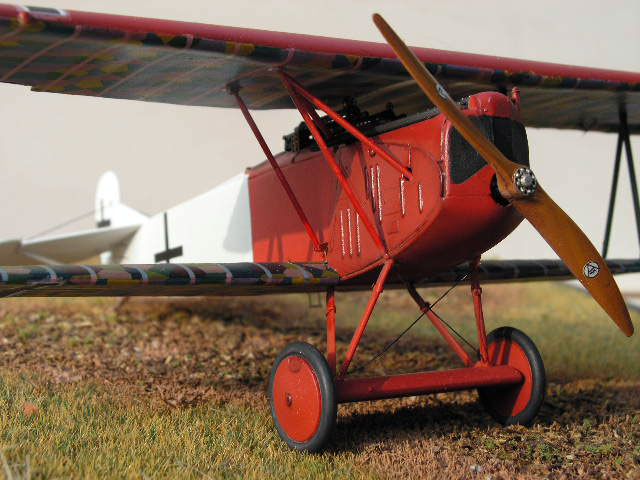 Fokker D.VII F

Roden's 1/48 scale Fokker D.VII is available online from
Squadron

Inspired by the picture of Hans Schultz's plane (2455/18) in Squadron's "Fokker DVII in detail" I decided do build this late F-version in colours of the famous Jasta 18.
---

The Kit:
The typical "old fashioned" box contents excellent formed and detailed parts. There are no sprues overall, no sinkmarks, no oversized structures. Roden has done a very professional job giving this kit a touch of high-end quality.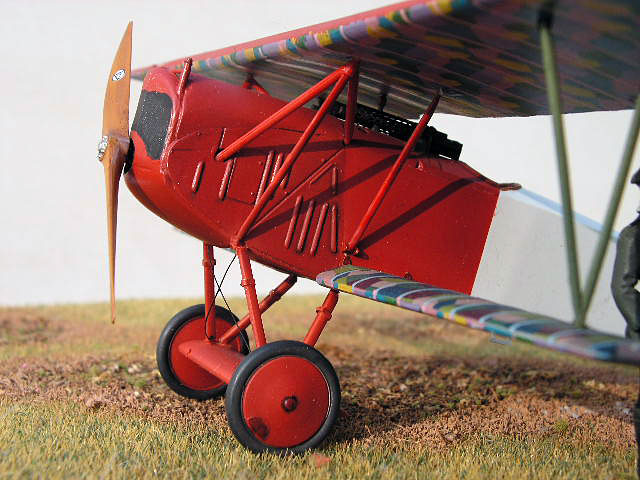 Many thanks at this point to Rob Baumgartner for his excellent review on
http://kits.kitreview.com/roden417reviewrb_1.htm
---

Update:
I discovered a suitable photo-eteched set from Part from Poland. It was not very cheep (16,95 €) but it offers a nice mix of cockpit details, fittings for struts and ailerons, machine guns and inner fuselage construction.


Pre-painting all surfaces:
A bad surprise I got by proving the surfaces of fuselage and wing parts. Your fingers feel something like rough plastic on modern desk-tops. So I decided to give all surfaces of fuselage and wings a coat of Mr. Surfacer 1000. Next day I "polished" this coat smoothly with 1200 sandpaper and much water. To give white coloured planes a touch more brightness, I prefer to pre-paint all parts with Tamiya AS Aluminium.
---

Cockpit:
For inner sidewalls of the cockpit I used small pieces of lozenge decal of an older propagteam-set. The photo-eteched cockpit details of Part seemed undersized. So I used the kit ones. But the instrument board of Part looks very nice after painting.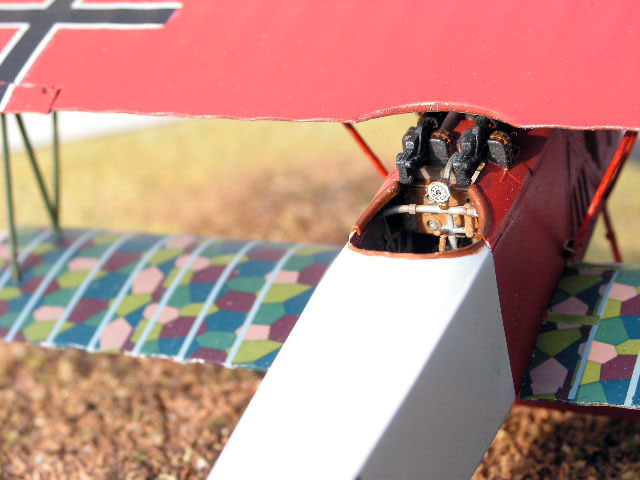 The fuselage structure and control columns are painted gunship grey, mixed with 20% white. Cockpit floor, steering handles and instrument board are painted light brown and thinned artist oil "burnt sienna" to imitate wooden structure.
---

Main construction:
I decided to build the kit with closed engine covers. Fitting of fuselage, wing halves, elevator, fin and rudders was good. Only a little Tamiya Putty was needed for the engine cowling and wing tips. A little more attention you should pay for correct position of lower wing. This prevents difficulties when upper wing will be put on the struts. In a sheet of thin clear plastic I "copied" the holes of the upper wing, then I stabilized it by a small stick of wood. This clear upper wing copy helps to find out the correct position of struts.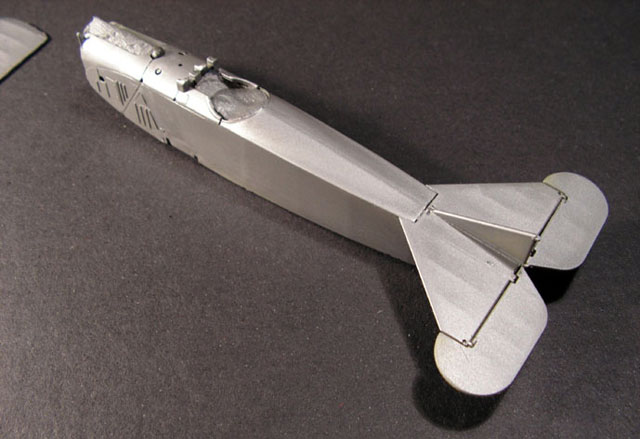 For steering wires I used 0,1 mm nylon string - painted black and drybrushed steel.


Tamiya flat white is used for the rear half of the plane. To get the typical vermillion red of german WWI-planes I mixed some drops of black, yellow and blue with Tamiya flat red. I'm sure it's not the original colour, but I like the result. I usually like a "fresh painted" view of a plane – and so weathering is nearly not existing.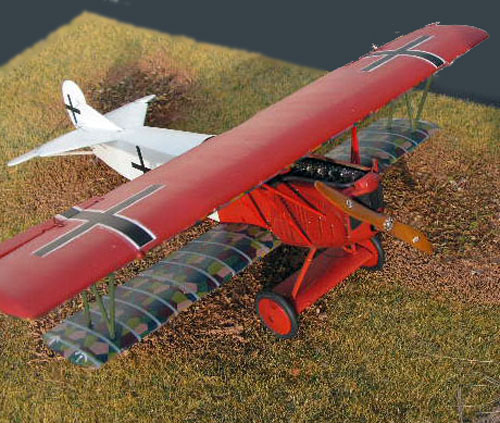 The decals of this Roden-kit are very thin and brittle. So it is necessary to give all surfaces a clear and strong coat. For this step I prefer Tamiya acrylic clear. It is drying very quick and You can begin to apply decals after two hours. Cause of the brittle lozenge decals, I fixed the edges round the wings carefully with a mix of microsol "crystal clear" and water.
To imitate the different of metal and fabric parts of the plane, I gave a thin cote of Humbrol satin color only on the fabric parts but not on the engine cowling and struts.
---

Pilot: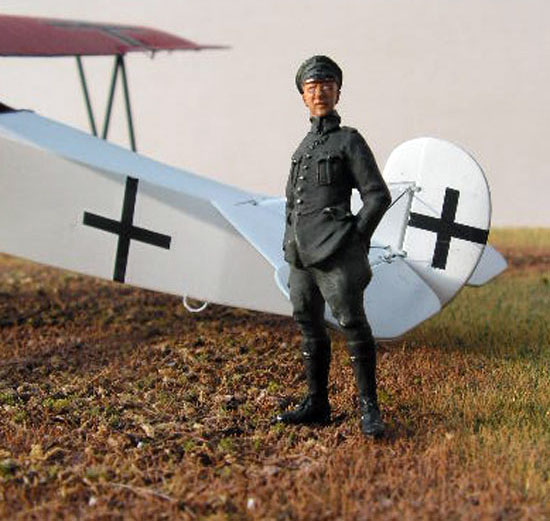 Hecker & Goros "Werner Voss" is posing at the plane – a really nice formed figure with outstanding details. The "Blue Max" can surely be painted excellent by modellers with "hawkeyes" – but not by me.

I hope that you will enjoy the pics.

---
Model, Images and Text Copyright © 2006 by Armin Sobotzik
Page Created 31 October, 2006
Last Updated 21 February, 2007
Back to HyperScale Main Page