Eduard's 1/48 scale
Fokker D.VII (OAW)
by Roger Fabrocini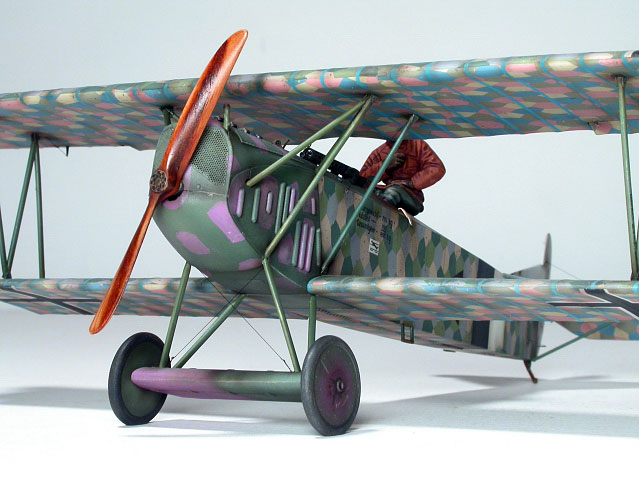 Fokker D.VII (OAW)

Eduard's 1/48 scale Fokker D.VII is available online from
Squadron
This is the Eduard 1/48 scale Fokker D.VII (OAW), kit 8131.

I don't know which I've been enamored with more lately, World War one aviation or Eduard cz. The two seem to go "hand in hand".
Eduard is producing some of the best World War One aircraft models on the market today and the D.VII (OAW) is arguably their best effort so far, although it is not without its critics. Some do not like the depiction of the rib tape, Eduard's choice of subject matter (seeing that Roden has already covered most variants of the D.VII), price (twice as much as the Roden kits), incorrectly printed lozenge decals (more on this later), and my personal favorite, too easy to build (?!).

Those WWI modelers are a tough audience!

For myself, the combination of manufacturer, subject and controversy was enough for me to start cutting parts off of spruce.


Most detail work went into the engine and cockpit even though most will never see the light of day again. The engine was detailed with fine copper wire for spark plug wires, .008" lead wire for various piping, and valve springs made with coiled .004" stainless steel wire.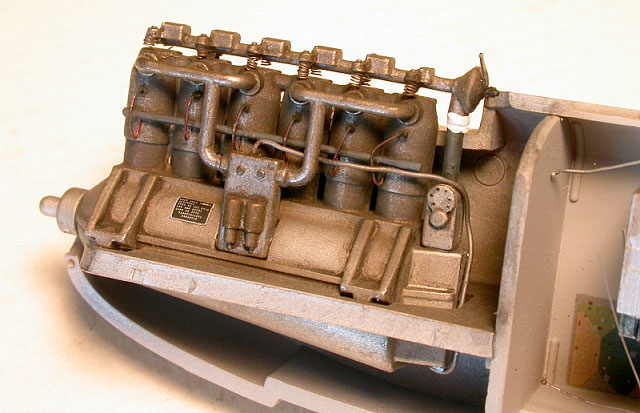 (Construction note: the assembled engine may be inserted into the assembled fuselage if the radiator is attached last, making masking easier.)

I was unimpressed with the molded on fuselage framing so I removed them and fabricated new framing out of .015" plastic rod. Eduard supplies decals for the interior lozenge in reverse pattern, nice. The balance of detail work was done with fine copper wire for throttle and spandau MG control cables, stretched black spruce for control wires and frame bracing wires. I added a second throttle handle to the control column, something Eduard missed.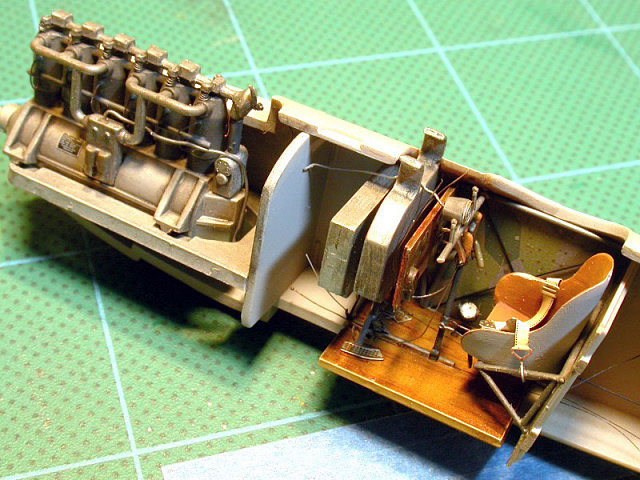 Most detail was painted using Vallejo acrylics. Mr. Metal Color Metallics were used for the engine and fuselage framing.

During construction Eduard gives you the option of supplementing plastic parts with supplied P.E. parts. I choose this option to detail the interior and the Spandau machine guns.

Painting
All parts were primed with Mr. Surfacer 1200 and polished with a micro-fiber cloth when dry. Most of the airframe would be covered with lozenge decals and this polishing step allowed me to forgo more surface preparation.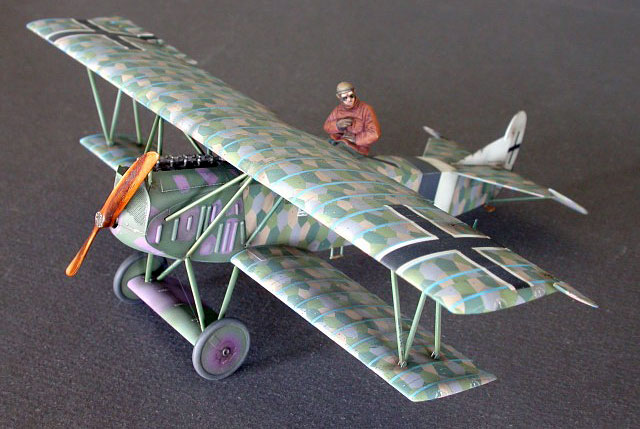 Metal airframe surfaces of OAW built D.VIIs were finished in Fokker green with a disruptive, so called "giraffe" pattern of mauve on the cowling and landing gear "wing". I used Mr. Color #302 for the green. The giraffe pattern presented a bit of a challenge. I dismissed airbrushing using masks and choose to hand paint the patterns using Vallejo acrylics. I used a #0 liner brush to first outline the shapes using a thin, custom mix of Blue Violet, purple and white. The patterns were then filled in using various shades of the base color to create a weathered effect. Mr. Color "Mr. Super Clear Flat" was used as a final finish.
---

Decals
The most tedious procedure was applying the over 200 separate decals. The task was made somewhat less painful by the excellent quality of the AviPrint decals. Strong, flexible and well printed with no real need for setting solutions. The only problem is with the accuracy of the printing. AViPrint has reversed the placement of two of the four lozenge colors. I've included a picture comparing correctly printed Eagle Strike lozenge decals to AviPrint decals. I numbered the colors (1,2,3,4) to show placement error.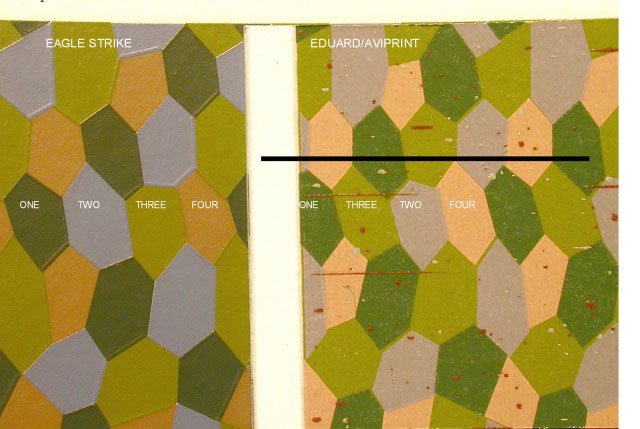 You ask, "then why did I use them?" Laziness (they are precut), and their quality.

The only fit problem I encountered was with the lozenge decals for the top wing. The more observant among you will have spotted the added strip of lozenge between the tenth and eleventh rib. I started applying the decals from the middle (as Eduard suggests). I should have measured instead of eyeballing the wing center which threw things off.
---

Weathering
Truth be told, the challenge of weathering an airframe covered in decals was the major motivating factor in building this Fokker D.VII. I needed to find a late-production O.A.W. built D.VII that had not been extensively repainted, as most German W.W.I aircraft seem to have been. Research found a picture and profile of a Jasta 68 D.VII on page 38 of the Albatros Publications Fokker D.VII anthology 3 that fit the bill. After the unit markings, black and white fuselage bands, and personal markings, three black chevrons, were painted all surfaces were given a coat of Mr. Super Clear Flat. I used three of the basic weathering techniques, dry-brush, oil paint washes and post shading with a very thin mix of Tamiya Red-brown and black. (Thanks Brett) I used Humbrol enamel Lt. Gull Gray for the dry brushing to try and give the lozenge a more weathered fabric look. A mix of raw umber and black artist oils was used for the wash. Final weathering was done with the post shading.


The Fokker D.VII is a relatively easy aircraft to align and rig. The "N" interplane struts make alignment a snap and there are few bracing and control wires to rig.
All flying surfaces are separate, so I attached them deflected to show some movement.
Rigging was done with .002" monofilament run through a black enamel paint marker.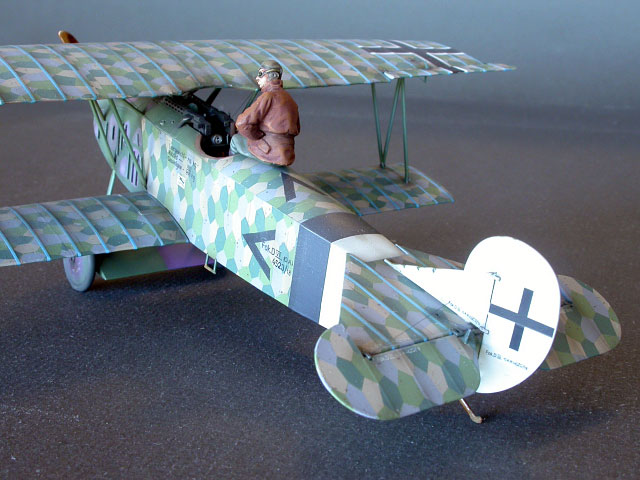 The prop was finished using artist oils and the shoulder belts were made by cutting the buckles off the kit supplied belts and attaching them to strips of lead foil from a wine bottle (chianti classico I do believe).
The pilot is a white metal figure by Hecker-Goros painted with Vallejo acrylics. He seems to like it up there.
:

This is a nice kit that I feel doesn't deserve some of negative comments it has received. Yes the lozenge decals are inaccurate and Roden has most of the D.VII "bases" covered and for half the price of the Eduard kit. I plan on building a Roden D.VII soon and possible comparing the two.
In its favor the Eduard kit is easy to build, accurate and well detailed with excellent decals and a very useful P.E. fret.
It is nice to have a choice.
Click the thumbnails below to view larger images:
---
Model, Images and Text Copyright © 2006 by Roger Fabrocini
Page Created 10 February, 2006
Last Updated 21 February, 2007
Back to HyperScale Main Page