Focke-Wulf Fw 190D-12
by Tim Both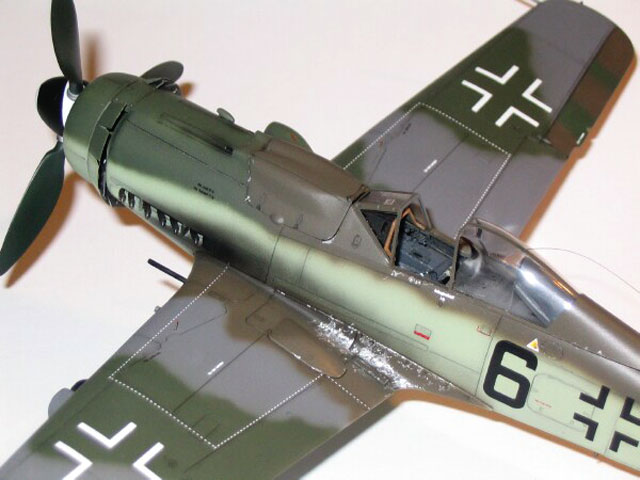 Focke-Wulf Fw 190D-12

DML's Focke Wulf 190D-12 comes complete with 2 types of torpedoes which may have been based upon a diagram or sketch of the D-12 actually using these in service. I don't believe that there are any confirmed reports of torpedoes being dropped by a D-12 but they sure look good… maybe for a Luft '46 kit! The only other major difference between this and the DML 190D-9 is the grafting on of the larger Ta-152 tail. The moulding here is inferior to the rest of the airframe and has quite an orange peel effect to it. A light sand and polish removed most of the unusual surface.
The engine. I used Part-R-Parts engine plug which slipped into place with no problems whatsoever. I added some plumbing using some solder and superglue and painted the plug Gunze Burnt Iron with some silver highlights and a black wash. The ammo containers were painted RLM02 and washed at a later date. It is up to the modeler to alter the wheel bay and this proved a short and relatively easy task.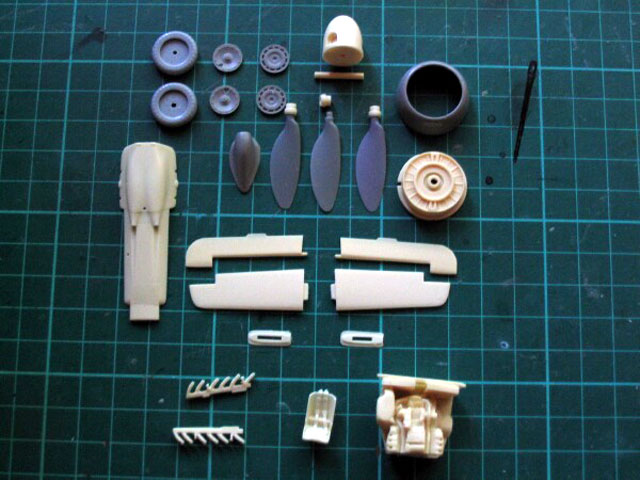 The cockpit. I used Extra Tech's FW190D-9 (48009) etched set which contains full cockpit and sidewall detail, seat, harness and instrument panel. Altogether the cockpit received over 20 photo-etched parts and the fit was superb. I used an Ultracast Fw190 seat with cast on harness and this was excellent. It has the correct harness attachment points behind the pilot. The cockpit was painted with RLM66 and washed with gloss black and the whole assembly was matt coated before being installed with 5 minute epoxy.

The airframe. DML's line of Fw190s have a reputation of being difficult to assemble but I can say the fit of this kit was faultless! But what about the wing to fuselage join I hear you say? Knowing too well that normally this kit would need fuselage spreaders I was very happy to note that there were no gaps between the wing and fuselage. That's right, no gaps!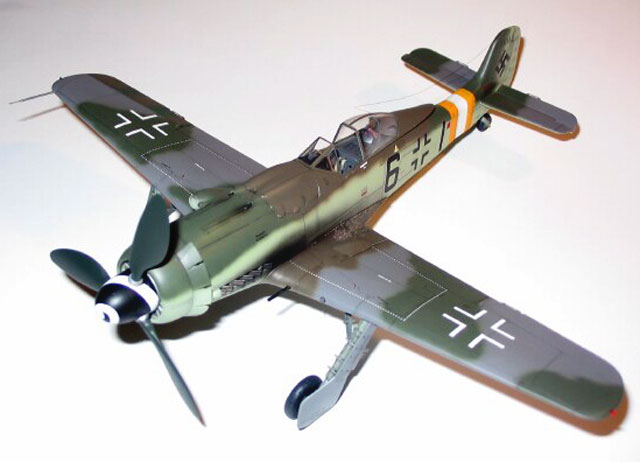 The rest of the construction was hassle free. The Wurger Mechanic resin parts were superb in their casting and their fit. Once the minute casting blocks were removed no further sanding was needed. I always make sure to remove any evidence of the wing seam as on the real aircraft no seam existed. This was accomplished with CA glue and panel lines rescribed with a pin in a pin vise. As a last touch I used some Ultracast exhausts. While these are designed for Tamiya's kit a few minutes with a file ensured a great fit. I added gun barrels with brass tubing cut to size. I realise in the photo of the belly the barrels do not line up with the wings in the u/c bays but I can live with it.
Painting
This was more of a challenge for me than normal as it required a natural metal belly for this bird. Being an ardent Luftwaffe fanatic I don't have much need for natural metal! I used Tamiya Sky for the oddball late war fuselage and underwing colour and Gunze 75 and 83 for the rest. For the RLM81 I used the stock Gunze RLM 81 with a couple of drops of red (in about a 10:2 ratio). I sprayed the natural metal last and used a Humbrol Metal Coat and that worked out well for me.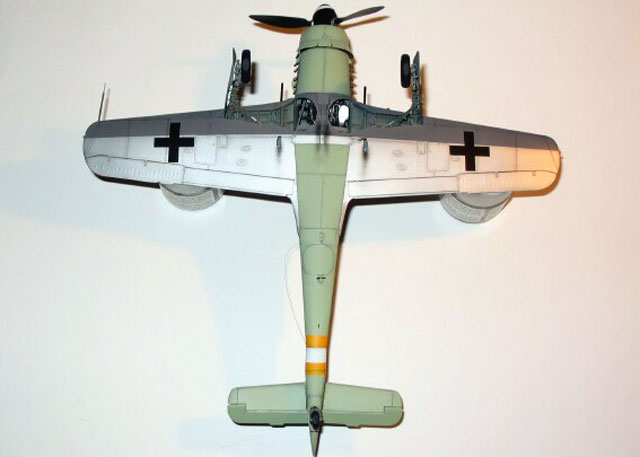 I always post shade my panel lines using thinned Gunze clear grey and then gloss coated the model ready for decals.
---

Decals
The Eagle Cals were very thin and settled extremely well into panel lines. I used a full set of stencil data. There's something about applying the stencils that make a model more realistic to me.

Further finishing. A thin wash was applied and then a sealing coat of gloss over the decals. I added the exhaust stain with some thinned matt black and then several light coats of Testors Matt Coat. Using the excellent articles I did my best to align the gear legs correctly and then lengthen the retraction struts with plastic card. A light chipping with a silver pen and sharpened tooth pick caused a little wear and tear on the wing roots and panels.
For me this was the most error free build I have completed and I cannot recommend enough all of the aftermarket parts I used. This model took about a month to complete with about an hour each day spent on it.

I hope you like the end results.

Click the thumbnails below to view larger images:
Focke-Wulf Fw 190


Modelling Manuals 20


US Price: $17.95
UK Price: £12.99
Publisher: Osprey Publishing
Publish Date:

May 25, 2002


Details: 64 pages; ISBN: 1841762687
Model, Images and Text Copyright © 2004 by Tim Both
Page Created 13 April, 2004
Last Updated 13 April, 2004
Back to HyperScale Main Page